Even though summer is in full swing, Halloween is sneaking up on us (boo!). Today's project will show you how to use some Halloween products without having to wait for Halloween – and how to kick it up a notch with buttons!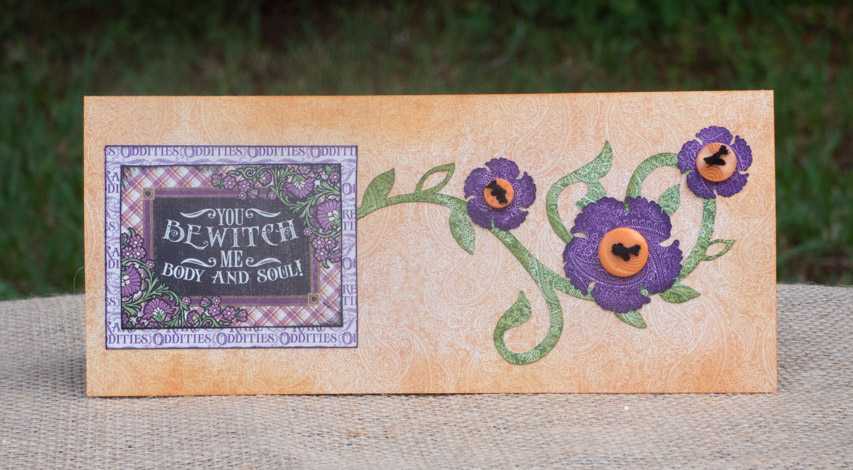 You won't have to wait until Halloween to give someone this card! With it's message of love, it can be delivered anytime during the Halloween season.
The buttons are a critical element in this design. They add a pop of color that breaks up the dark purple, but more importantly they add dimension to a design that would otherwise be entirely flat.
Supplies:
Patterned Paper (all patterned paper from Graphic 45's "Rare Oddities" collection – 6×6 & 8×8 pads)

Cricut Explore machine & Cutting Files
Inkpads in black, purple, green and brown
Adhesive dots
Black thread & needle
cream cardstock
1. Cut a 3.5″ by 8″ piece of background paper for the card base. Ink edges. (While this is a non-standard card size, it will fill in a standard business sized envelope.)
2. Use die cut machine to cut out vine and flowers. Ink edges of all pieces.
3. Cut sentiment block from patterned paper. Ink edges and mat on patterned paper.
4. Adhere all pieces to background.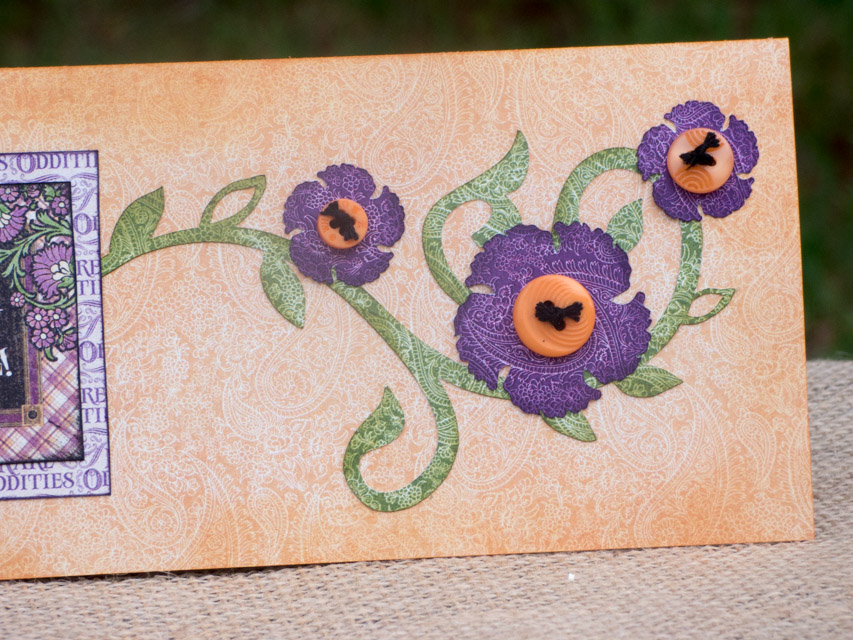 5. Sew thread through buttons and tie off. Adhere buttons on the center of the flowers.
6. Cut an 8″ x 7″ piece of cream cardstock to use as cardbase and fold. Adhere card front to base.
Who would you like to send a bewitching message of Halloween love to this season?
{ 1 comment }