Summer, when you hear that word what images does it conjure up in your mind? For me I think of the heat, the BRIGHT colors and RELAXING! I love Summer. I know a ton of people who just hate the heat, but being a gal who's always got cold fingers and toes, I love that during the summer month's my body feels WARM all over, all day long! Bright colors, well I love those too! Wearing them, creating with them, you name it, I love it! And relaxing…well let's just say there's a well loved, well worn hammock in my backyard that my kids and I all enjoy piling into and having a good snuggle time in. I can relax with the best of them, and in STYLE to boot! LOL
For my project today you can see each of these elements we are talking about have been captured perfectly! From the bright sunshine, the bright colors of the porch chair and the slouchy posture of my sweet Elliott, this scrapbook layout just screams SUMMER. Pairing up bright buttons & bright papers with a nice wide swath of burlap helps to give this layout rest amongst the busyness. Now, while I was creating I got to the point where everything was on the layout EXCEPT the title. And I was STUCK…I mean the page was cute, but needed something…but what….that was when I emailed a photo of the layout and then called our DT Lead Niki Meiners and said "What's wrong with this page..I am stuck" As if on cue she replied "Oh just add a title to the page – SUMMER" "Where??? Where would I even put a title??" I replied. "Ummm right there under the photo overlapping the patterned paper, burlap and above the cluster of red big buttons…" And you know, she hit the nail on the head!!! It was JUST what this layout needed. Talk about a friend being a help just when you need it!!!  So now you tell me…who do you call if you get stuck or just can't seem to "make it all workout" in your creative process??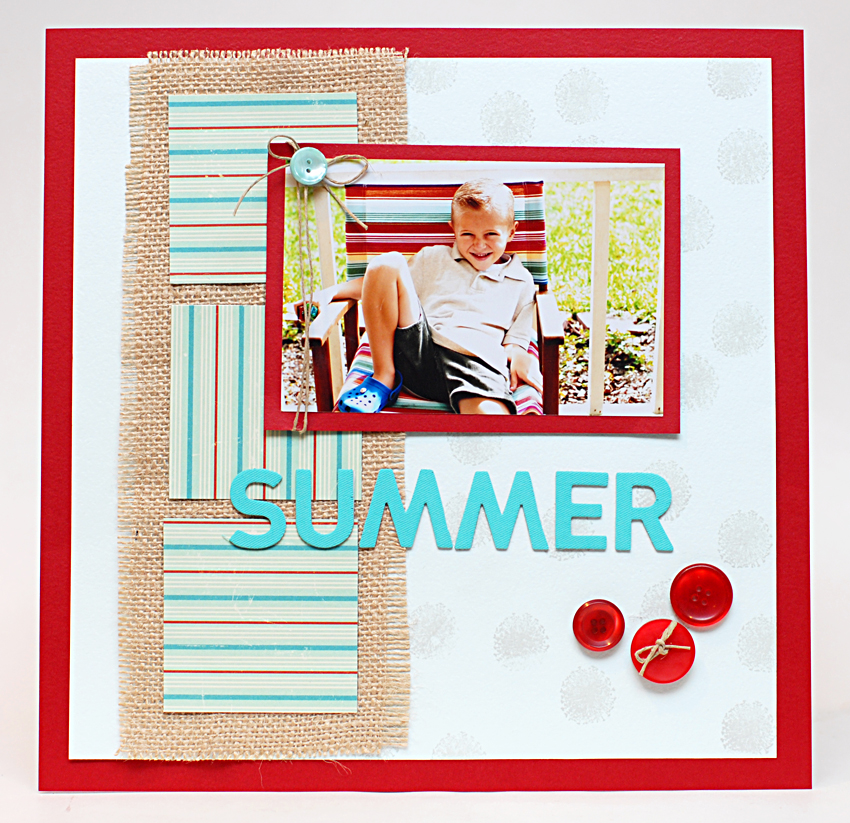 The following two tabs change content below.
Keri Lee Sereika, currently living in South Carolina, is a stay at home mother of four and wife to a USAFR pilot. Keri has been on a number of manufacturer's design teams, has authored two books as well as many articles in a variety of magazines and online media, and has had her designs featured in numerous magazines and books. When not busy playing with her kids or trying keep her house clean, Keri can be found up in her studio crafting or on the computer researching or writing articles on crafting.
Latest posts by Keri Lee Sereika (see all)