It's easy to whip up a pillow box on my die cut machine to hold a small gift, but keeping it closed is not so easy. Adhesive will do the job – permanently, leaving the box difficult to open and not reusable. But a little bit of ribbon and a few buttons will provide a solution: a pretty string tie! This box is perfectly sized for presenting a gift card, a difficult item to wrap creatively.
To make this box you need:
Buttons Galore Bubblegum Button Bonanza (also available at AC Moore)
Kraft cardstock
Small doily
Cricut Explore machine & digital cutting file
7/8″ wide gold ribbon
Needle & Thread
Jute Twine
Double-sided adhesive tape
Instructions:
1. Cut out and assemble your pillow box. Adhere doily on top of box.
2. Cut ribbon slightly longer than needed to wrap around long dimension of pillow box. Turn under ends.
3. Sew buttons loosely onto ends of ribbon.
4. Tie piece of jute string around the thread holding one of the buttons, between the button and the ribbon.
5. Wrap the ribbon around the pillow. Fasten the ribbon band by wrapping the string in a figure 8 around both buttons (similar to fastening a string clasp envelope).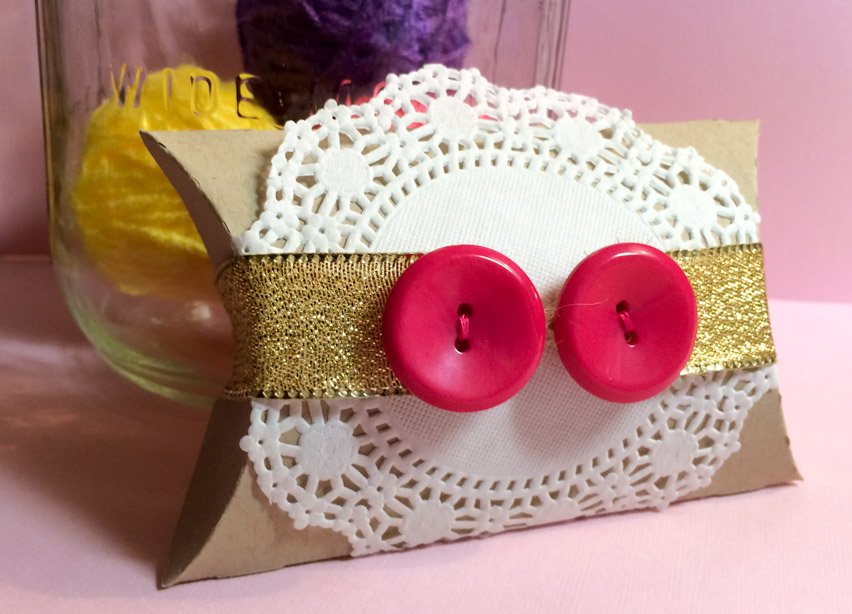 This gift wrap could be great for any holiday or occasion. Changing the colors of the ribbon band and buttons could make it seasonal for any holiday, or match the decor of any event (such as a wedding).
What gift do you plan to tie up with a button-fastened ribbon band?
{ 0 comments }