This week, we're introducing you to six new Button Basics assortments! One of the new assortments is a vintage fall palette called Fall Festival, perfect for making fall, Halloween, and Thanksgiving projects.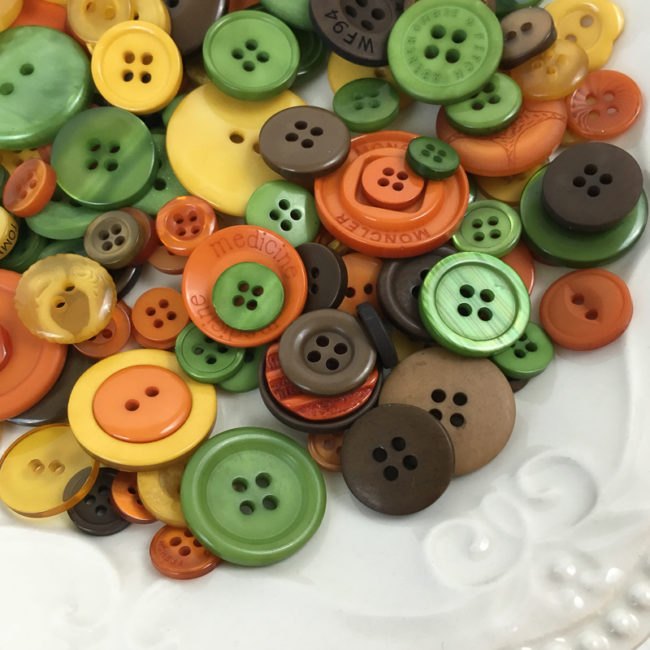 Fall Festival is a mix of brown-tinged tones of green, orange, and yellow, along with coffee shades of brown.
I decided to pair Fall Festival with Graphic 45's new Halloween in Wonderland collection to make a retro fun Halloween card!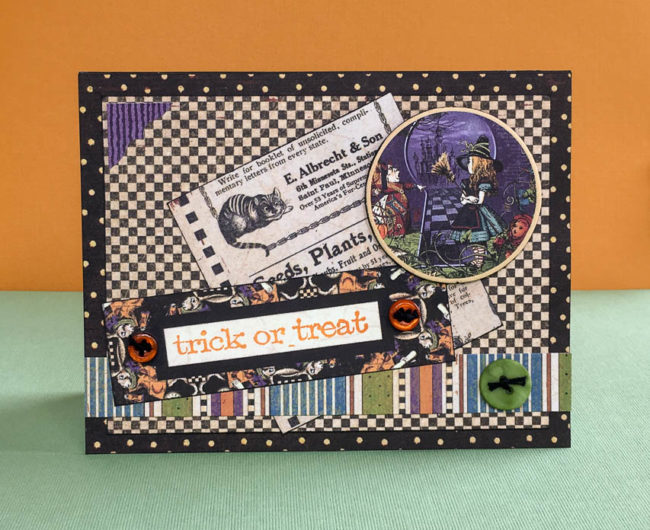 Supplies Used:
Graphic 45 Halloween in Wonderland collection
Stamper's Anonymous by Tim Holtz "Simple Sayings" stamps
Colorbox Fluid Chalk Ink in Blackbird & Harvest
Black embroidery floss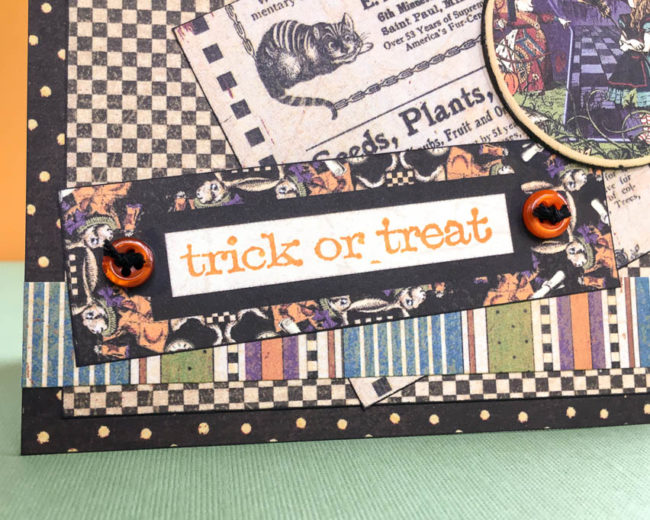 I used tiny orange buttons from Fall Festival, to visually "attach" the faux bookplate that is printed on the label from one of the cut out sheets in the Graphic 45 "Halloween in Wonderland" collection.  The buttons highlight it as the sentiment block for my card, and Fall Festival's color tones coordinate beautifully with the paper collection.
All of my buttons on this card are attached with PPA Matte adhesive, my favorite liquid adhesive for working with buttons and embellishments. It's just the right consistency – thick enough to hold an embellishment in place, but not so thick that you can't move it around to get it where you want it. It holds securely, and dries perfectly clear so there's no need for anxious moments it a little spreads out from underneath your embellishment!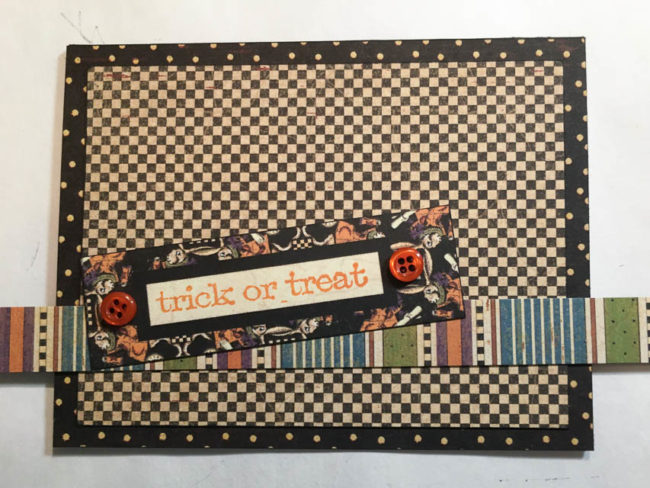 When making a project like a card, I frequently like to start with the most important elements of the design first, and then build around them. That means that I often am starting with elements that will be on top – like this sentiment block – and then working down in my design as I fill in around it. To do this, I lay pieces out without adhering them as I work.
I started by creating my background, and then putting in place the sentiment and the border that I wanted to anchor it. This of course, left me with a lot of open area made up of that super busy tiny checkerboard pattern. It overwhelmed my sentiment so I needed to tone it down.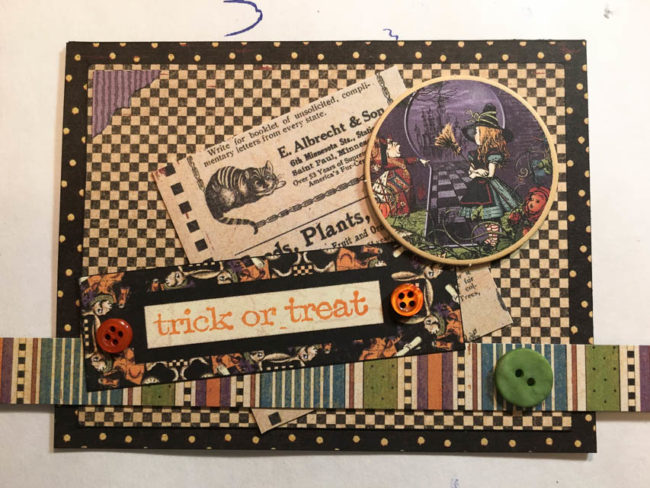 To fix this, I cut a block of a lighter, larger pattern and inserted it behind the sentiment block. Then I used a piece of decorative chipboard from the "Halloween in Wonderland" collection to fill a bit more of the space and add some color. A purple striped corner frame sticker completed the design.
I did all of that without adhering anything except for the purple sticker! So what do you do when you have everything arranged just how you want – but nothing is adhered? I grab my phone and just snap a picture like the one above. Then I can take the design apart to glue everything down, and use the photo as a guide to get everything back how I wanted it! It's just another way we can turn the camera that is always in our pocket into a creative tool.
The following two tabs change content below.
Nancy Nally
Nancy Nally is the social media manager of Buttons Galore, and the owner of Nally Studios LLC., which publishes ScrapbookUpdate.com and CraftCritique.com.
Latest posts by Nancy Nally (see all)