That September chill is in the air, and that means pumpkin spice, apple cider…and Halloween on the horizon! Our 3D buttons make great accessories for your themed cards, and I'm here today to share an idea you can make with bat buttons from our Halloween Value Pack.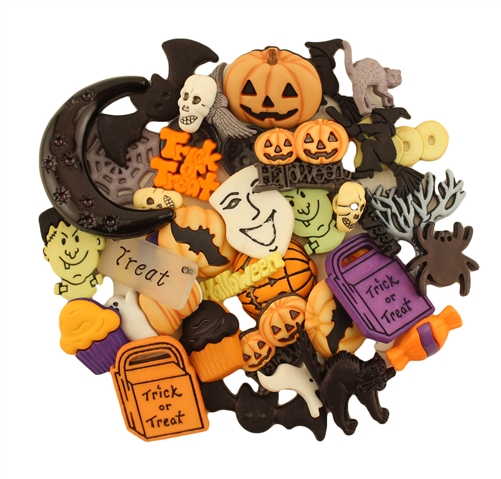 Our Halloween Value Pack includes approximately 50 assorted buttons. The buttons range from 1/2″ to 7/8″ in size and include shank and sew-through buttons. Designs include fun options like pumpkins, monsters, spiders, bats, and everything you need for your Halloween-themed projects!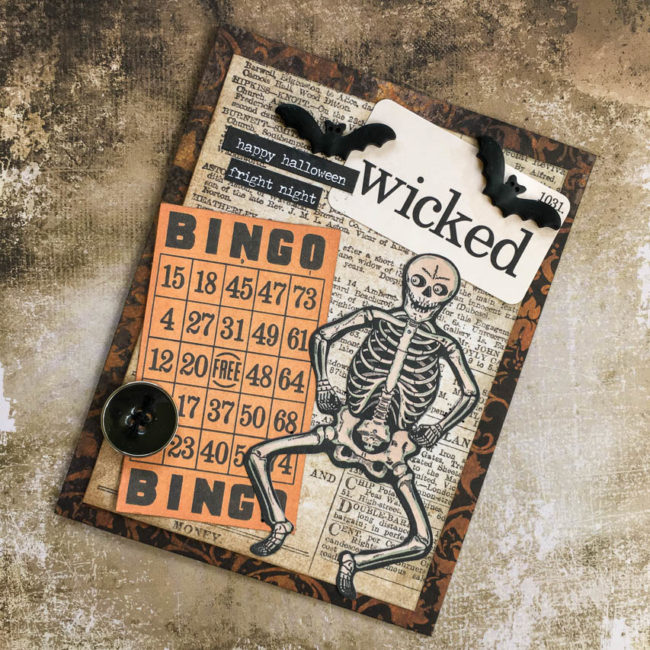 Supplies:
Tim Holtz idea-ology "Materialize" 8×8 paper pad
Tim Holtz idea-ology "Curiosities" Ephemera
Tim Holtz idea-ology Small Talk Occasions stickers
Ranger Tim Holtz Distress Ink (Pumice Stone)
Blank Card Base
Embroidery floss (black)
To create the base of the card front, cut a 4.25″ by 5.5″ piece of the black and orange paper. Adhere to the front of the card base. Cut a 3.75″ by 5″ piece of the text paper, and adhere it centered on top.
Select the bingo card and wicked flashcard from the ephemera pack, and adhere them angled in the corners of the card front. Adhere the skeleton ephemera on top of them.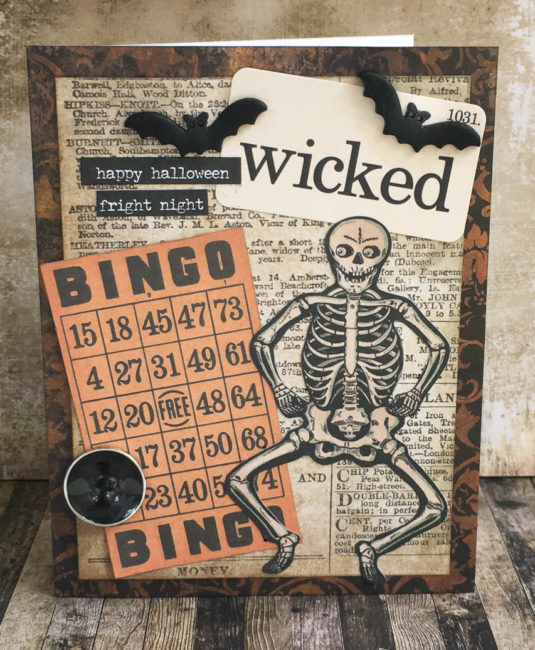 Tie embroidery thread through the large black button from the Halloween Value Pack and glue it on top of the bingo card using PPA Matte Adhesive. Use the PPA Matte Adhesive to also attach the bat buttons from the Halloween Value Pack on top of the "wicked" flashcard.
To finish the card, select some sentiment stickers from the Small Talk sticker set and stick them down in the upper left corner underneath one of the bat buttons.
This quick and easy card is a fun way to say "boo!" to someone for Halloween! Who do you want to send a friendly scare to this year?
The following two tabs change content below.
Nancy Nally
Nancy Nally is the social media manager of Buttons Galore, and the owner of Nally Studios LLC., which publishes ScrapbookUpdate.com and CraftCritique.com.
Latest posts by Nancy Nally (see all)