Happy (Inter)National Scrapbook Day! Buttons are a perfect match for scrapbooking. They are a quick and easy way to add a pop of color and dimension to any layout design!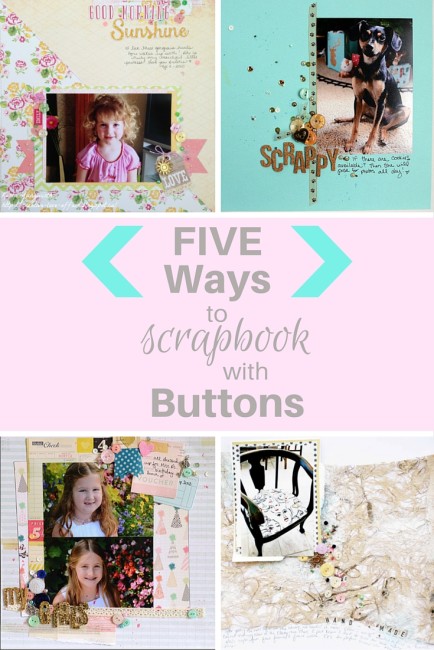 Today, in honor of scrapbooking's special day, we're going to share with you our favorite examples of the wide variety of ways that buttons can be used on layouts.
Buttons and burlap are always a good pair, especially on a scrapbook layout. Keri Lee Sereika paired them with bright red and crisp turquoise for this brilliant summer layout of her son.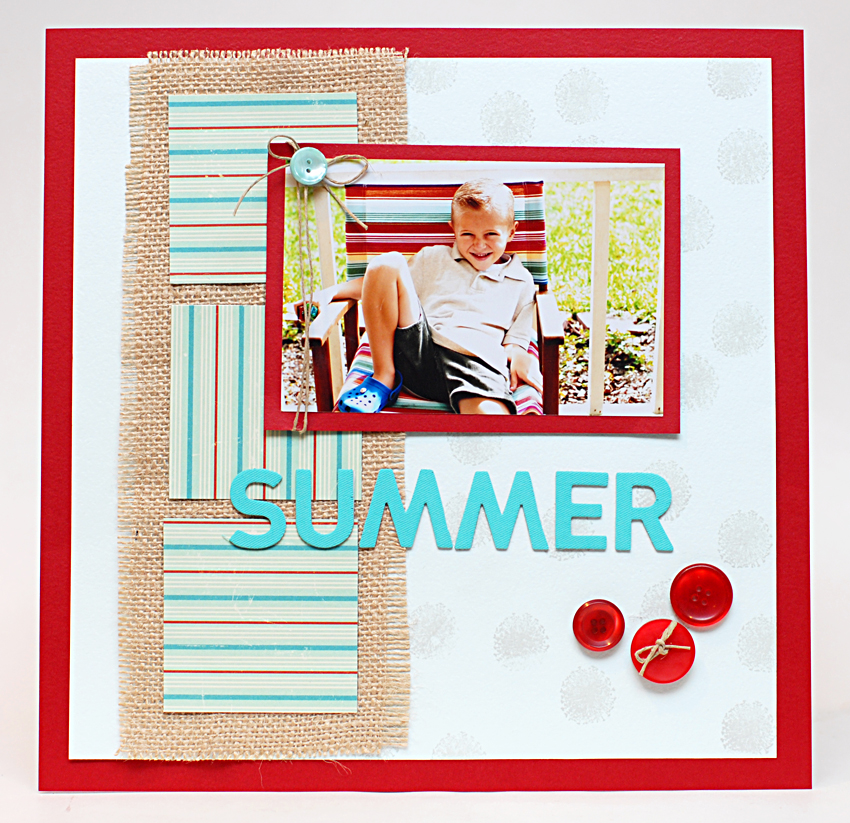 If you like the combination of turquoise and brown, but burlap isn't your thing…try using brown buttons! Designer May Flaum used her 28 Lilac Lane Paws & Pets kit to make some brown elements pop out of a solid turquoise background to highlight her Scrappy pup!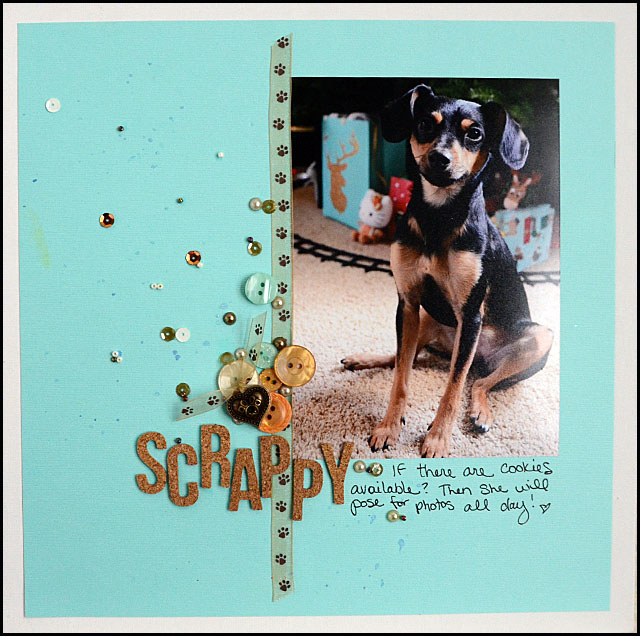 Natural materials (like the cork letters above) are a great combination with buttons. Ashli Oliver decided to extend the natural and handmade look to the paper on her layout, pairing her 28 Lilac Lane buttons with a rustic handmade paper. The contrast between the smooth, hard buttons and the rough, wild paper is perfect!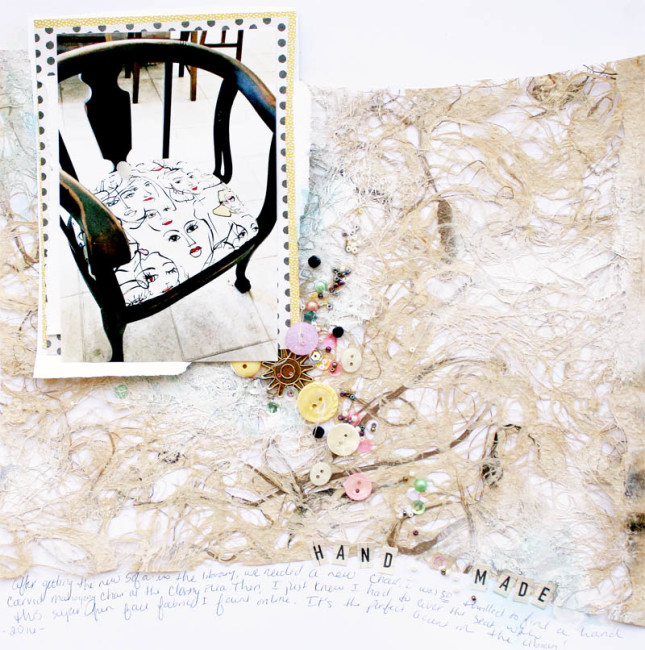 We've seen lots of button clusters so far, but May Flaum showed us in her My Girls layout how to use buttons scattered as 3D trinkets alongside ephemera as well. She scattered some of her 28 Lilac Lane Attic Findings and Just Peachy buttons – as well as the coordinating sequins and pearls – to prove that a few buttons can pack a design punch as well.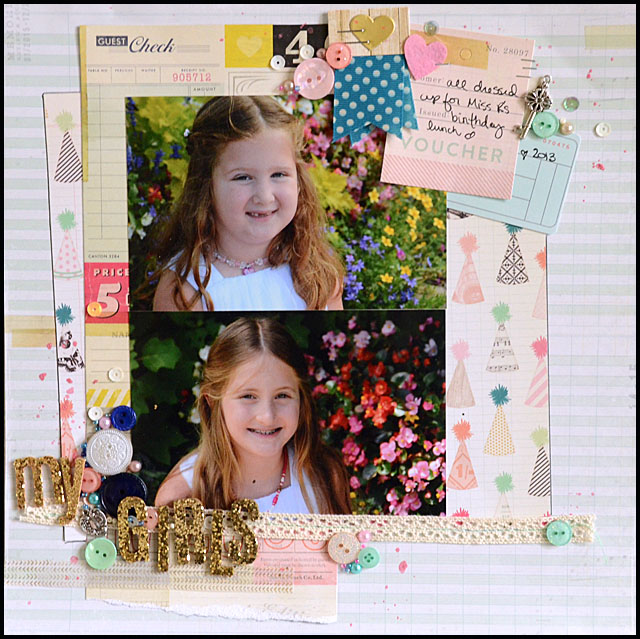 Guest blogger Karla Yungwirth took the scattering to a new level of delicacy! Her gorgeous pastel layout, with just a touch of one or two buttons dabbed here and there for a spot of color, shows how buttons (and sequins and pearls) can have an impact while still being subtle.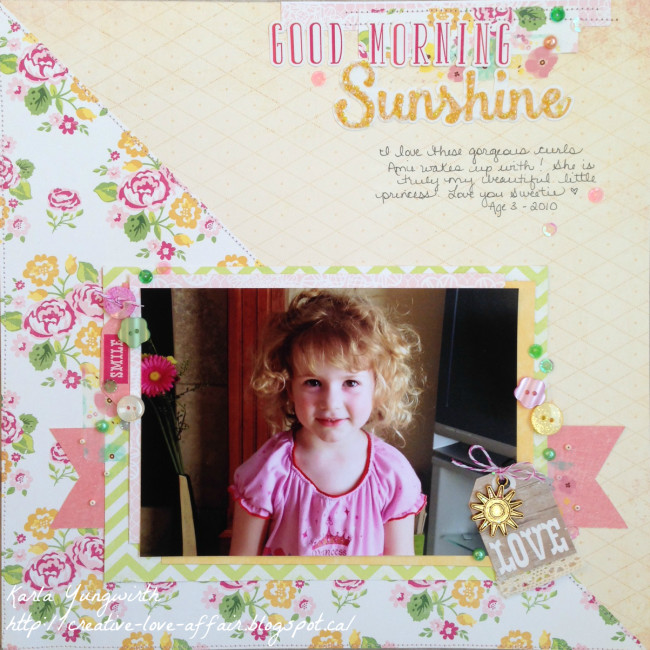 But wait, there's more…a sale! We've got 20% off on our entire website to celebrate National Scrapbook Day! So you can save while stocking up on all the buttons and embellishments that you need to put the perfect finishing touches on your scrapbook layouts! Use code NSD20 at checkout and save now!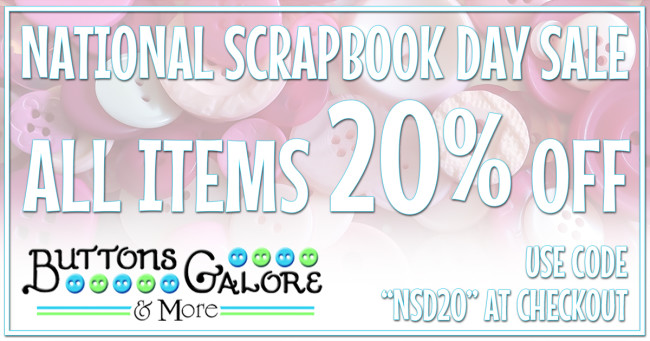 The following two tabs change content below.
Nancy Nally
Nancy Nally is the social media manager of Buttons Galore, and the owner of Nally Studios LLC., which publishes ScrapbookUpdate.com and CraftCritique.com.
Latest posts by Nancy Nally (see all)