With July 4th gone, that means for many of us the summer is officially half over. It's already time to start thinking about back to school! Our cute back to school tag is perfect for teacher gifts, first day of school lunches, and decorating backpacks!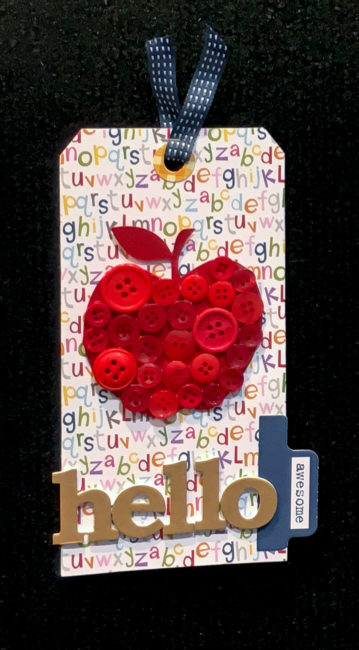 Making this tag is so quick and simple – the kids can help! Die cut the tag base and hole reinforcer out of patterned paper, and glue them together. Attach tab and alphabet stickers across the bottom of the tag. (Instead of "hello", you could substitute a name, or the year if you'd like!)
To make the button collage on our back to school tag, use a die cut machine (I used my Cricut Explore) to cut an apple shape out of red cardstock that matches the "Red Hot" buttons. Spread a nice thick layer of the PPA Matte Adhesive all over the fruit of the apple. Begin to fill it in by carefully selecting various sizes of the buttons to fill as much of the space as possible. Push the buttons down into the glue to make them really secure!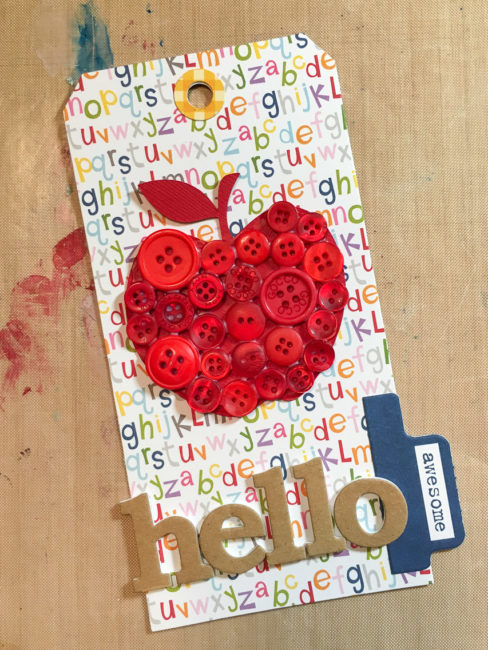 Once the glue is dry on your apple collage, glue it in place on your tag! For the finishing touch, slip a piece of ribbon through the tag's hole and secure it with a staple.
To make this back to school tag double-sided, select a double-sided paper (like this one) for your tag base. Or cut a second tag from the die and glue them back-to-back.
Whose back to school are you going to make awesome with an apple button collage tag?
Supplies Needed:
Bella Blvd "Tiny Tots" Alphabet Paper
Bella Blvd "Simply Spring" Eggstravaganza (plaid paper)
Bella Blvd "Tiny Tots" Treasures & Text stickers
Momenta kraft alphabet
Red Cardstock
Sizzix Tim Holtz Alterations "Tag & Bookplates" die
Cricut Explore machine & apple cutting file
The following two tabs change content below.
Nancy Nally
Nancy Nally is the social media manager of Buttons Galore, and the owner of Nally Studios LLC., which publishes ScrapbookUpdate.com and CraftCritique.com.
Latest posts by Nancy Nally (see all)