On Tuesday, we shared a tag that is perfect for giving a back-to-school gift to your new favorite teacher. Stumped for an idea for a gift to attach it to? We've got the perfect gift idea – an easy to make Back to School Flower Pot Pencil Holder that is a pretty as it is useful!
Supplies Needed:
This flower pot pencil holder is made from a basic small clay flower pot, available at any home center or craft store, that is painted with chalkboard spray paint. To spray paint items like this, I use a scrap of 1×2 board left over from a project and turn the pot upside down onto the end of it. Then I can take the item outside, hold it extended arm's length away from me, and rotate it while spraying. This gets me good coverage with minimum mess and clean up, and I can get all the edges. To let it dry, I just prop the stick up against something with the pot still on top of it.
Once the painting is complete (I recommend two light coats) and dry, the rest was super fast and simple! Just grab a hot glue gun and get to work gluing the buttons around the top rim of the pot. Cut the shanks off of the apple buttons, and insert one of them periodically. Make sure to use enough glue that they are attached securely!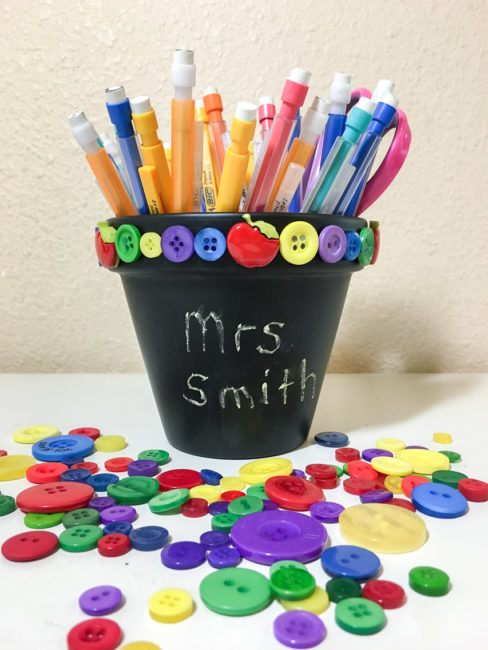 Finally, rub the bottom area with the side of a piece of chalk and then clean it off to "prime" it so that it can be written on. I chose to write the teacher's name but you could also write instructions like "please return". That's one of the best things about using the chalkboard paint for this design – it's not just classroom themed, it's also useful!
The flower pot pencil holder will likely have a small drainage hole in the bottom of it. If you are concerned about things falling out through the hole when the pot is moved, cut a small circle of cardboard (such as from a recycled cereal box) and glue it into the bottom of the pot.
School will be here before you know it! Grab your 3D Apple Buttons and Primary Button Bonanza and start crafting your flower pot pencil holder for a beautiful classroom!
The following two tabs change content below.
Nancy Nally
Nancy Nally is the social media manager of Buttons Galore, and the owner of Nally Studios LLC., which publishes ScrapbookUpdate.com and CraftCritique.com.
Latest posts by Nancy Nally (see all)