handmade yellow and grey baby shower decor
A Baby Shower was the most recent of events for my group of close friends. Between us we have had wedding showers, weddings, big birthdays and other baby showers. I was more than excited to be in charge of the decor. For this baby shower, mommy and daddy-to-be did not find out the sex of the baby. I wanted to stay away from the traditional yellow and green combination. Instead I chose yellow and grey with hints of silver. Here are some photos of the decor from our little event.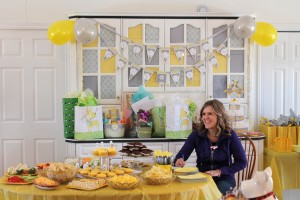 The cupcake skewers are just simply layered circles and scalloped circles of yellow grey and white cardstock and patterned papers. Then I used my heart punch with the glitter paper. An adorable yellow button finished it perfectly.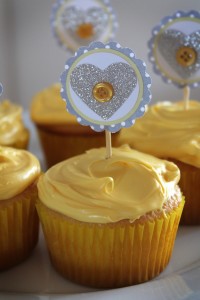 I also made the cupcake stand from a couple of dollar store plates and a silver candle holder.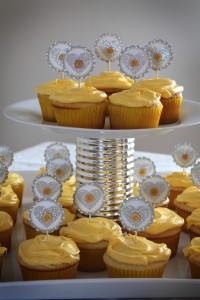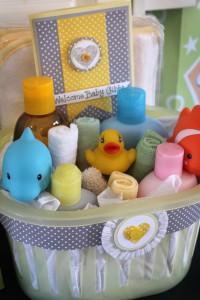 The "Welcome Baby Gibbs" banner was probably the most work. It includes layers of patterned paper and coordinating cardstock. The letters are cut from glitter paper. I also added a tissue paper ruffle to the top of each banner section, then added a little sparkle using Smooch Glitz.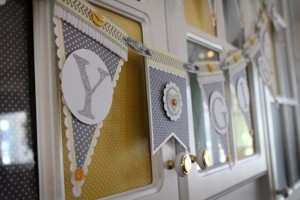 At the very top of the banner is a strip of washi tape and a yellow button at the top and the bottom of each section. Each section of the banner is strung on 3/4″ grey and white ribbon.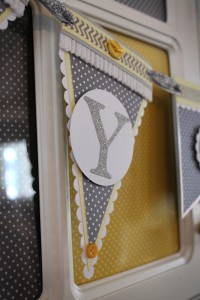 I even covered the inside of the glass panels of the hutch to coordinate with the yellow and grey theme.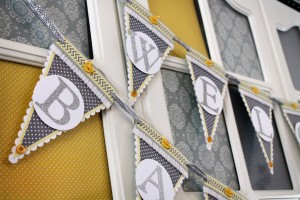 The final piece to the decor was the diaper cake I constructed. I continued with the same patterns as the rest of the decor. Layering grey and yellow cardstock and patterns.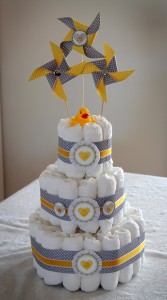 Each tier of the diaper cake had a accent piece rimmed with a tissue paper ruffle and a yellow button in the middle. The little yellow rubber ducky just finished it off.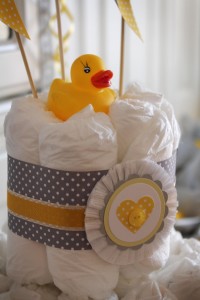 At the very top were the 3 yellow and grey pinwheels, attached to wooden skewers and stuck into the diaper cake.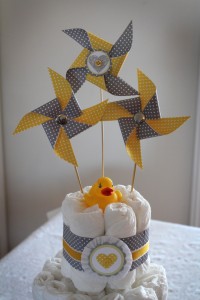 Materials to make the handmade yellow and grey baby shower decor:
2 3/4″ Circle Punch
Martha Stewart Crafts Scallop Border Punch
Streamers/Tissue Paper
Recollections Yellow and Grey Polka Dot Patterned Paper
1 1/2″ Scallop Circle Punch
1 1/8″  Circle Punch
1 1/4″ Circle Punch
American Crafts Glitter Paper (Silver)
Martha Stewart Crafts Heart Punch
Yellow and Grey Ribbon
The following two tabs change content below.
Latest posts by Tracy McLennon (see all)