Art Quilts are fun to make. Create some ART by making a little Mixed Media Quilt using some great buttons, trims and specialty stamps.  Once you create one you will be hooked and want to create several using words that inspire you.  Oh, by the way the specialty stamps used in this project are from my new line of stamps from Unity Stamp Company so be sure and check them out as they have so many possibilities! You can use them for making cards, scrapbook pages, mini books and so much more.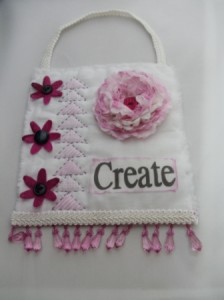 Supplies for an ART Quilt:
Assorted Buttons by Buttons, Galore and More
Faux Quilting Stamps by Unity Stamp Company
Crafter's Ink by Clearsnap color of choice
Beacon Fabri Tac

Threads by Kreinik 
Trims by Expo International
Font by Duetica

Assorted Flower Dies by Sizzix

Non Stick Scissor by Westcott 
8" x 8" Muslin (2), 8" x 8" Batting, Needle, Pins, Acrylic Block, Paper Towels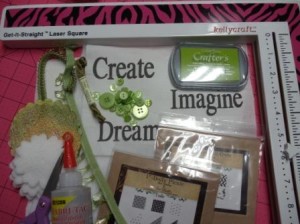 Gather supplies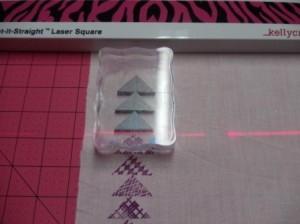 Directions for making an Art Quilt:
Square fabric using laser square.
Place 3 one" triangle stamps onto clear block, ink up and stamp onto fabric three times to create a Flying Geese Quilt Pattern, using the laser square to line everything up straight.
Place fabric on top of  batting and second square of fabric; use thread to quilt around flying geese pattern.
This is where the you use your creativity to arrange the die cut flower, buttons, words and trims into a pleasing manner then sew or glue into place.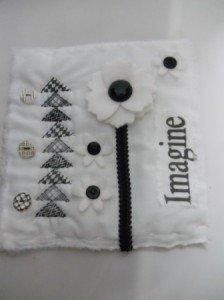 Each mini quilt will take on a look all their own, be creative and have fun!