A quick paper craft flower idea
I love brads and I love flowers.  I have also been creating a lot of things with flowers recently and thought combining brads and flowers together would work for so many creative projects and have a great look. There are so many creative paper craft flower ideas out there.   I wanted to show you how to make an easy center for your flower.   I chose a quick and easy one, BRADS!  Buttons Galore & More has a great selection of brads.  They carry  are metal brads, pattern fabric covered and corduroy and many more.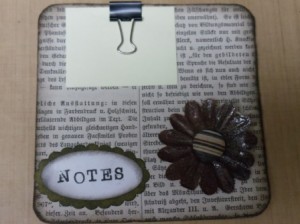 I created this little post-it-note magnet for the fridge and adding the brad to the center of the craft flower.  I think it is just the right finishing touch!
I started out with a great selection of Brads from Buttons Galore and More which included Men's Closet # CZ101 and Pretty Girl #CZ103 (I just love the names of the brads….)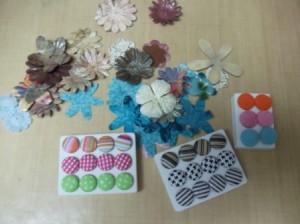 I gathered up some of my die cut, silk, mat board and fabric flowers to see what would work.  I have a stash of paper craft flowers.  They are one of my favorite staples right now.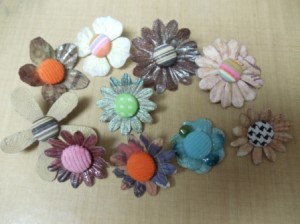 I pierced the center of each flower and started adding the brads, they looked so great as the large brads really gave the flowers some substance.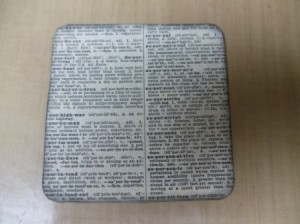 Once my flowers were ready I got out some square coasters and covered them with old dictionary pages using Zip Dry Adhesive by Beacon and inked up the edges.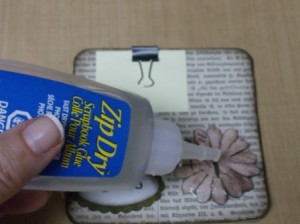 I added a stamped oval saying "notes" and a binder clip to hold the post-it-notes….then glued the flower into place….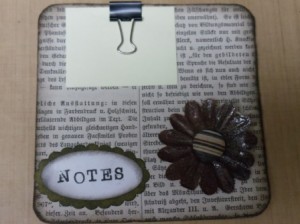 Then I added a magnet to the back and it is all ready to place on the fringe!  There you have it a simple paper craft flower idea – using brads for the center.