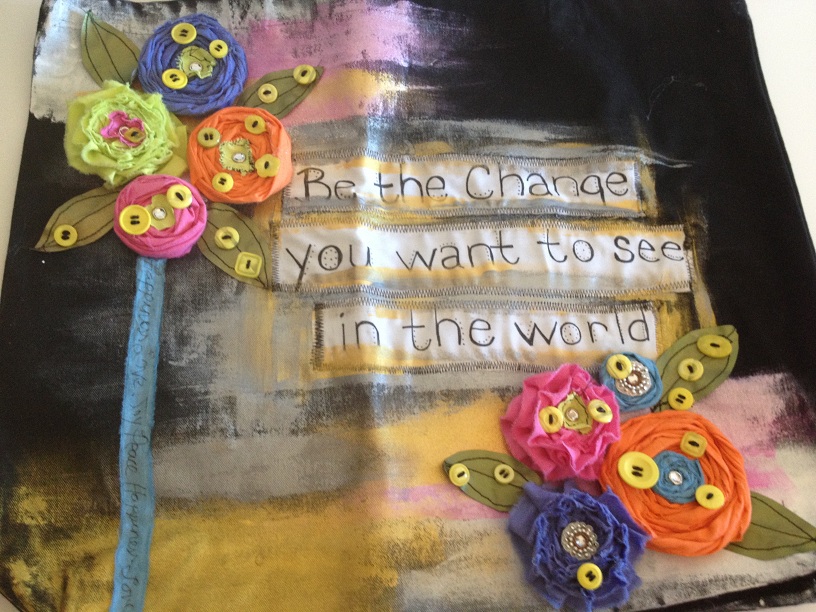 An embellished tote
Hand journaling is becoming more and more popular in mixed media crafts these days. This tote is a basic pre-made black tote I ordered online and embellished with hand journaled muslin, Jacquard Products paints and dyes (for the hand dyed fabric) and finally, fun buttons!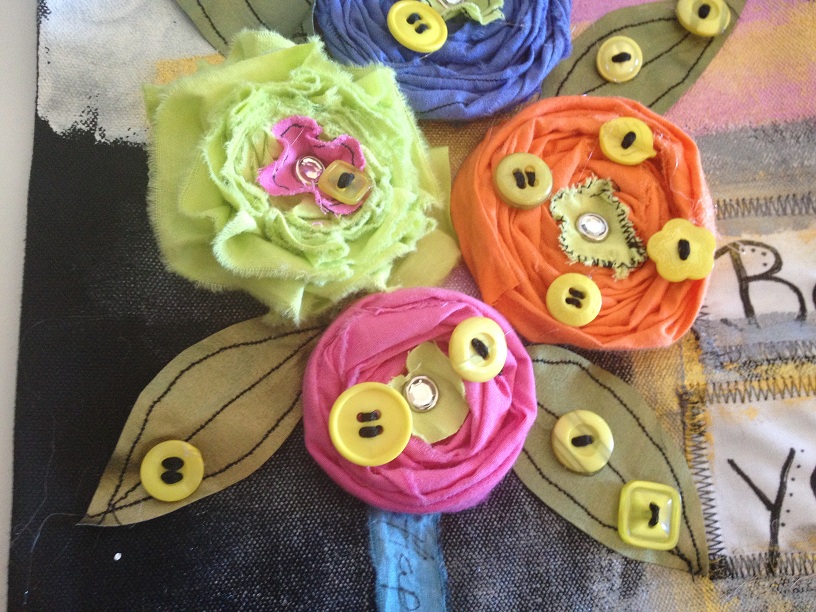 Jacquard products makes a wonderful product called IDye. It comes in both liquid form and powered packets. I used the powdered packets to machine dye white cotton muslin. Once the muslin was dry, I created happy bright colored fabric flowers using various techniques. Instructions for making flowers by hand from fabric can be found in abundance these days. Search for a myriad of techniques on sites like Pinterest.  You can find other ideas for an embellished tote there, too.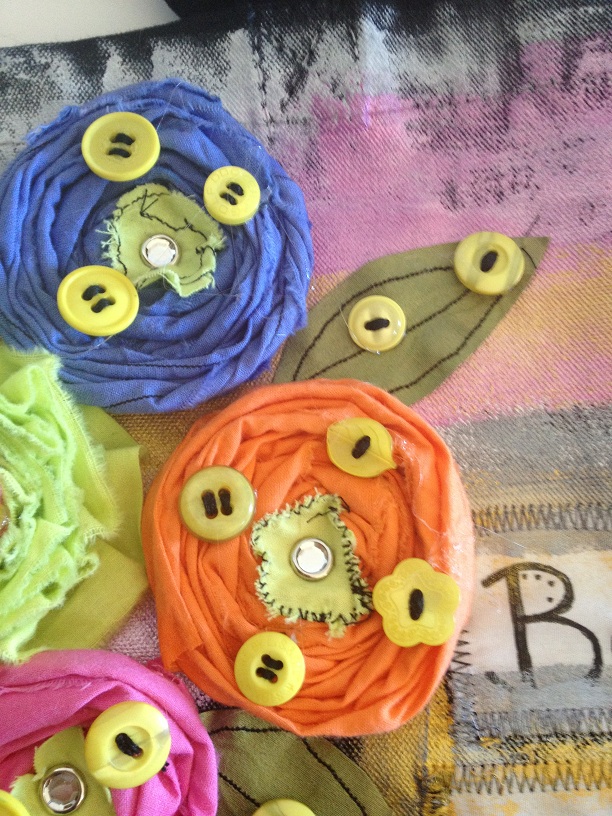 How to make an Embellished Tote:
I started with creating a dry brushed background using Jacquard's Neopaque and Lumiere paints. Starting with one color, I waited for the colors to dry in between coats before adding the next to create an interesting canvas.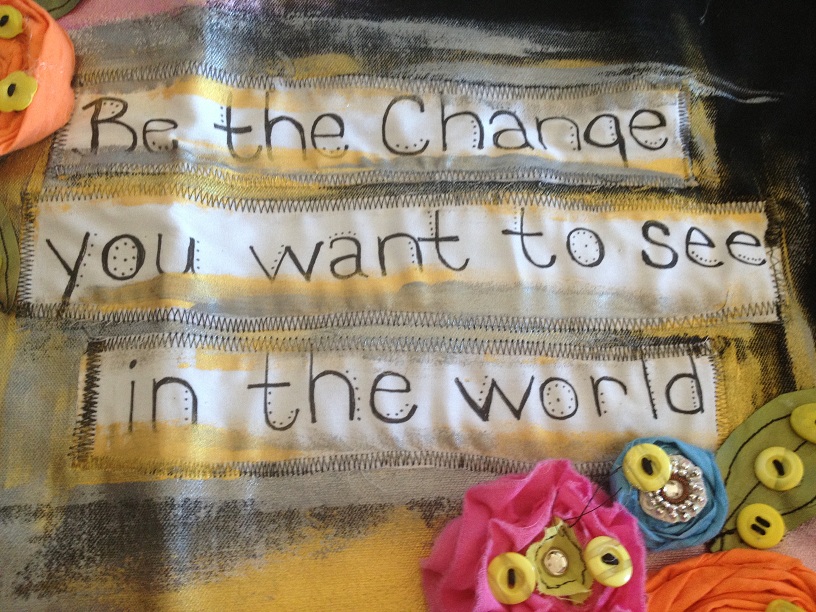 Believing that I have the absolute worst hand writing on earth, I was very timid about hand journaling on these muslin strips. I took on the challenge anyway and pinned and sewed them to the front of the bag. Swiping a coat or two of the paints allows them to blend in nicely with the background while standing out at the same time.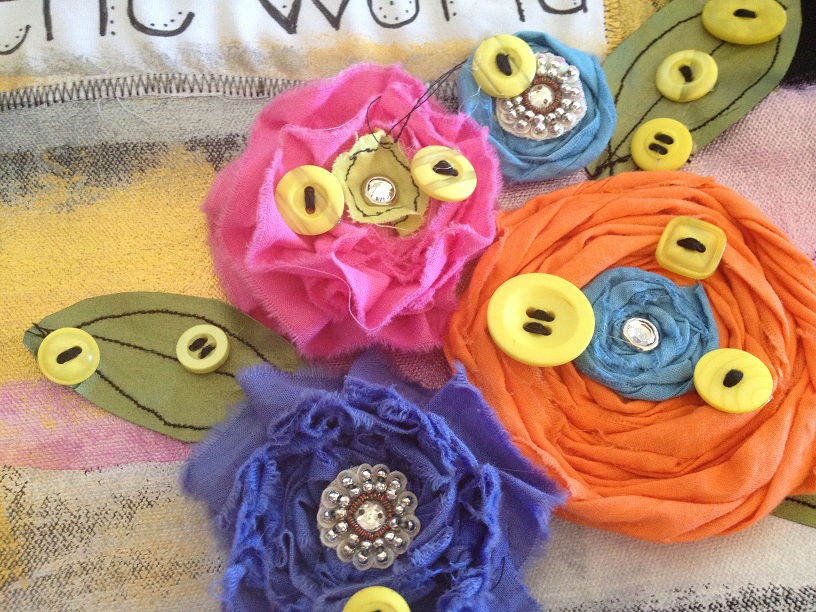 Bright, fun, hand dyed buttons  add the final touch to the flowers. They are perfect for this project since the fabric is hand dyed as well. I used three strands of six ply embroidery floss to sew through the holes of each button. I wanted to create the impression that the buttons were sewn to the bright flowers but in reality, I knotted off the threads in the back and glued them on with Beacon Adhesives Fabri-Tac.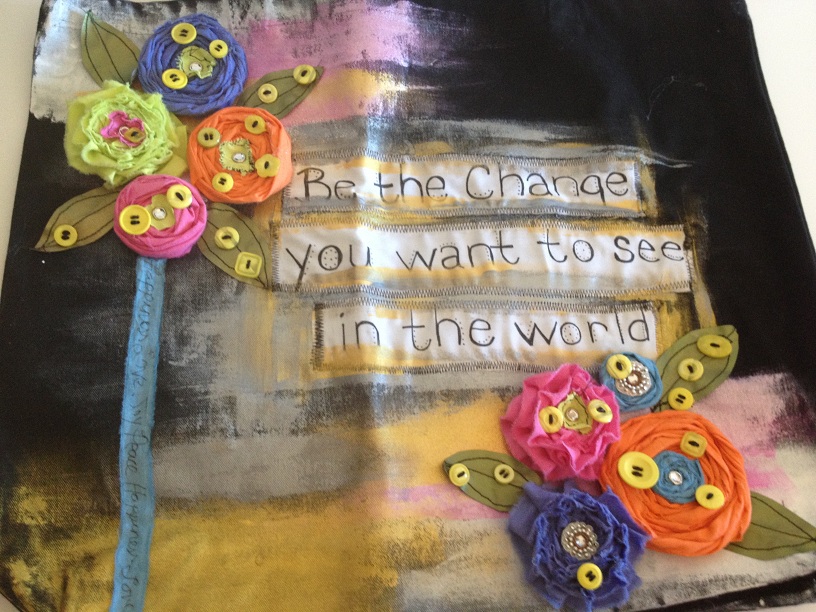 The message of the sentiment speaks well to me. Instead of constantly complaining about how things should be, or how they are not what we envision as "right," we should lead by example. Show the world what a better place it could be by being just that – better.
Live Life Creatively,
Melony
The following two tabs change content below.
Latest posts by Melony Bradley (see all)