Circles are trendy right now – and they are a perfect match for buttons! This five minute card project pairs circles, buttons and a retro style patterned paper to create a look for an easy birthday card that is quirky and fun!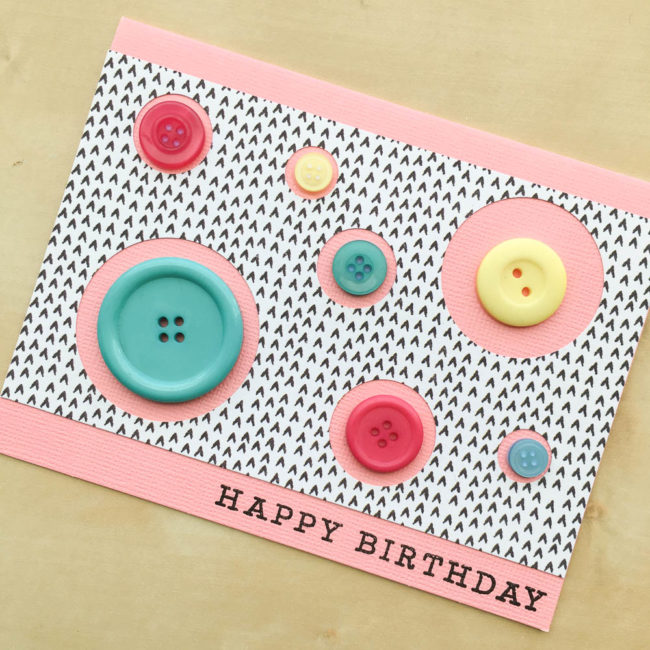 Supplies Needed:
blank card base
black ink
Hero Arts "Many Everyday Messages" clear stamp set
Crate Paper "Chasing Dreams" 6×6 paper pad
assorted circle punches (.5″, .75″, 1″, 1.5″, 1.75″)
To make this easy birthday card, select a blank card base and use black ink to stamp a sentiment in the lower right hand corner. I chose a birthday sentiment for my card, but this card design is really suitable for a variety of occasions: hello, cheer, thank you, and many others. Simply choose a sentiment suitable for your desired occasion!
Cut a piece of paper to 5 1/2″ by 3 3/8″. Get out your circle punches and punch about a half dozen random holes in it. Adhere it across the card front, just above the sentiment.
Select buttons that fit in each of the circles and glue them down with a clear drying white glue such as PPA Matte. Try to pay attention to color balance when selecting your buttons – don't choose too many large buttons the same color or use too many buttons close together in one area of the card that are the same color.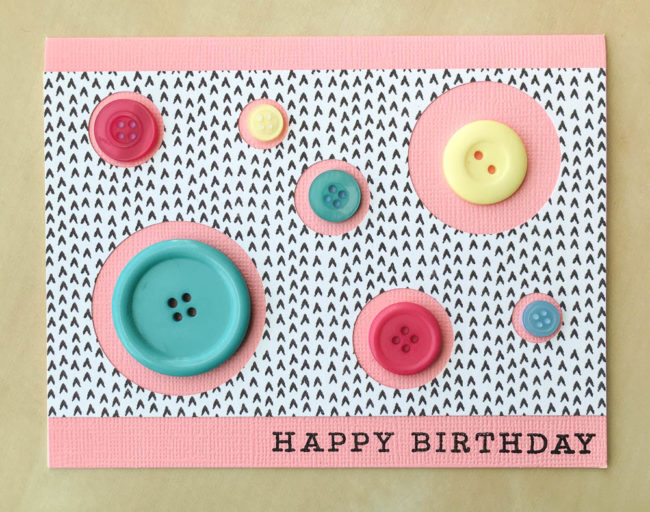 When the glue dries, your card is ready to be put in an envelope and delivered! This easy birthday card project would also be great for doing with kids to make teacher thank you cards for the end of the school year, And the color scheme possibilities are as endless as our Button Bonanzas…check them out and get inspired!
The following two tabs change content below.
Nancy Nally
Nancy Nally is the social media manager of Buttons Galore, and the owner of Nally Studios LLC., which publishes ScrapbookUpdate.com and CraftCritique.com.
Latest posts by Nancy Nally (see all)