Nothing's more fun at Christmas than an ugly Christmas sweater. So why not send one to a friend in the form of an ugly Christmas sweater card for the holidays?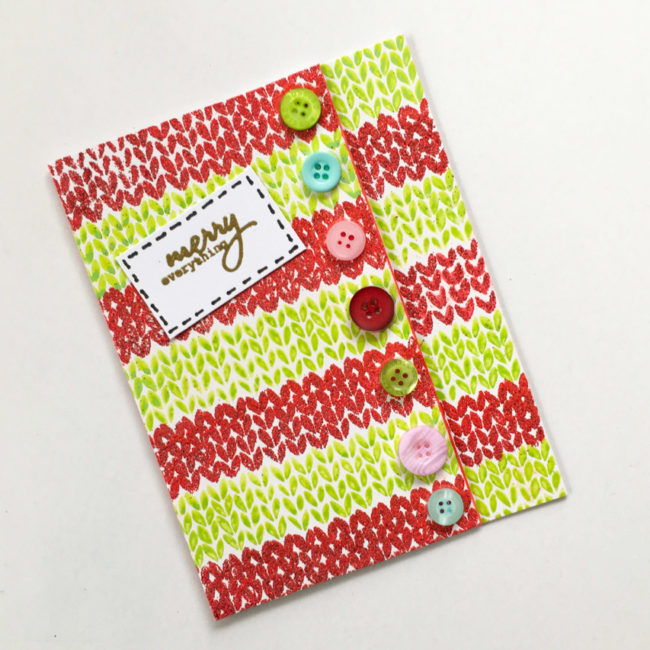 Supplies Needed:
White cardstock
Pinkfresh "Oh Joy" Stamp Set
Ranger Tim Holtz Distress Embossing Ink
Ranger Tim Holtz Distress Ink in Twisted Citron
Ranger Embossing Powder in Clear Super Fine Detail, Gold, & Red Tinsel
Black pen
Ranger Tim Holtz Distress Marker in Candied Apple (optional)
This card's technique is simple – just creating two strips of paper by stamping the sweater knit stamp over and over, alternating the color and embossing it. The Twisted Citron ink is embossed with clear embossing powder, and the red is clear embossing ink that is heat embossed with Red Tinsel powder. The strips need to alternate to create the effect on the front of the card.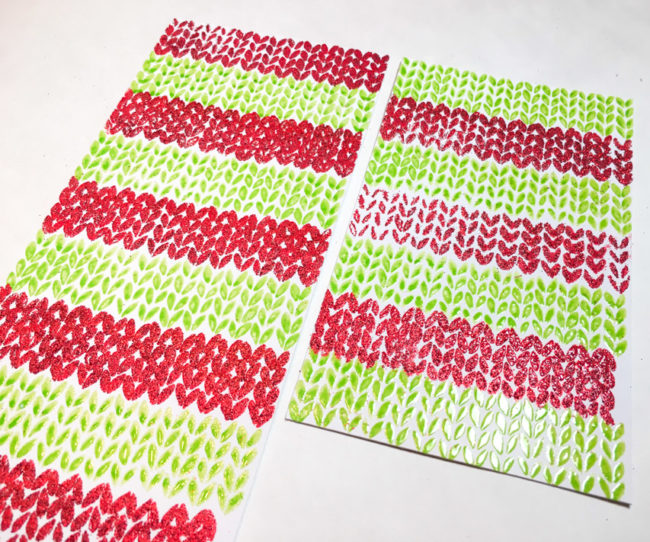 Doing all that stamping and embossing while changing colors takes a bit of time, but the result is a great effect!
Once strips are made, they can be adhered to a card base. Start by attaching the one on the right side of the front. Position it, glue it down, and then trim off any excess. The front is layered, with the left side overlapping the right panel, so there's no need to worry about how wide the panel is on the card front.
To emphasize the layered effect and create bulk in it as if it really is a sweater placket, adhere two inch wide strips of paper underneath the right edge of the left panel before attaching it to the card front. This will slightly raise the area under the buttons up, creating depth and shadow that look like a true sweater! For a little extra shadow, run a dark red pen or inkpad along the paper edge where the pieces overlap as well.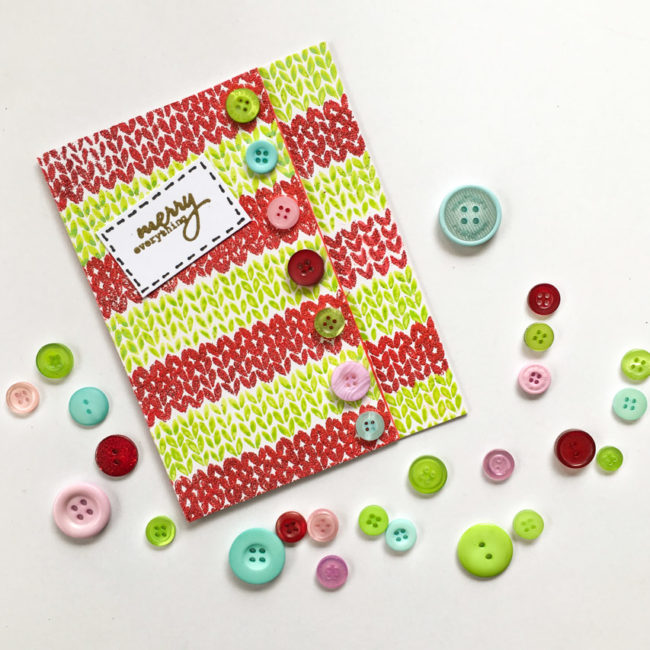 Now that your sweater has a placket, it needs buttons to fasten it! "The Merriest" Button Bonanza has red and green shades that match the card base. Adding in the the pink and blue shades that are also in the assortment looks a bit random on top of all of that red and green, and is the perfect way to "ugly" up your ugly Christmas sweater card. Glue your buttons down with a clear drying adhesive like PPA Matte Adhesive.
The finishing touch is the "patch" that has the sentiment on it. Just stamp and emboss the sentiment, and then draw stitching lines around it with a pen. Adhere it at a jaunty angle to your sweater's "front" and you are done!
Who do you know that needs an ugly Christmas sweater card? Send them one today!
The following two tabs change content below.
Nancy Nally
Nancy Nally is the social media manager of Buttons Galore, and the owner of Nally Studios LLC., which publishes ScrapbookUpdate.com and CraftCritique.com.
Latest posts by Nancy Nally (see all)