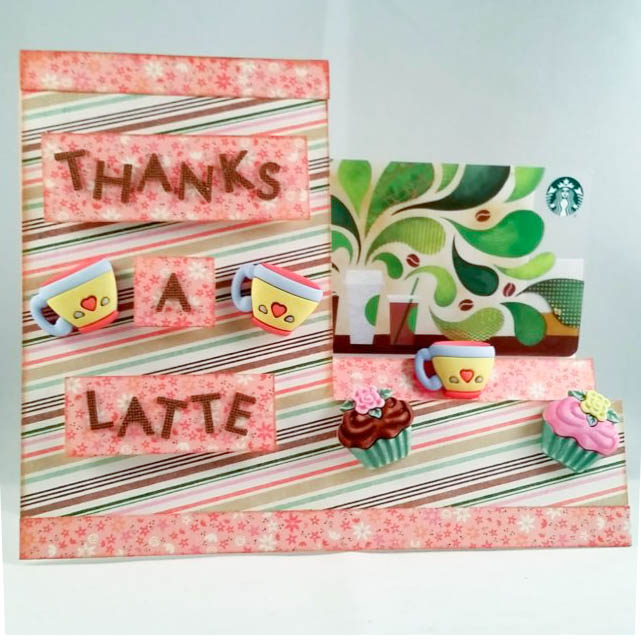 It's National Coffee Day, and what better way to celebrate than with a gift card to your favorite coffee shop? Using 3D buttons from our Buttons Galore Sweet Delights collection, you can make a sweet card that doubles as a gift card holder!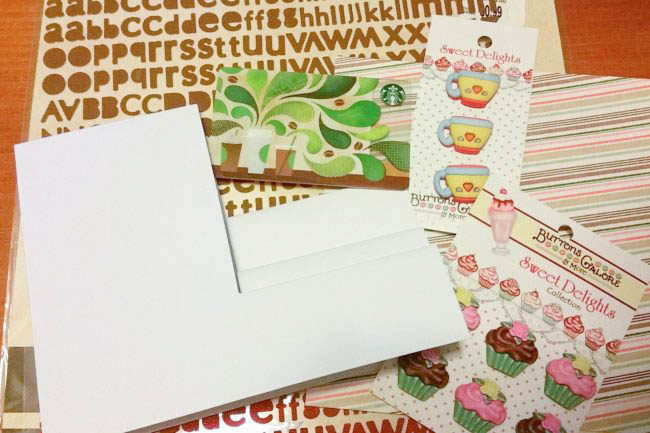 Supplies Needed to Make Coffee Gift Card Holder:
Side stepped card
2 – 6″x6″ sheets of coordinating patterned paper
alphabet stickers
scissors
paper trimmer
pencil
tape runner
foam pop dots
red line tape
ink
button shank remover
gift card
Instructions for Making Coffee Gift Card Holder:
Trace front of side stepped card onto the back of one sheet of patterned paper. Cut out with scissors and adhere to front of the card. Ink edges of paper if desired.
Cut two 3/4″ strips from the second sheet of paper. Ink edges if desired. Adhere one strip to the bottom of the card. Cut the other strip in half. Adhere one piece to the top of the card, and adhere the other on the second "stairstep" of the card.
Spell out "Thanks a Latte" by placing stickers onto leftover pieces of the 2nd sheet of paper and then cutting out rectangles around the words. Inks edges if desired. Adhere to card with foam pop dots to add dimension to the card!
Remove shanks from back of "coffee cup" and "cupcake" buttons with a button shank remover. Adhere to card using red line tape.
Adhere gift card to the last step of the stepped card using red line tape.
SaveSave