Today is "send a card to a friend" day. What better way to celebrate someone special in your life "just because" than with a sparkly embellished butterfly card?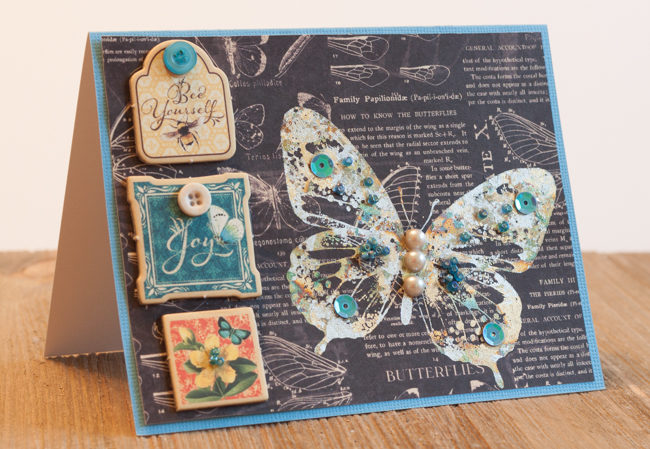 Supplies:
Graphic 45 Nature's Sketchbook (6×6 paper pad & decorative chipboard)
Indigo Blu MegaFlake Starter Kit & Flutterby Dinkie stamp
Blank card (blue)
One of my favorite things about creating with the 28 Lilac Lane embellishment bottles is that they come in an entire rainbow of colors. This means that there is always the perfect bottle for whatever paper collection I'm in love with at the moment. For this new Graphic 45 collection called Nature's Sketchbook, I reached for "Birds of a Feather". It's a perfect match for the blue tones in the papers, and a great way to add pops of colorful sparkle to my metallic butterfly!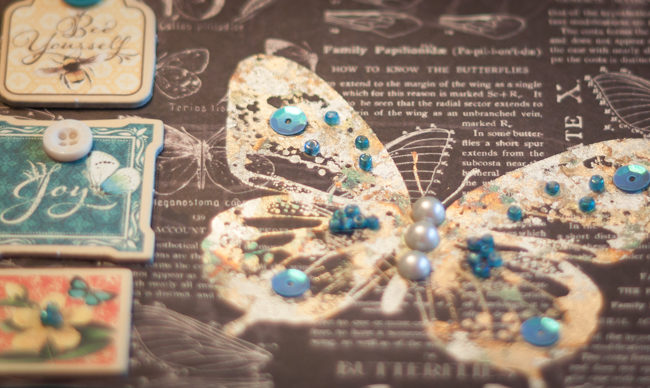 This metallic butterfly was created with a glue and metallic flake stamping technique from Indigo Blu. It creates an opaque image even on dark paper, perfect for creating visual pop.
The butterfly is gorgeous on its own but it needed some more color to make it coordinate better with the chipboard. Also, it needed more dimension so it wasn't overwhelmed by the chipboard elements. The blue sequins and seed beads from "Birds of a Feather," along with the white pearls, provide just the right touch to take the butterfly from simple to gorgeous!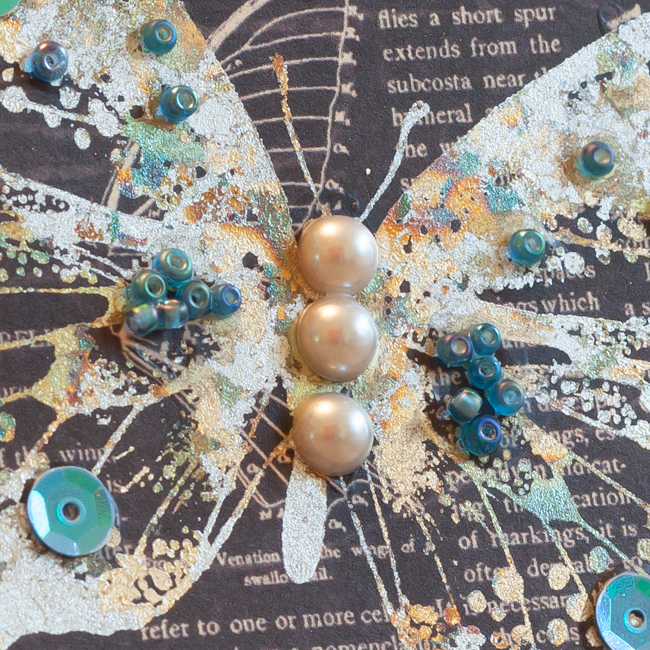 A few buttons from the bottle finish off the holes on several of the chipboard elements, and the whole thing is tied together beautifully! By mounting the black background on a blue card background, it keeps all of the embellishment contained and coordinated.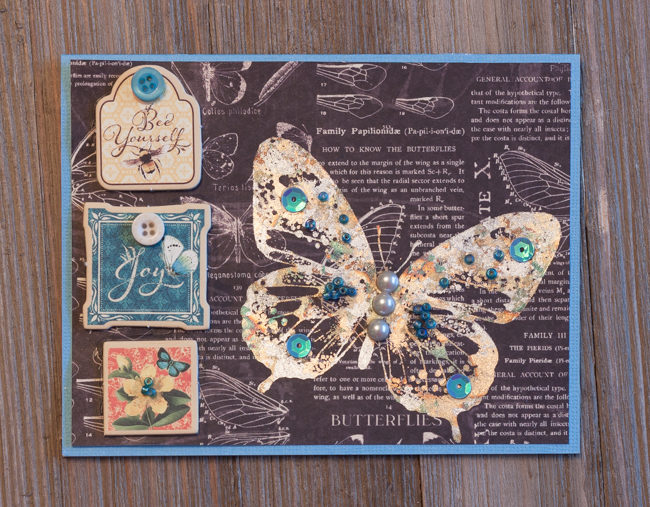 Who do you know that would love a blue and gold butterfly greeting? Flutter an embellished butterfly card their way!
The following two tabs change content below.
Nancy Nally
Nancy Nally is the social media manager of Buttons Galore, and the owner of Nally Studios LLC., which publishes ScrapbookUpdate.com and CraftCritique.com.
Latest posts by Nancy Nally (see all)