Today Buttons Galore is excited to welcome guest blogger Laura Vegas, who is sharing with us an adorable layout and also a card. These fun projects are made with our
Button Basics
 in Sky Blue, Candy Apple Green, Cotton Candy, and Lemon Yellow.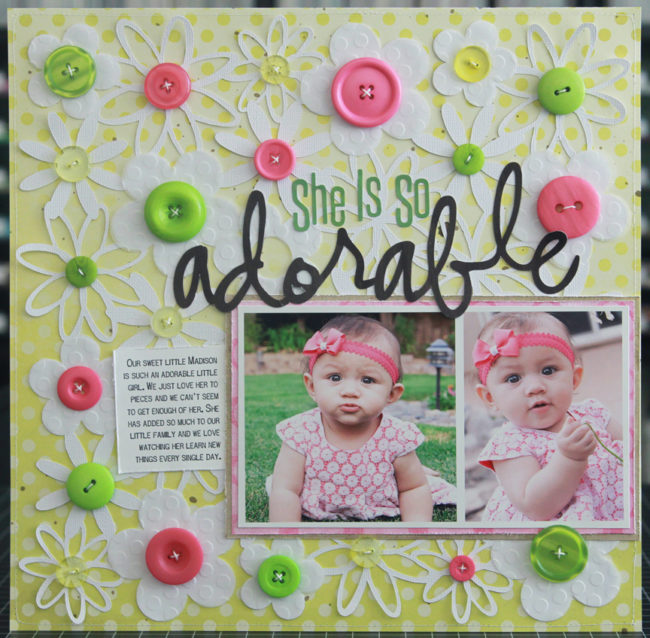 Hey everyone, it's

Laura

Vegas

here. I'm so excited to be here guesting on the Buttons Galore blog, and have created two projects to share with you all today. Buttons are one of my absolute favorite embellishments! I have a massive button collection, and yet I can never pass up adding more colorful buttons to my stash. They just speak to me!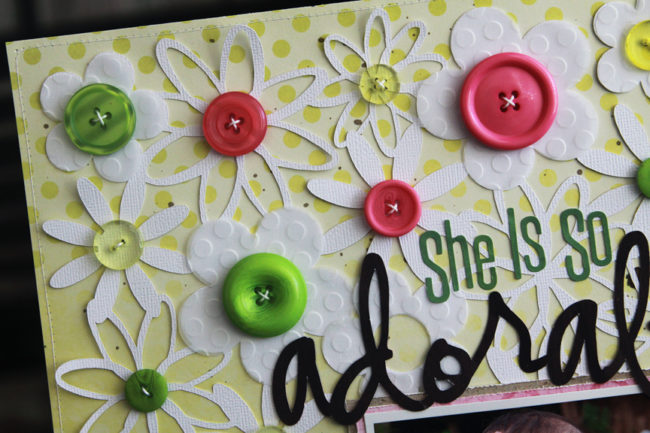 One of my favorite ways to incorporate buttons onto my projects is to add them to the centers of shapes. I tend to use a lot of flowers, circles, and stars on my layouts, and buttons are the perfect addition to any of those shapes. For this layout, I started by die cutting a floral background piece from white cardstock, using my Silhouette Cameo die cut machine. I love that it had lots and lots of flowers to embellish with my buttons!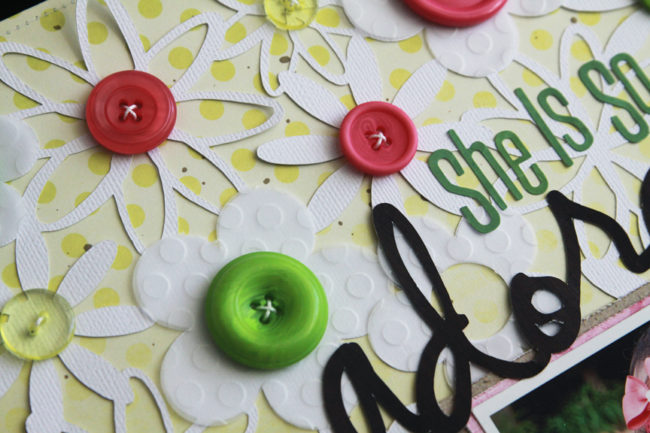 I wanted to add some subtle interest to some of the flowers on the background piece, and vellum came to mind. I was able to find an individual flower cut file that matched one of the flowers on the background piece. I sized the flower numerous times to match up with the flowers on the background piece, and then cut them all from a sheet of vellum. To add some texture, I ran each vellum flower thru a dotted embossing folder before layering them over the background flowers.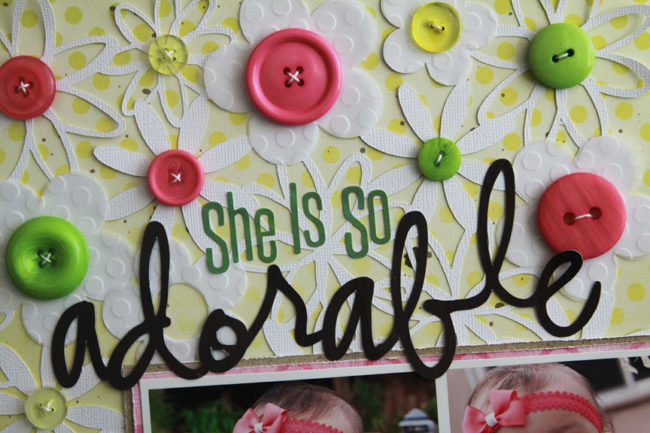 Personally, I always thread my buttons when using them on layouts and cards. I don't like to have any "naked" buttons on my projects ;) My go-to way to adhere my buttons, is to thread my string through the button holes, and then laying the string ends flat against the button, I add a glue dot (or sometimes two if it's a larger button) right over the string. This holds the ends in place, and I can them simply adhere my button to where it needs to go.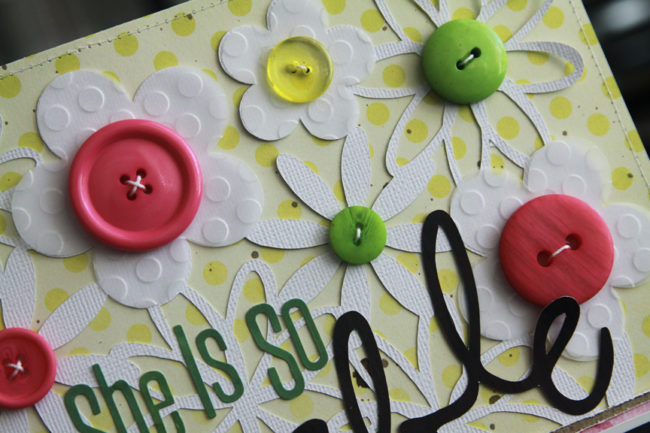 The exception to this rule, is when I'm working with clear buttons. I don't want those strings and glue dot to show through the clear button. So for those buttons, I will take the extra time to use a needle and stitch my button directly onto the page.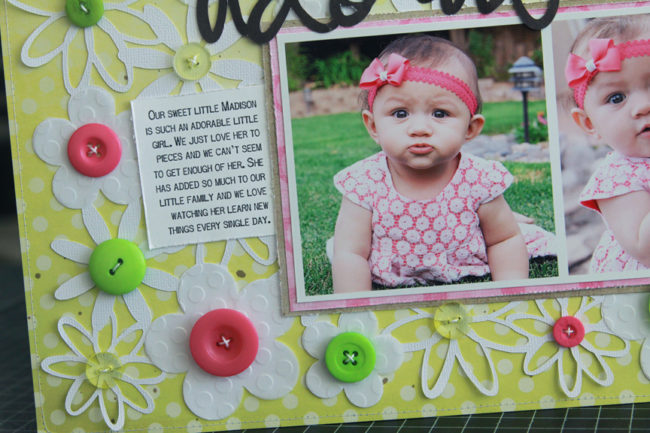 I tend to be a more simpler scrapper, in that I keep my embellishments more on the simpler side. So I am always turning to buttons, as well as basics like brads and enamels. Oftentimes, they are all I need to finish off a project mostly made up of photos, cardstock, and patterned paper.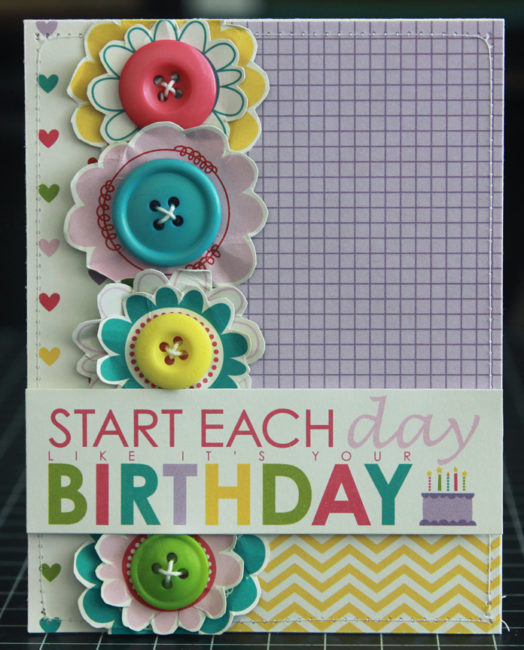 I wanted to whip up a quick card to share with you as well, using the same idea of adding buttons to the center of flowers. This time I fussy cut some flowers from a sheet of patterned paper to create this easy birthday card.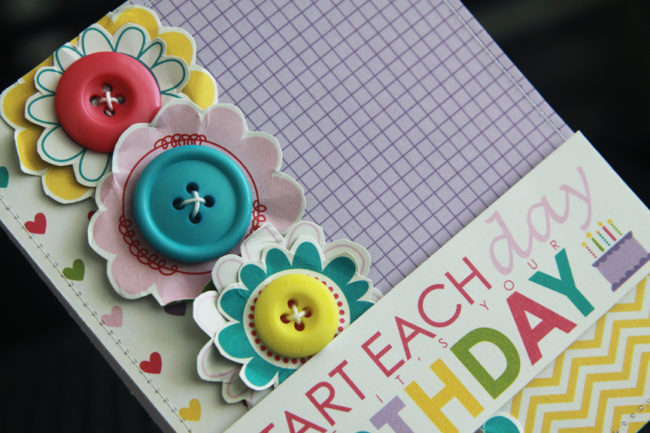 A fun, and super simple, way to add texture to paper flowers (whether die cuts or fussy cut from patterned paper), is to crumble them up really good. You can even lightly mist the paper with water to make it easier to work with. Then you simply un-crumble your flower, flattening it out as much or as little as you like. Add a threaded button to the center of each flower, and you've got the most adorable little flowers to add to your projects!
I've had so much fun creating these projects, and I hope you enjoyed them too! Thanks Buttons Galore for the opportunity to guest design for you and create with your colorful buttons!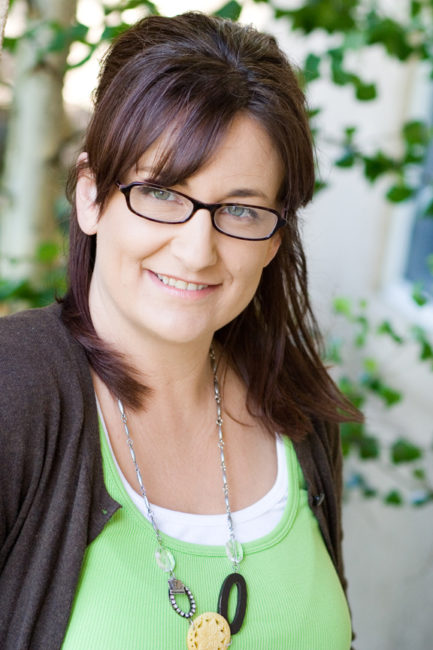 Learn more about today's guest blogger, Laura Vegas:
 Hi there! I'm
Laura Vegas
, from Northern California, where I live with my husband Joe, and my two daughters, Alyssa (20) and Sarah (17). I have been scrapbooking for well over 22 years now. I scrapbook mostly about my girls and our family, but like to mix it up now and then by scrapping photos and stories about my daycare kids and family friends as well. I have been fortunate enough to design for some amazing manufacturers in the industry over the last 11 years, and have also had my work published in a variety of publications for the last 10 years. I was honored to be a member of the 2010, 2011 and 2012 Creating Keepsakes Dream Team and the 2013, 2014 and 2015 Scrapbook & Cards Today design team. I just recently left my position as Creative Team Coordinator for Bella Blvd after 5 years, and am currently designing for Kerri Bradford Studio.
The following two tabs change content below.
Buttons Galore is honored to host a variety of talented artists as guests on our blog, to share their creative project with our readers.
Latest posts by Guest Author (see all)