With Spring just around the corner, many young couples are planning their weddings. What better gift than a Ivory Pearl Haberdashery Wedding Favor Sachet Set.  Buttons Galore & More offer more than just buttons they offer young couples the ability to create lovely wedding invitations and favors with their lovely line of buttons.
For my project today I used one that I have totally fallen in love with.  The  Ivory Pearl Haberdashery.  The ivory pearl finished buttons come in a variety of sizes and its truly something that can be used over and over again regardless of what the occasion is.
Now who wouldn't want a scented wedding favor? Especially one with lovely buttons such as the Ivory Pearl Haberdashery?  These favors  can be used to provide scent to any room in your home  after the wedding is over.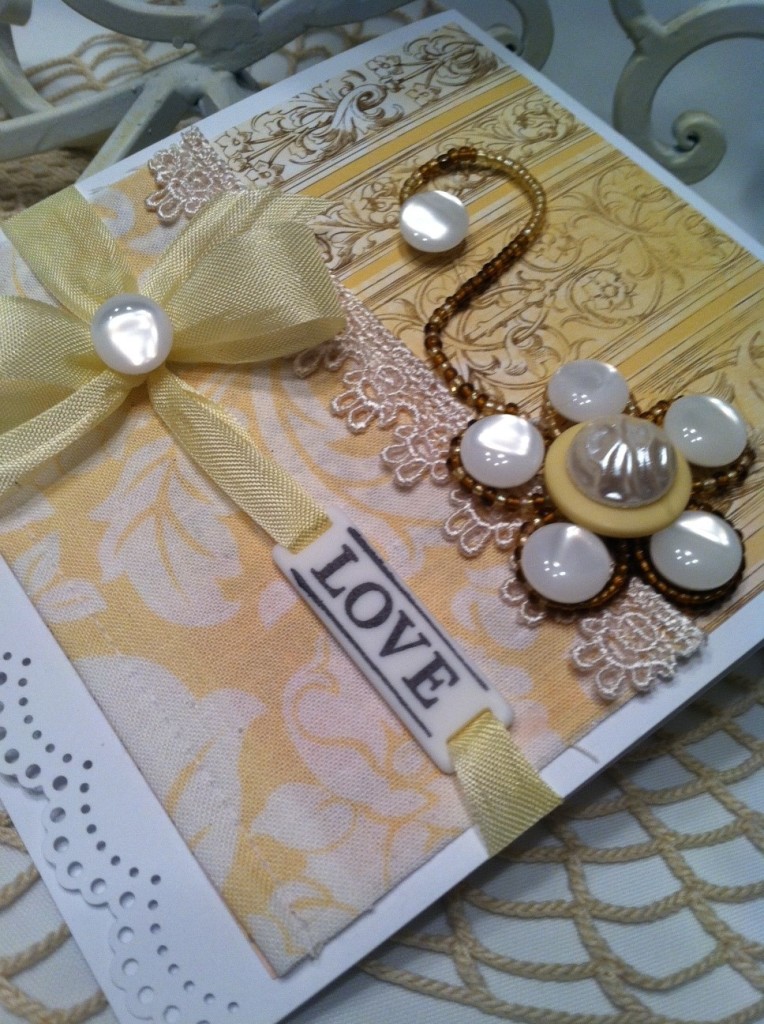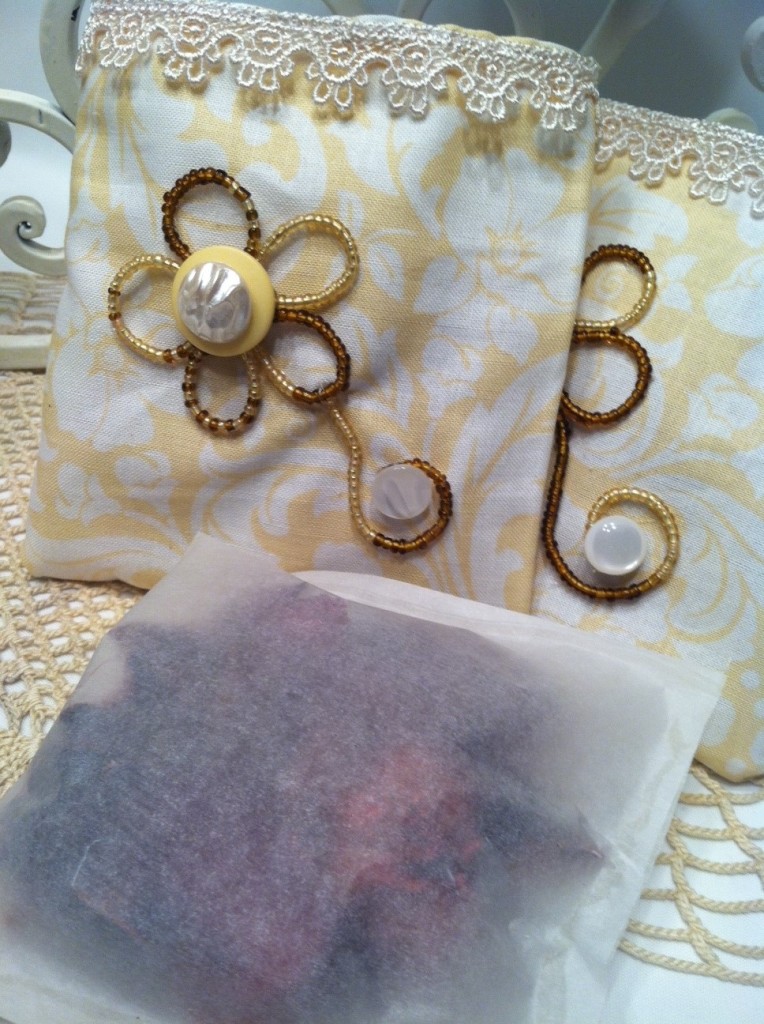 These Ivory Pearl Haberdashery Wedding Favor Set can be created for any occasion it doesn't necessary have to be done for weddings, but I think that anyone attending a wedding would truly love receiving such a lovely favor.
MATERIALS to make the  Ivory Pearl Haberdashery wedding favors:
 BUTTONS GALORE & MORE:
Cross Promotional Supplies:
Fiskar Scissors
Jacquard – Velcro Press & Close Fasteners
Additional Materials:
Hot Glue
Glass Beads
Fabric of choice
Trim
Potpourri – Cinnamon
Seam Binding Ribbon
Canson – Tracing Paper
Canvas Corp – Heavy White Cardstock
BoBunny – Back to Basic Paper collection
Sewing Machine
White Floral Wire
Black Staz On Ink
Teresa Collins Stamp – Vintage Finds Acrylic Stamps
How to make the  Ivory Pearl Haberdashery wedding favors:
Now I know it may seem like a lot of materials.  Trust me it makes a lovely  Wedding Favor Sachet.  I started out by cutting my fabric that I picked up at my local fabric store.  I cut the fabric 4 1/2″ x 5″ and sewing the edges leaving an opening.  Now, I'm not that great at sewing.   So I glued my ivory trim with Beacon adhesive Fabri-Tac.  Wow this glue is amazing.  I was really amazed on how quick it dried up and how well it glued the trim to the fabric.  Once you have this all done you can begin beading the flowers by using a floral wire.  I twisted the wire once all the glass beads were on the fabric wire to create a flower.  To make the swirls on the side of the flower I did the same thing.
I applied the flowers to the fabric using Beach Adhesive  Fabric-Tac.  It was just that easy to adhere to the sachet bags.  Next  I applied my buttons from Ivory Pearl Haberdashery collection and Sunny.  They are on  Buttons Galore & More website.  I placed a piece of Velcro Press and Close Fastener to the inside of the sachet bags. This will allow you to refresh or replace your potpourri bags anytime you want.
The potpourri is something I picked up at my local Walmart.   I used Canson Tracing Paper to hold my potpourri.  I cut about 3 3/4″ x 4″ tracing paper.  I hot glued the edges leaving an opening and then placed my potpourri inside and sealed the top with more hot glue.   I placed it  inside of my Wedding Favor Sachet and sealed with the Velcro Press & Close Fasteners.
I couldn't stop just here I had to make a card to accommodate this lovely Wedding Favor Sachet Bags.  The card is 5 x 5 1/2″ and I used the same technique to create the flower.   I added the Ivory Pearl Haberdashery buttons to the flower petals which I glued using hot glue.  I  also saved a piece of the fabric that I used for the bags and applied it my card and to top this card off I used Teresa Collins Vintage Find Acrylic Stamp, Staz On and Buttons Galore & More Sm. Rectangle Sliders .  I stamped the word "LOVE" using Black Staz On Ink and stamped it directly to the Sm. Rectangle Sliders.  I used Glue Dots to attach my seam binding ribbon to the card and finished my card up.
I hope this inspires you to create something lovely and amazing for your Wedding using Buttons Galore & More buttons for your wedding favors.
The following two tabs change content below.