We are excited to have a guest blogger sharing this fun project.  Kadie from the fabulous blog 7 Alive is here to share her creativity.  Kadie is a DIY junkie like many of us as well as a fantastic crochet designer and mother to five kiddos.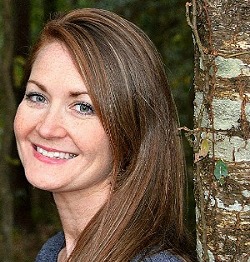 This easy project only takes minutes to create, and only a little longer to dry. You can easily create a fun shamrock for your kiddos or yourself to wear on St.Patrick's Day.
You only need a few materials to create your own button shamrock.  These buttons are from the Bright Mix by Laura Kelly.  They are Forest Green and Candy Apple Green.
To make your button shamrock ~
Freehand or stencil a shamrock shape onto green craft felt.  We love the felt best from Kunin Group.
Outline shamrock in fabric paint.
Use craft glue to add buttons stacked large to small on top of shamrock.
Make small bow out of ribbon using craft glue. Glue bow to steam of shamrock. (set aside till all glue dries)
Optional ~ add a pin or hair clip to back of shamrock to make it easy to wear.
This is perfect for boys or girls and will insure no one in your family will get pinched on St. Patrick's Day. :)
You can find more inspiration on Kadie's blog HERE or by clicking on the picture below!

If you would like to enter to win a craft stash of products (and a gift card to Starbucks), go for it.
Happy Creating St. Patrick's Day Fun!
The following two tabs change content below.