A few weeks ago I was stuck. I had to make my weekly card for Card Positioning Systems and I had everything but the finishing touch just wasn't working. The sentiment I wanted to use was too small for the label die cut I was working with and I really wanted to use THIS SENTIMENT. You know how you can just get stuck with the image in your mind and nothing else works?? Yeah I was there…so I decided to embellish my main image…and not just with one, not two, but THREE fun buttons. Here you can see I chose some buttons from the Girly Button Pack. They were JUST THE RIGHT COLORS to go with my chosen patterned papers. So I kinda played around with the color balance and felt the two reds and one green was just what I needed. To spice things up I decided to use natural colored hemp in the red buttons, tied in a knot and snipped short. For the green button to add balance and interest I tied white twine, tied a big loopy bow and snipped the tails a bit longer. I felt it gave the card fun whimsy! If you'd like more info feel free to pop over to my blog Pink Lemonade. Enjoy!!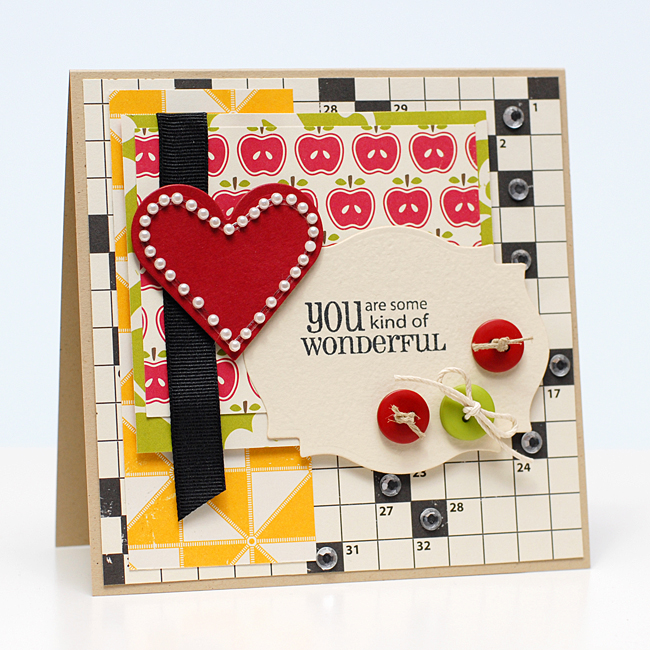 The following two tabs change content below.
Keri Lee Sereika, currently living in South Carolina, is a stay at home mother of four and wife to a USAFR pilot. Keri has been on a number of manufacturer's design teams, has authored two books as well as many articles in a variety of magazines and online media, and has had her designs featured in numerous magazines and books. When not busy playing with her kids or trying keep her house clean, Keri can be found up in her studio crafting or on the computer researching or writing articles on crafting.
Latest posts by Keri Lee Sereika (see all)