Have you ever been in the middle of a project and felt you needed just the "right touch" but couldn't really put your fingers on what that "right touch" was?  Well I thought I would share my card that shows just such a moment.
I had this cute little stamp that was the flowers' "stems & leaves" and I wanted to go 3-D with the flowers themselves…so I put my thinking cap on~ I sorted through my fun Gold Buttons and found three that were JUST THE RIGHT THING!!! So I snipped the shank off the back using some Hefty Duty Scissors….the shanks are plastic so you will not need wire snips or anything but I certainly recommend that you use a good strong pair of scissors!!! (And eye protection is a good idea too because the shanks can kinda take off on you! LOL)
Anyway, here's my card…can you spot my BONUS HAPPY FIND? Yep! That is right, the butterfly on the knot of the ribbon is ALSO one of the buttons I found while pecking through my Gold Buttons! If you'd like more details about this card just pop over to my blog Pink Lemonade…enjoy your day!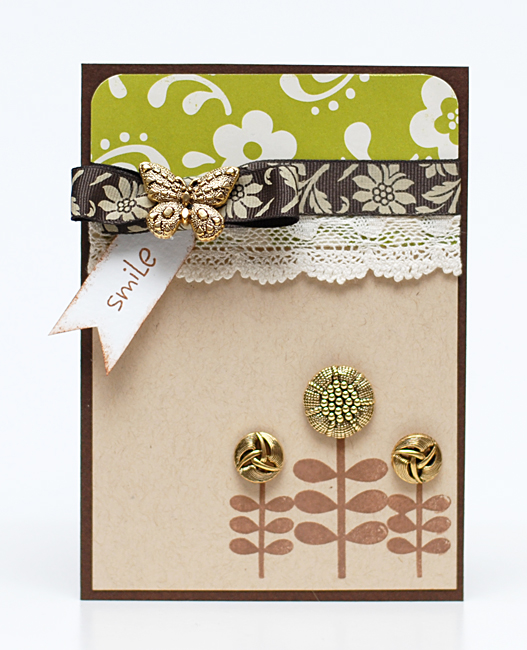 The following two tabs change content below.
Keri Lee Sereika, currently living in South Carolina, is a stay at home mother of four and wife to a USAFR pilot. Keri has been on a number of manufacturer's design teams, has authored two books as well as many articles in a variety of magazines and online media, and has had her designs featured in numerous magazines and books. When not busy playing with her kids or trying keep her house clean, Keri can be found up in her studio crafting or on the computer researching or writing articles on crafting.
Latest posts by Keri Lee Sereika (see all)