A handmade card is the perfect finishing touch to a gift for a new baby. With the Buttons Galore 3D "Baby Hugs" collection of buttons by Vicki Schreiner, it's fast and easy to make cards like this simple baby boy card! The only supplies needed are paper and buttons and a pen.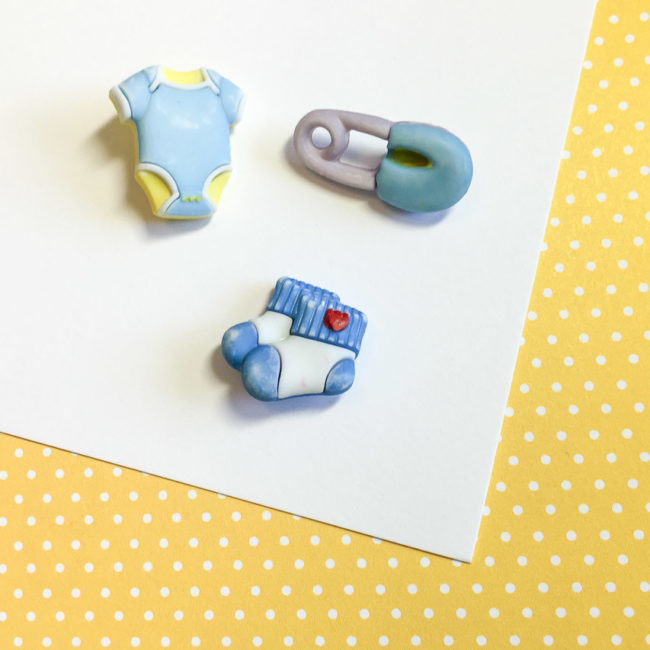 Supplies Needed:
Yellow Patterned Paper (Bella Blvd "Tiny Tots")
White Cardstock
Sentiment Stamp (Lawn Fawn "Sophie's Sentiments") & black ink or black pen
That looks like a long list, but it's really just a package of buttons, two sheets of cardstock, and some glue. I used a sentiment stamp for adding "it's a boy" but it could easily be added with just a marker.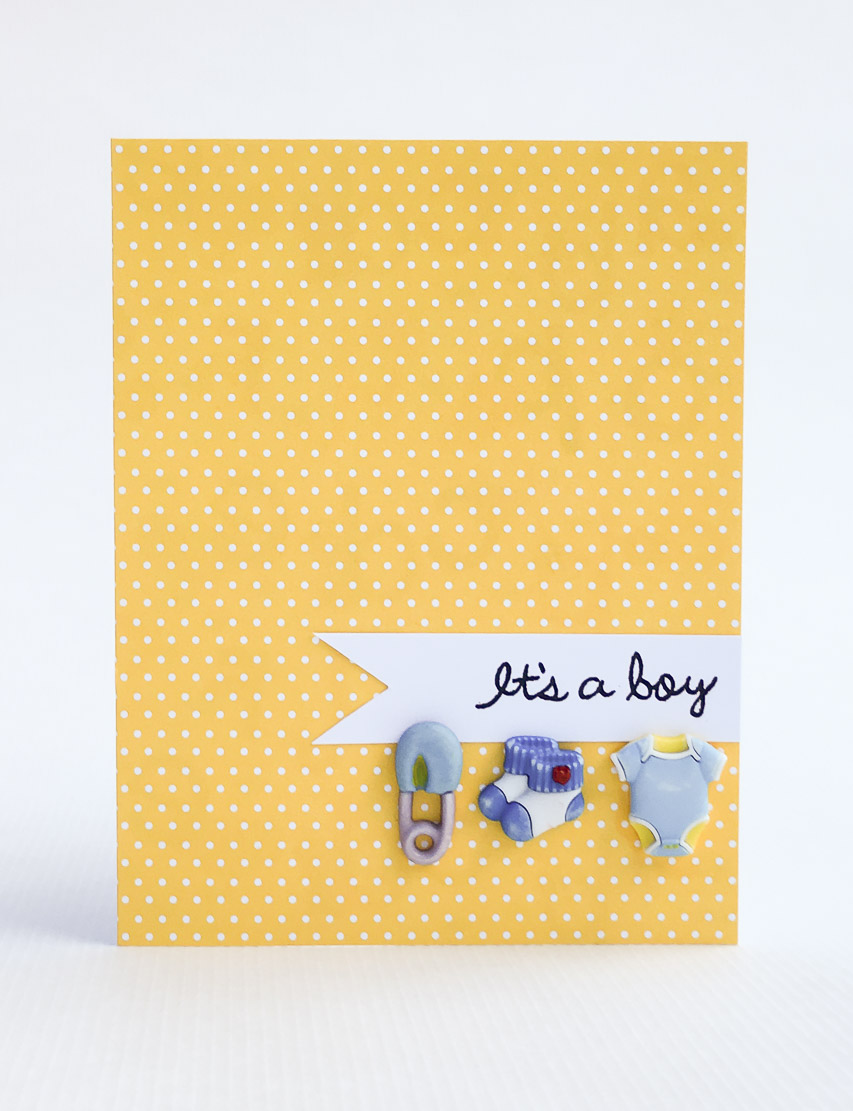 Assembling this card is simple – and fast! Just cut a piece of white cardstock sized 8.5″ x 5.5″ and fold it in half to make a card base. Cut a piece of yellow patterned paper that is 4.25″ x 5.5″ and glue it to the front of the card base.
Cut a 3/4″ strip on the leftover white cardstock to make the sentiment strip. Use scissors to snip the ends of it to create a banner. Write or stamp the sentiment on it, and glue it about 2/3 of the way down the front of the card.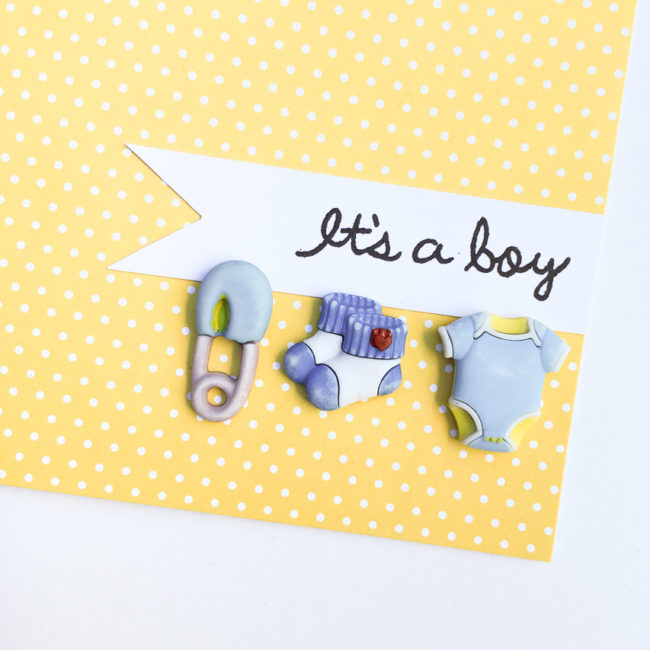 For the final step, use scissors or a shank remover to cut the shanks off of the 3D buttons. Glue the buttons down with a white glue like PPA Matte Adhesive or Aleene's Tacky Glue.
This quick and simple baby card can be make in less than 10 minutes. This simple design can be adapted to many other occasions (like birthdays and weddings) as well with the help of our other 3D button collections such as Sweet Delights or our wedding collection.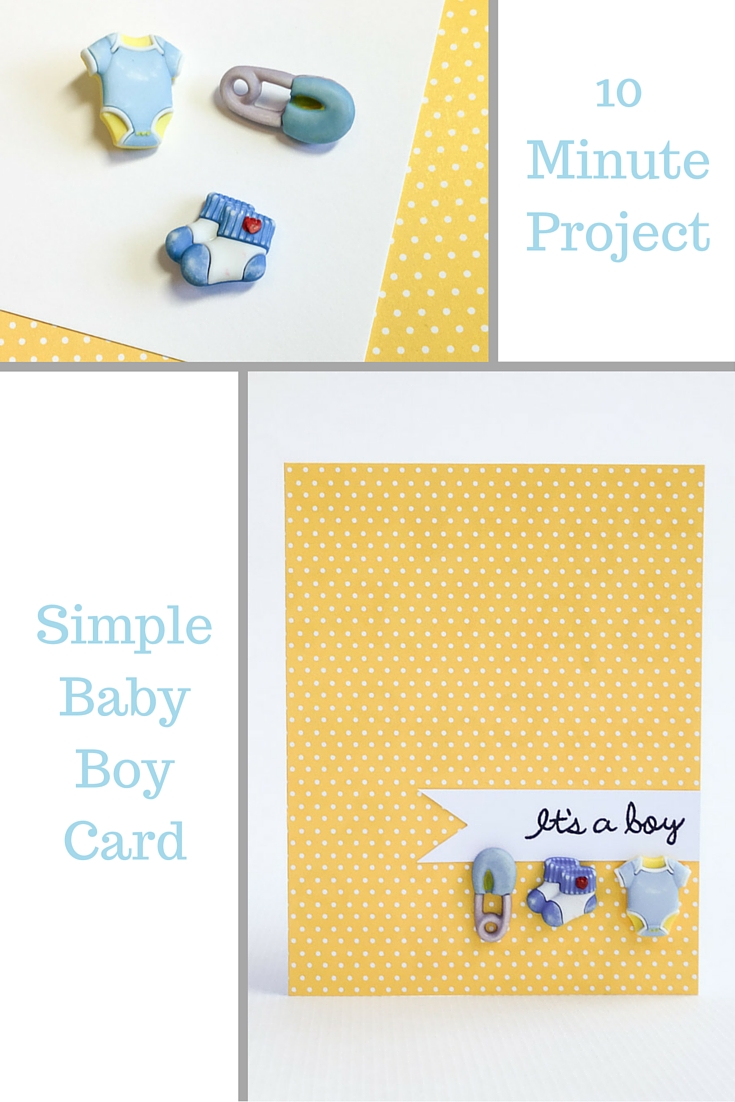 The following two tabs change content below.
Nancy Nally
Nancy Nally is the social media manager of Buttons Galore, and the owner of Nally Studios LLC., which publishes ScrapbookUpdate.com and CraftCritique.com.
Latest posts by Nancy Nally (see all)