Summer is wedding season for a lot of families, and a DIY wedding is a great way to save money on the cost of getting married. As our DIY Wedding Chalkboard Table Number shows, DIY can also be beautiful – and a great way to personalize your wedding.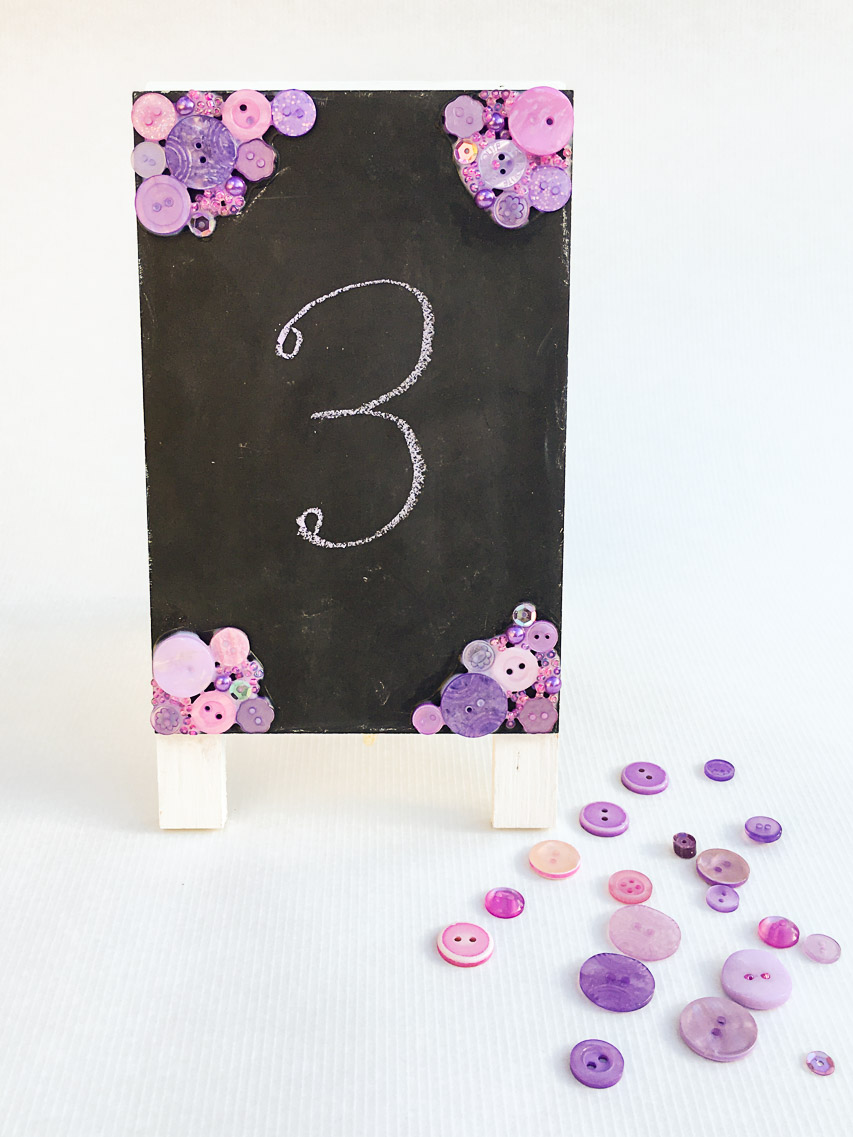 Supplies:
Small Chalkboard Easel (mine is about 5″ x 7″)
White Chalk Paint
This table number is very simple but oh so pretty! Small chalkboard easels like this are available at most craft stores. They make great table numbers, or menu display boards for weddings and showers. And at the end of the night, they can go home with guests as party favors!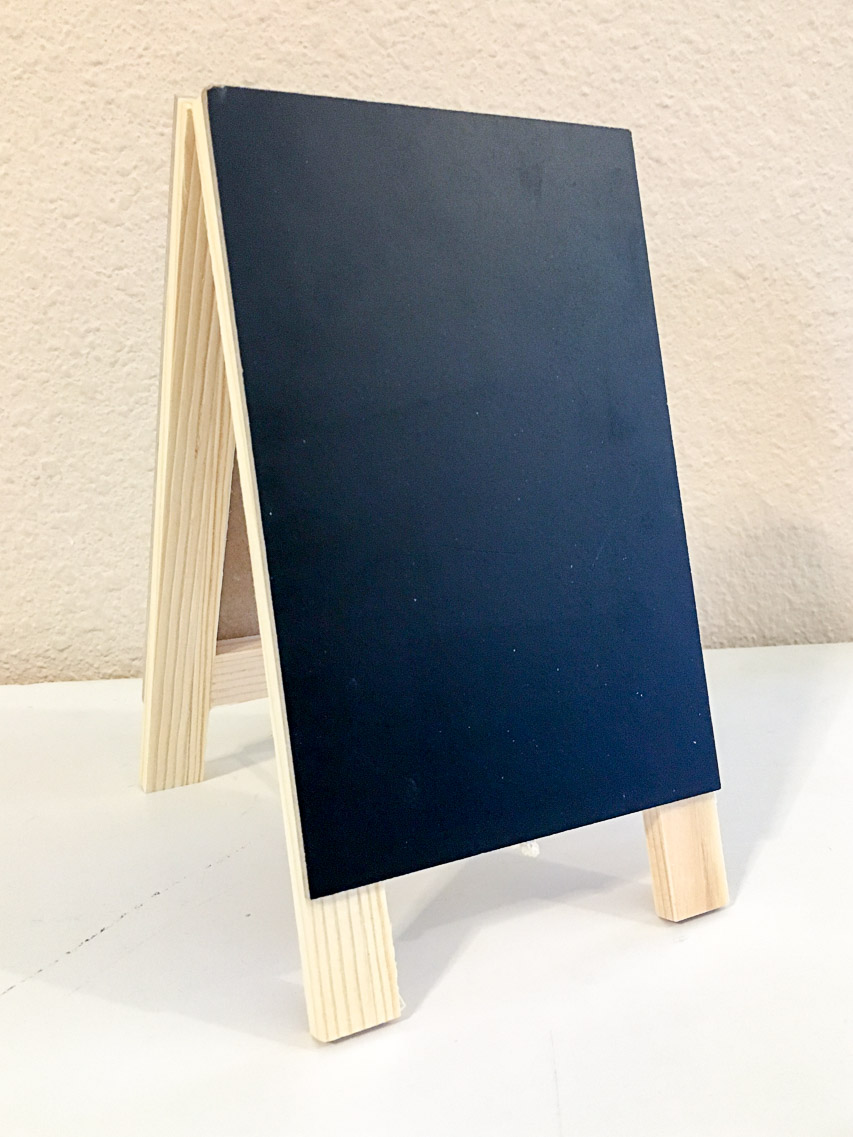 To start the project, paint the bare wood with white chalk paint. Use a small brush along the sides of the chalkboard. If you get some paint on the chalkboard surface, use a damp cloth to wipe it away while it is still wet. If you aren't able to get it all off and a trace of it remains, don't worry. It will just look like smudges of chalk when the project is complete.
Lay the easel flat and spread some of the glue in one of the corners of the chalkboard. Fill in some buttons, varying colors and sizes and leaving small spaces in a couple of places. Fill the small spaces in with small items from the embellishment bottle such as seed beads, sequins, and flat back pearls. Repeat for each corner of the blackboard. Allow to dry.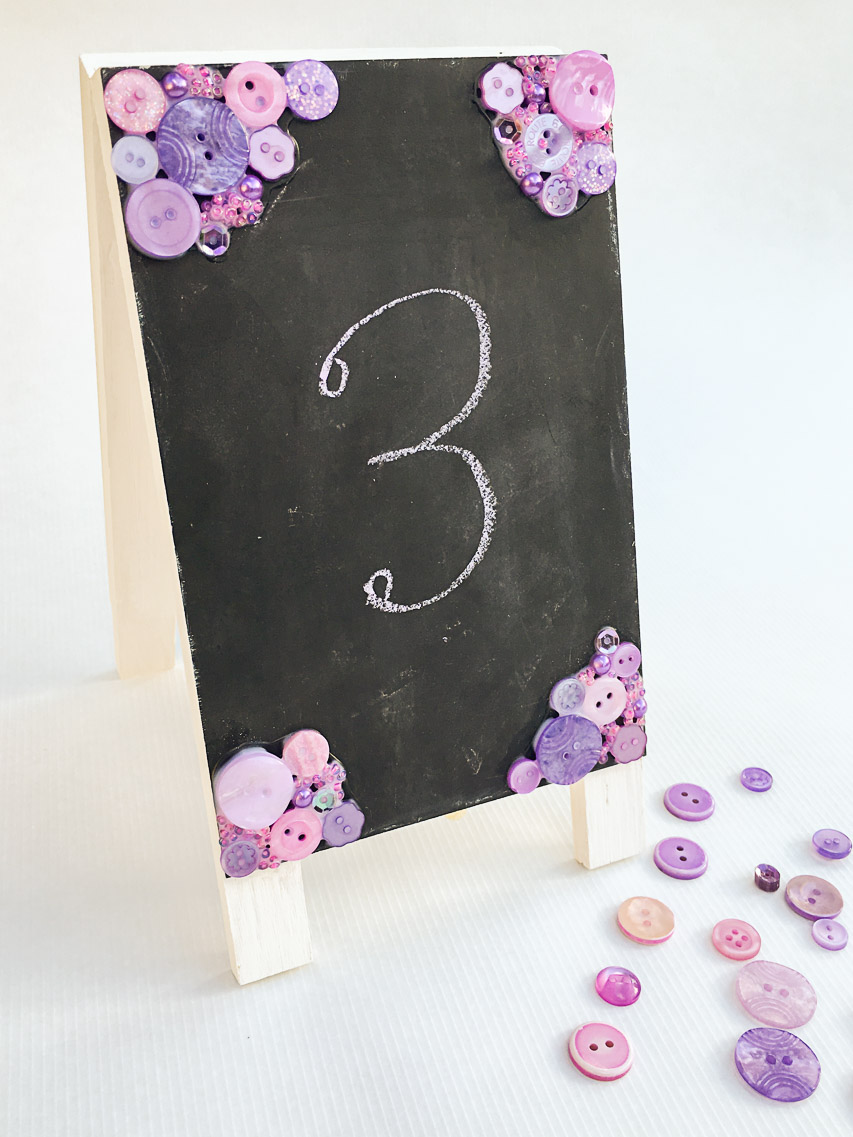 I chose to work with the "On Lilac Lane" embellishment bottle for this DIY Wedding Chalkboard Table Number, but this project could be adapted to any wedding color theme by selecting another of the embellishment bottles (or even one of our Button Bonanza bags). Our embellishment bottles include popular wedding colors like Mint, Yellow, and Pink.
The last step before using your DIY Wedding Chalkboard Table Number is to use a piece of chalk to prime the board. Place the side of it on the chalkboard and rub all it all to cover the board. Erase the chalk and the board is ready to use!
What other uses can you think of for this decorative chalkboard easel?
The following two tabs change content below.
Nancy Nally
Nancy Nally is the social media manager of Buttons Galore, and the owner of Nally Studios LLC., which publishes ScrapbookUpdate.com and CraftCritique.com.
Latest posts by Nancy Nally (see all)