We've got birthdays on the brain around here in May. 28 Lilac Lane designer May Flaum was inspired to make her celebration a fiesta, with a card that features a watercolor pinata and a shower of 28 Lilac Lane embellishments!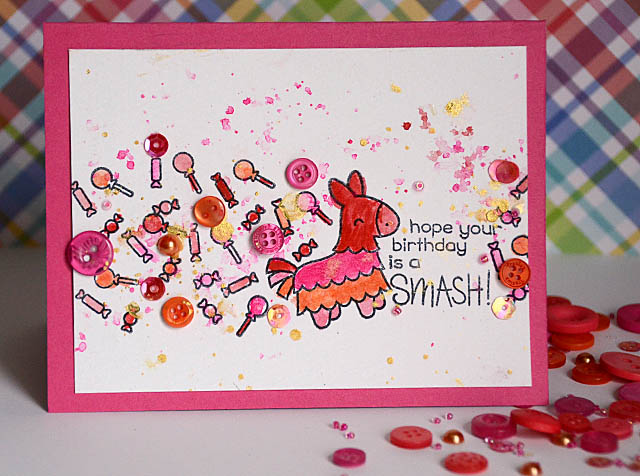 Wondering what supplies May used? Here's a look at her list:
Lawn Fawn Fiesta stamp set
watercolors
gold spray ink
black inkpad
white and pink cardstock
This fiesta birthday card by May is so fun and easy to make – for the complete how to, check out her video tutorial below!
Did you notice that something was missing from the video? Here's May's explanation for that step that you don't see in the video…
I did add the pink splatter you see here after filming. Intentional? Not quite… I was cleaning up spilled a bit then said oh to heck with it and went wild! Just a reminder you can always make it work.
Yes, even the fabulous May Flaum has crafting accidents! But as she proves with this cute fiesta birthday card, you can go from "whoops" to wonderful if you just are flexible and think creatively.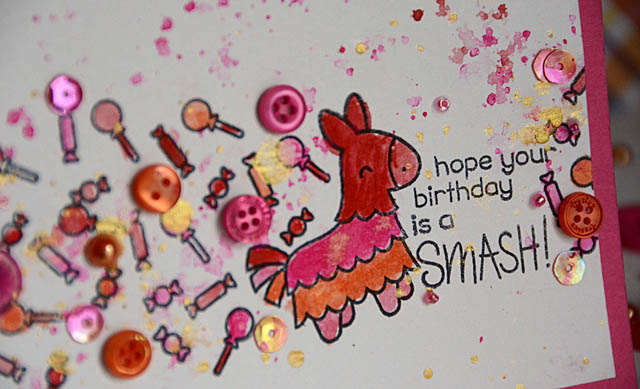 This fiesta birthday card uses the pink and orange tones of the "Fruity Fun" embellishment bottle. But with a change of background cardstock and by using different colors of watercolors, you could make this design work with almost any of the 28 Lilac Lane embellishment bottles. How about the pink and green of Savannah Stroll, or the red, turquoise blue and green of the appropriately named Fiesta? Pick your favorite colors and make May's fiesta birthday card your own!
The following two tabs change content below.
Nancy Nally
Nancy Nally is the social media manager of Buttons Galore, and the owner of Nally Studios LLC., which publishes ScrapbookUpdate.com and CraftCritique.com.
Latest posts by Nancy Nally (see all)