I'm dreaming of shorter days and weather cool enough to wear sweaters! This summer has been so hot and rough – I'm ready to be done with it! Oh, and it probably has something to do with fall being my favorite season as well.
Today I've got a card to share that features my fall inspired Autumn Afternoon embellishment kit from my 28 Lilac Lane line. Here is a look at the finished card: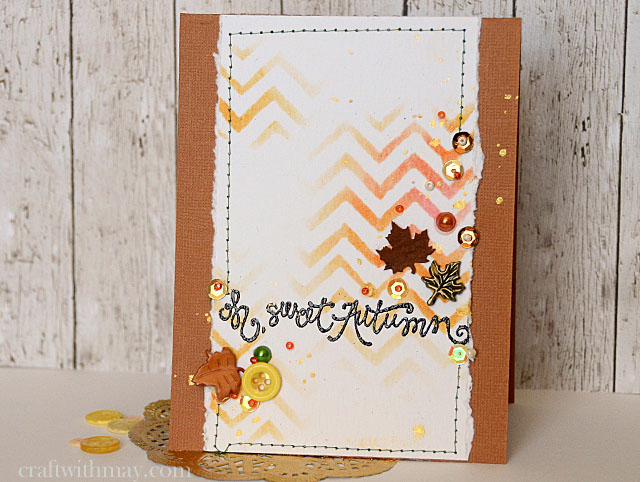 The process to make this card is simple!
Place a stencil on white cardstock and use assorted colors of dye ink with a chevron stencil, skipping some parts and going lighter in some areas.
Use embossing ink to stamp the sentiment, and then coat it in black embossing powder and heat set.
Stitch the background to a blank card, and then embellish! I used the stencil design and a general sweep across the card to find places for the leaves and details.
It is really that easy!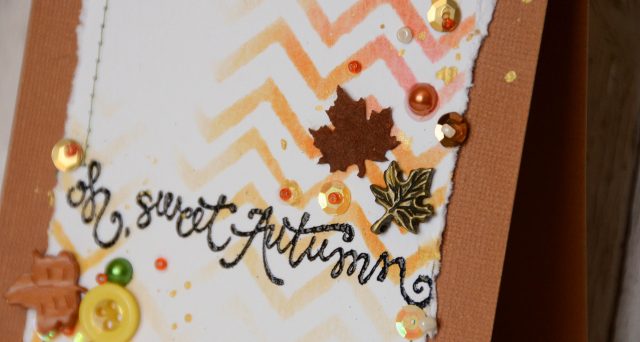 Now I'm back to dreaming of autumn, cocoa, and ending these triple digit days!
Autumn Afternoon isn't the only fall-themed 28 Lilac Lane kit…don't miss out on the 28 Lilac Lane Limited Edition Fall Mix that is only available in the Buttons Galore online store!  Looking for some inspiration of what to do with my fall limited edition mix? Check out these bloggers! Ashli Oliver, Libby Hickson, Maura Hibbitts, and Rebecca Vick all have outstanding posts up. Enjoy!
The following two tabs change content below.
For over a decade May Flaum has taught classes both at local stores and on-line, worked in all aspects of the paper crafting business from publishing books to managing a local store and worked with top manufacturers. From designing pages and other projects for publication to teaching on-line as well as at local stores – her goal is simple: Inspire creativity while promoting great products and having a good time.
Latest posts by May Flaum (see all)