We're cat owners at our house, and as anyone who owns a cat knows…it makes Christmas decorating extra, well, interesting. We decorate, the cat un-decorates. So today, my project is a Merry Christmas cat card that celebrates that annual feline-human war of December!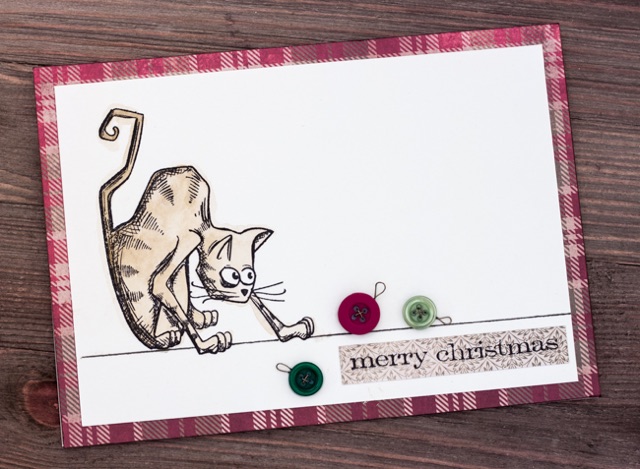 Supplies:
watercolor paper
Tim Holtz for Stamper's Anonymous "Crazy Cats" stamps
Tim Holtz for Stamper's Anonymous "Simple Sayings" stamps
Ranger Archival Ink in Jet Black
Ranger Tim Holtz Distress Crayon in Vintage Photo
Ranger Tim Holtz Distress Ink in Vintage Photo
Water brush
Black Pen
Tim Holtz idea-ology "Yuletide" paper
26 gauge German style wire (antique brass)
Cream colored cardstock
This Christmas cat card has a very simple design. It's featured embellishments are Christmas ornaments made from buttons from the "Tis the Season" Button Bonanza that is brand new for this holiday season. Featuring deep red and green tones that are accented by a light sage green shade, "Tis the Season" is a versatile button mix for almost any holiday craft project.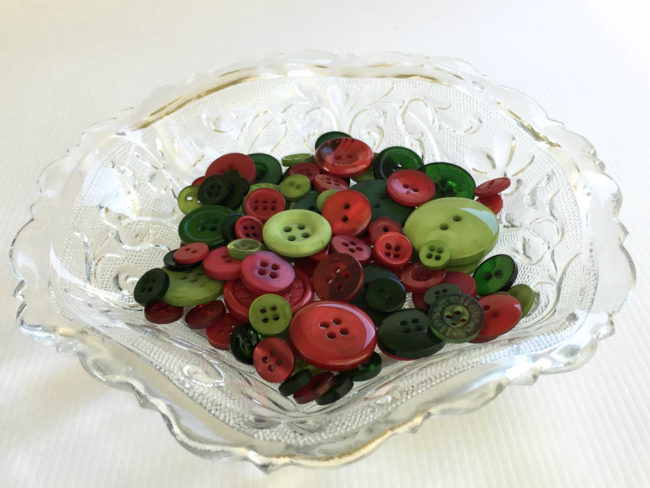 Instructions: 
Cut a piece of watercolor paper to 4.5″ by 6.5″. Use Archival ink to stamp the Crazy Cat.
Use a ruler and the black pen to draw the line across the bottom underneath the cat. Don't draw through the cat's paws!
Scribble on a scrap piece of watercolor paper with the Distress Crayon. Using your waterbrush, pick up some of the color and use it to watercolor the cat.
Cut a piece of patterned paper to 5″ by 7″ and ink the edges. Adhere the watercolor paper centered on it. Cut a piece of cardstock to 7″ by 10″. Fold in half to make a 5″ by 7″ card, and adhere card front to it.
Cut a strip of patterned paper 1/2″ wide. Stamp the sentiment on it, and trim the ends. Adhere to bottom right of card.
Select three buttons to serve as your "ornaments". Thread the holes on the buttons with German style wire. Use the tail of the wire to create a loop for the ornament's "hanger" before snipping off the excess wire.
Use liquid glue like PPA Matte Adhesive to glue the button ornaments in place.
Since it mostly relies on bulk supplies like buttons and tools like stamps to make, this Christmas cat card could easily be made in quantity. Simply substitute cardstock or a variety of patterned paper for the paper used for the matted background and the sentiment strip. and you can make this card over and over with a Button Bonanza and your stamp! And since it is fast and easy to make, your cards will be done in no time!
The following two tabs change content below.
Nancy Nally
Nancy Nally is the social media manager of Buttons Galore, and the owner of Nally Studios LLC., which publishes ScrapbookUpdate.com and CraftCritique.com.
Latest posts by Nancy Nally (see all)