Utilizing basic supplies and everyday items in my crafting, and finding usefulness in even the simplest things is something I enjoy tremendously. With a few beautiful caramel buttons, some ink, and a little creativity I quickly came up with a fun card design that is perfect for any season.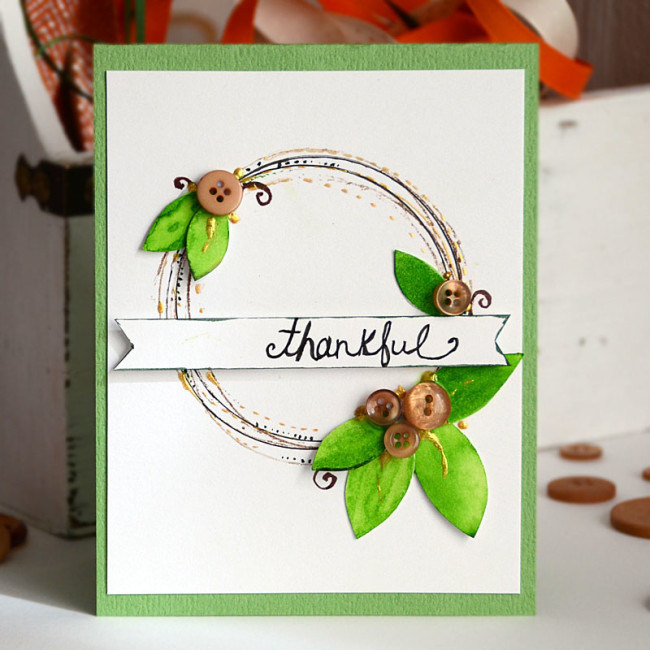 Supplies:
Buttons Galore Caramel Button Basics (also available at AC Moore stores)
green cardstock
watercolor paper
green watercolor or paint
black ink
brown ink
brown pen
gold paint pen or dimensional paint
How-to: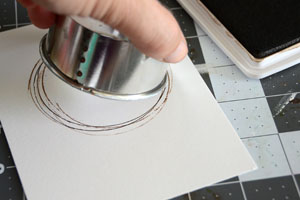 Step 1: Take a circle object such as a cookie cutter or cup and tap with black ink. "stamp" onto your paper several times, creating a wreath shape. Repeat with brown ink.
Tip: Roll the cookie cutter or disposable cup around instead of stamping flat. This will give you more control of your lines.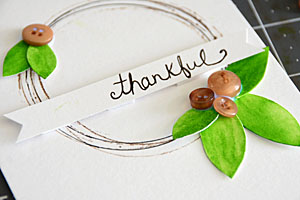 Step 2: Use scissors to cut out leaf shapes and color with green watercolor or ink. Place these in three spots along your wreath, and add small caramel buttons as well. At this time you should also cut out a ½" high strip of cardstock for your sentiment, and notch the ends to fit.
Tip: instead of handwriting you could use a computer font or alphabet stamps.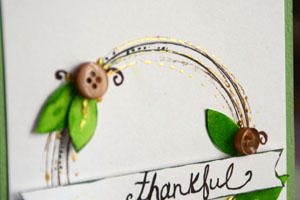 Step 3: Add the finishing touches to your card. Ink the edges of the sentiment banner, add some gold paint or ink to highlight the circle shape and around your buttons, and add any other details you would like.
Tip: Want even more: Use a pen to add flourishes and dots, as I did here with a brown pen.
The following two tabs change content below.
For over a decade May Flaum has taught classes both at local stores and on-line, worked in all aspects of the paper crafting business from publishing books to managing a local store and worked with top manufacturers. From designing pages and other projects for publication to teaching on-line as well as at local stores – her goal is simple: Inspire creativity while promoting great products and having a good time.
Latest posts by May Flaum (see all)