Autumn is one of my very favorite seasons. I love the cooler (but not cold) temperatures and the gorgeous bright colors that appear in nature. This Button Vase Fall Canvas wall art is the perfect project when you're short on table space but want to add those beautiful fall colors to your home.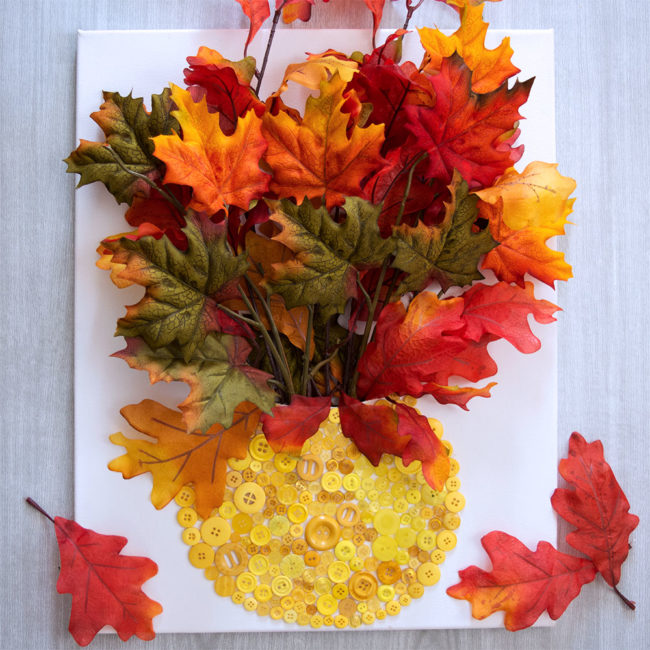 Supplies needed to make a Button Vase Fall Canvas Wall Art:
16×20 Stretched Canvas
Silk Florals or Leaf Stems
Hot Glue Gun and Hot Glue Sticks
Pencil
Sharp Craft Knife
How to make a Button Vase Fall Canvas Wall Art: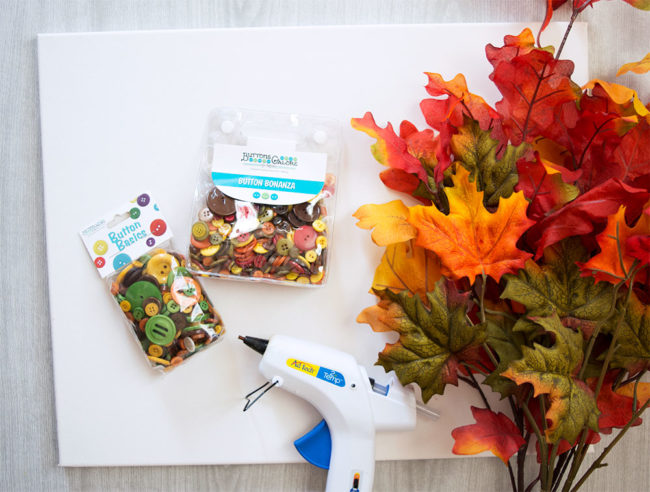 Step one:
Use a pencil to draw (or trace) a simple vase shape to the bottom half of your blank 16×20 canvas.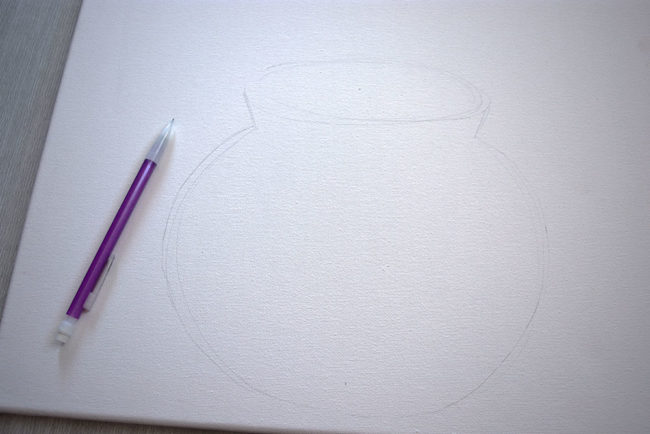 It doesn't need to be perfect, just a rough outline so that you know where to place the buttons for the button vase. The buttons will cover up any pencil marks. I drew a round vase, but you can make it any shape you want. Whichever shape you use, make sure to keep it on one end of the canvas.
Step two:
Glue buttons to the outlined vase you drew on the canvas.  I used a hot glue gun to attach the buttons.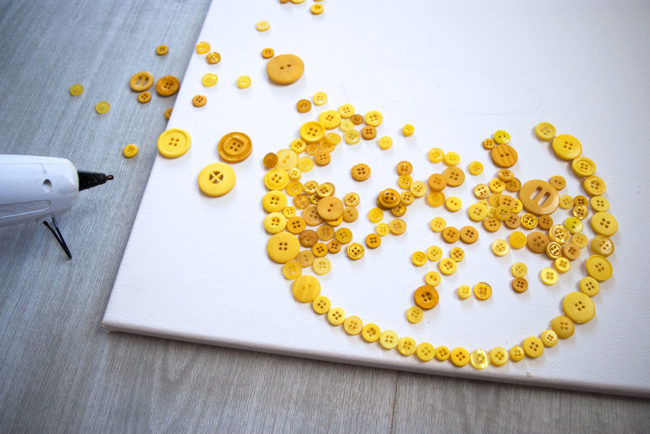 Because I was using Silk Autumn Leaves in my vase with beautiful red and orange colors, I made my vase Yellow to complement them. I used every yellow button in the Harvest and Fall Festival button sets to fill my round yellow vase. I liked that the shades of yellow in these two sets were in line with the yellow you'd actually see on fall leaves.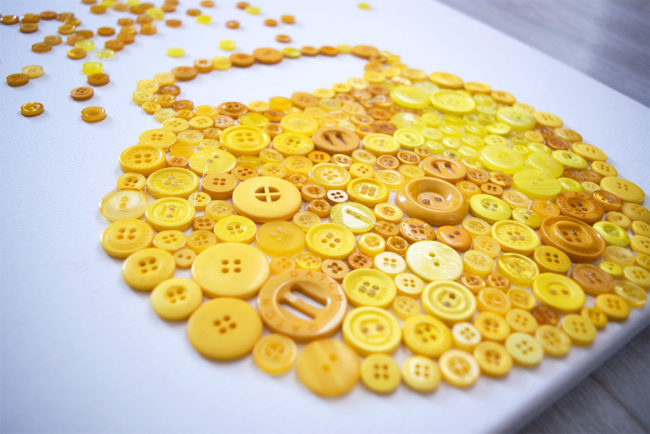 Don't glue buttons inside the mouth part of the vase at the top but fill the rest of the vase.
Step three:
Use a sharp craft knife to cut a line in the canvas just above the buttons in the mouth of the vase.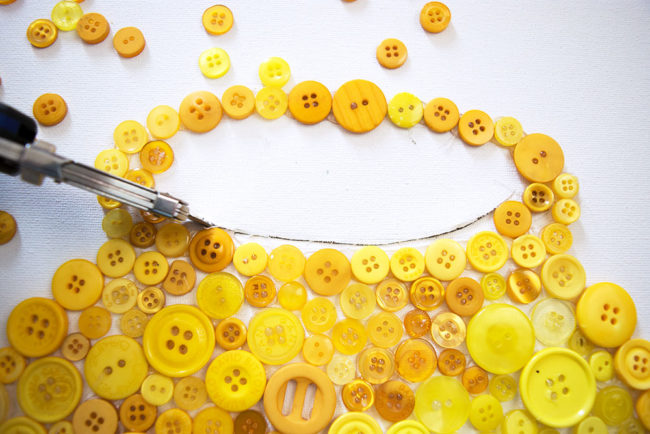 Step four:
Insert your Autumn Silk Florals or Leaves through the hole in the canvas. Arrange them however you like.  I find that the canvas vase looks best when it's full. I used four Silk Leaf stems to fill my vase.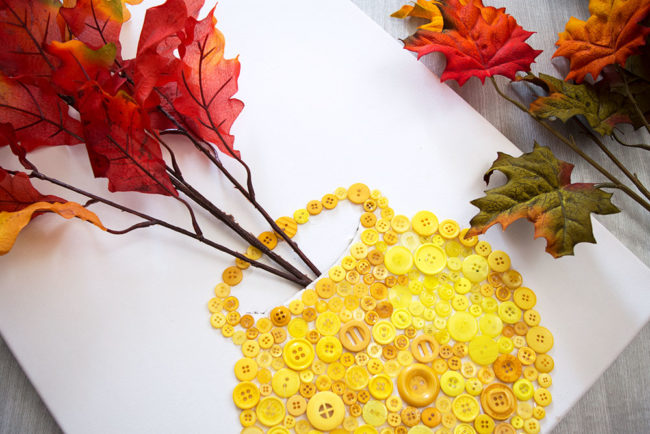 Step five:
Turn your canvas over, and use hot glue to secure the stems in place for added stability.   I used an entire small glue stick to fix my stems in place.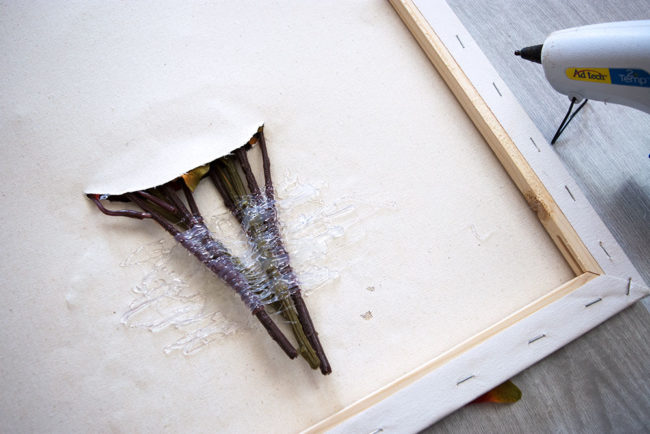 Step six: 
Use single leaves to fill in any blank spaces or gaps at the base of the stems.  Secure them in place with hot glue.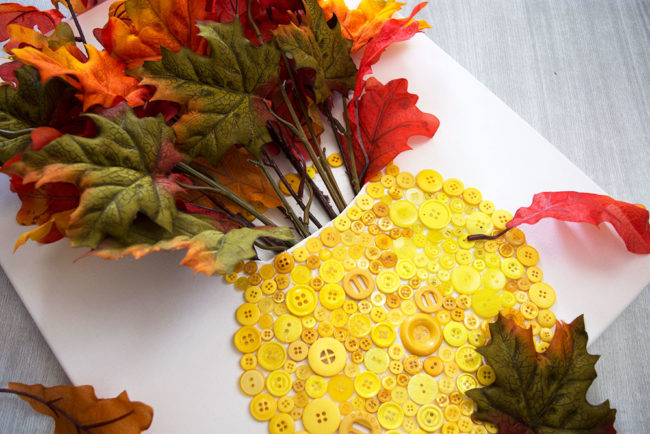 If you have some unruly leaves on the stems that aren't laying quite right, a dot of hot glue can help secure them to the canvas in a more pleasing way.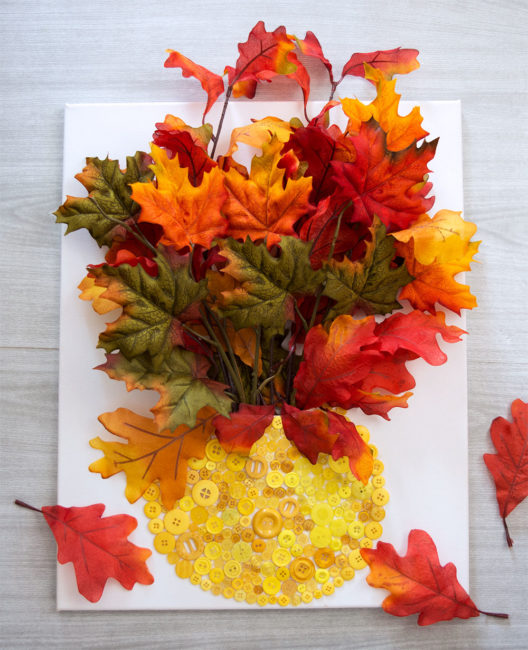 Hang your canvas on the wall, or prop it up on a table for a beautiful bright pop of autumn colors! I think that I will take a slightly smaller canvas and use the red buttons in the Fall Festival and Harvest button packs to make a smaller red vase with some pretty silk sunflowers! The pair will look great together with my fall decor. The possibilities are endless if you just change the color of the buttons for your vase to complement the flowers or leaves you have! Happy Fall Crafting!
The following two tabs change content below.
After studying Culinary Arts in Portland Oregon, Kelli went back home to the sunny South West where she decided she wanted to do different kinds of Art. This busy mom of three spends all of her available free time creating in her Craft Shack "she shed" where she can be found burning wood, repurposing old stuff, crafting, sewing, and painting just about anything she can get her hands on.
Latest posts by Kelli Stradling (see all)