Check out these adorable Christmas tree ornaments made from scraps of green ribbon and Laura Kelly buttons in Radical Red and Passionate Pinks (and one yellow)!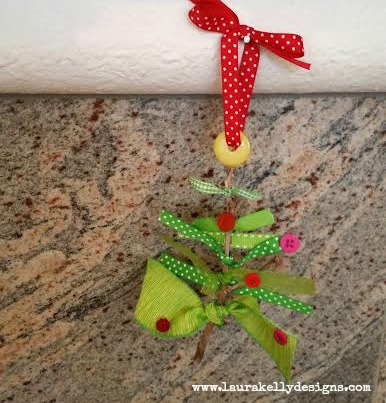 So cute, so easy and so much fun!  The Aleene's Quick Dry formula in the Always Ready bottle (available at Joanne's) makes crafting things like this easy peasy.  I am in love with the stuff!
Here are the simple directions:
Tie green ribbon scraps around a stick from a tree.
Trim the ribbon to shape a tree.
Add buttons and a hanger with Aleene's Quick Dry Adhesive.
Ta Da!
This is a great craft for kids. Here are lots of other DIY ideas for celebrating the season with kids too!
And you can enter to win a fabulous contest too!
Happy Creating for the Holidays,
Laura
The following two tabs change content below.