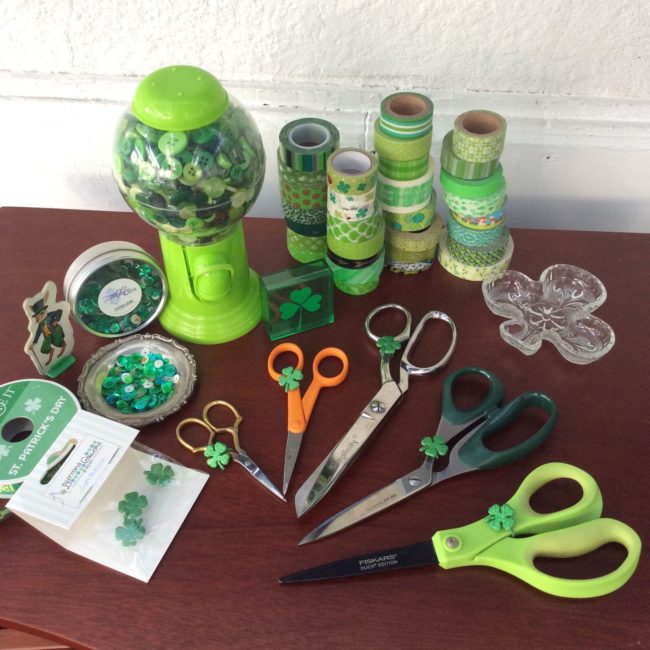 Everybody has a pair of scissors. Some of us, well, have a few pairs of scissors. In the past, I have customized my scissors with ribbon or decorative tape. I thought it might be fun to decorate the scissors for St. Patrick's Day with Buttons Galore's Glitter Shamrock Buttons.  This is a fun and easy project for any level of crafter.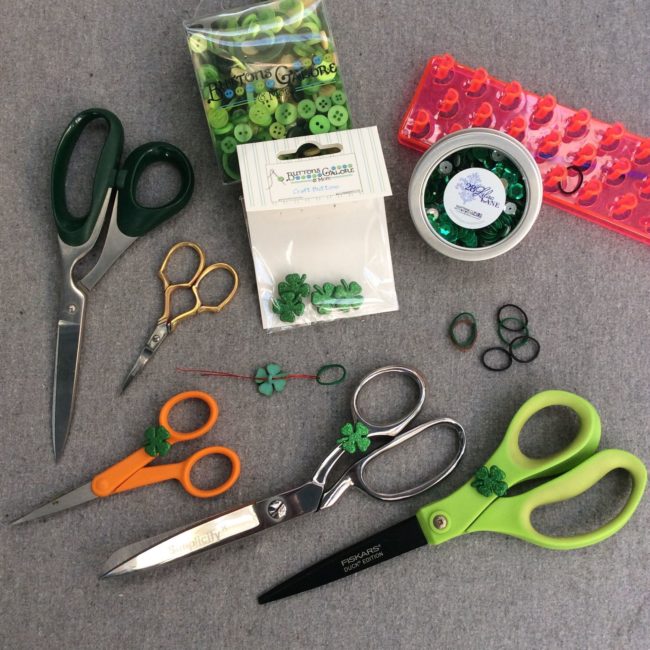 Supplies Needed To Embellish Scissors
Scissors
Craft Wire
Small Rubber Bands ( the ones  used in looms works well )
Glitter Shamrock Buttons
Loop the rubber band through the wire and draw it down to the folded end. Thread the two cut ends through the shank of the button and pull the rubber band half way through the shank. Remove the wire and stretch the two loops over one handle of the scissors to secure the shamrock button onto the scissors.
Now you have a unique, customized pair of scissors.
Here is a FUN and festive way to store your craft supplies.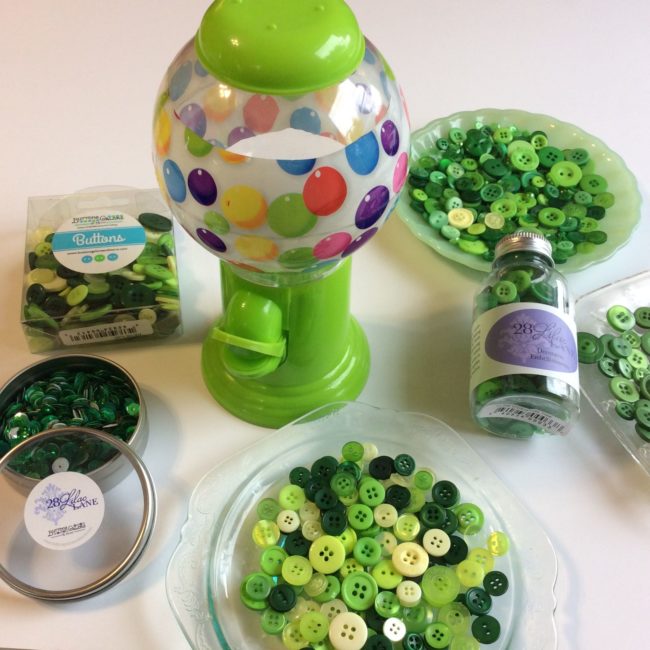 a
I scored this little green gumball machine at the dollar store and I thought it would be fun to fill with  Luck of the Irish Buttons .  I simply pealed off the gumball graphics label and filled it up with all my pretty green buttons. I highly recommend dressing up your tools and displaying your craft supplies for each holiday as it is truly inspiring in the creative process.
The following two tabs change content below.
Stefanie Girard
Stefanie Girard is a crafter with a re-purpose. She has been cutting stuff up since she was old enough to hold a pair of scissors in her tiny hands. She earned her degree in Industrial Design from Pratt Institute and move to Los Angeles to work in the entertainment industry first as a Set Decorator and Prop Master then onto TV Producer specializing in How-To TV shows for HGTV and the DIY Networks. After writing 5 craft books for the Quarto Publishing Group she now spreads the crafty word online through original projects and designs with a focus on recycled elements.
Latest posts by Stefanie Girard (see all)