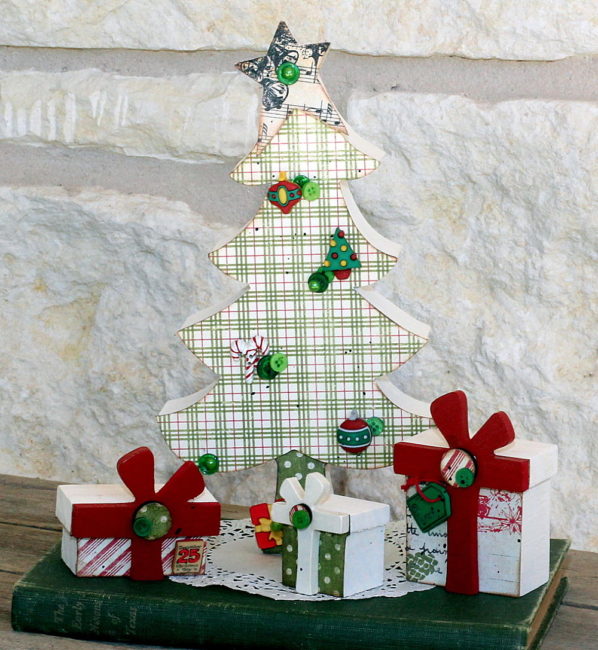 Hi, it's Connie here with Buttons Galore & More design team! I have a fun and festive project to share today using "Christmas Tree with Presents", one of the new Foundations Decor pieces that are now available from Buttons Galore. The 28 Lilac Lane O'Christmas Tree embellishment bottle added some green sparkle alongside some really cute Buttons Galore 3D Christmas buttons.
Supplies needed for Christmas Tree Home Decor:
pattern paper
strong adhesive
acrylic paint (red and beige)
wire cutters
ink (for shading)
How to Create this Christmas Tree Home Decor:
1. Beginning with the Christmas tree, first paint the surfaces of the wooden shapes that are not going to be covered with pattern paper with acrylic paint.
2. Trace the shapes on pattern paper and cut it out.
3. Shade the pattern paper with ink and then adhere it to the wood surface. Turn the glued side down and let it dry.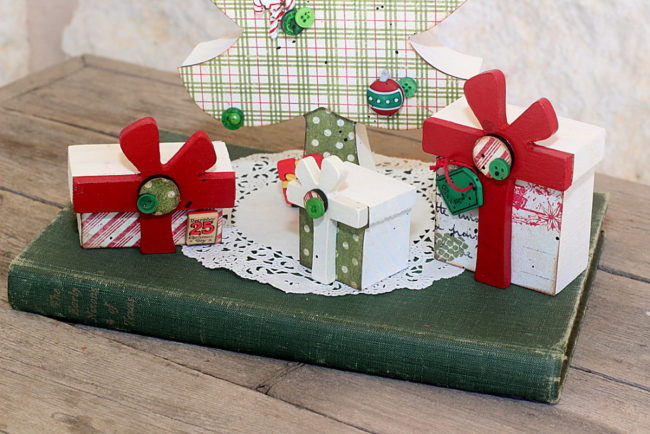 Repeat the process for the packages that sit under the Christmas tree. The ribbon shapes were also painted with acrylic paint. The most fun part of crafts like this are always decorating and adding beautiful embellishments, and Buttons Galore & More has plenty of gorgeous buttons!  Use a strong glue to adhere the Christmas buttons after snipping the shanks off with wire cutters.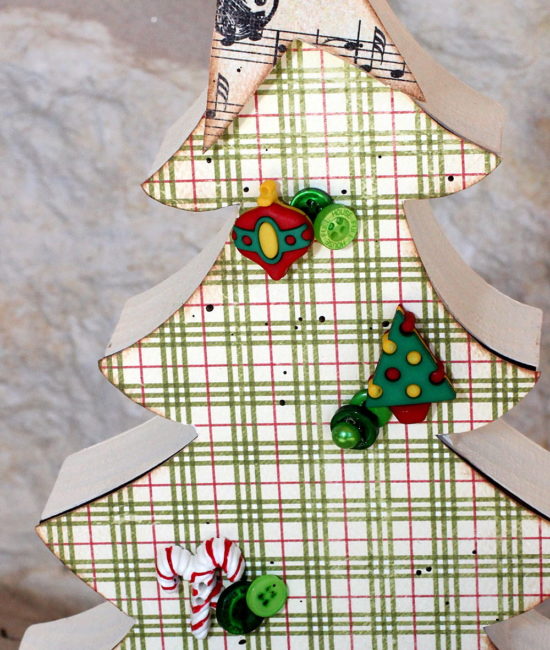 After the embellishments are adhered, then speckle the front of each wooden piece with black ink. The "O Christmas Tree" embellishment bottle by 28 Lilac Lane is full of small clear seed beads, green sequins, different sizes of green tone buttons and small pearls. They are so pretty and so perfect for projects of all kinds!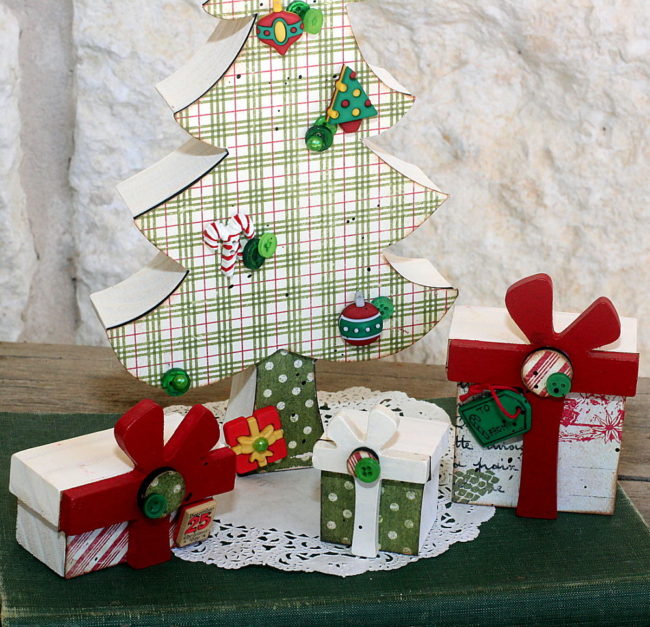 This is such a cute and easy project for the whole family to join in on. Buttons Galore & More has a great selection of Foundations Decor pieces to create for the upcoming holidays.  And they aren't just for Christmas, either. Be sure and check out the selection of crafty and fun projects for a variety of occasions!
The following two tabs change content below.
I am a wife and a mom. I am also "Nini" to six beautiful "grands". I have been a crafter for over 30 years and still love the creative process.
Latest posts by Connie Mercer (see all)