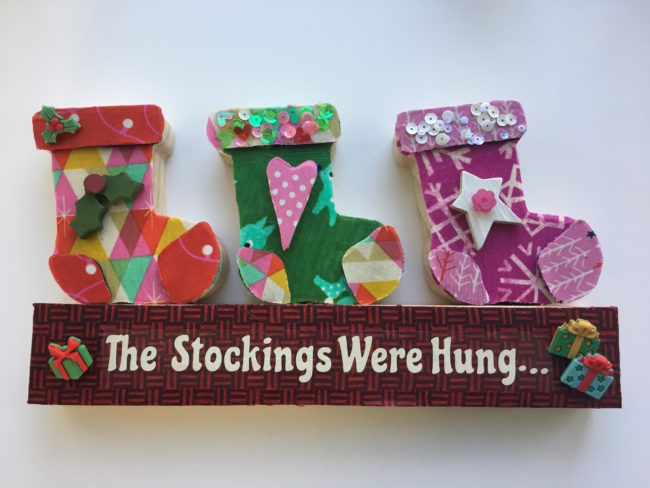 Hi! It's Aimee here with a great project to add to your Christmas mantle decor this year. Using the new stockings set, I added a little fabric and some button bling to dress up these simple wood decor pieces.
Supplies for Christmas mantle decor:
holiday themed fabric scraps
Mod Podge
paint brushes
red and white acrylic paint
hot glue gun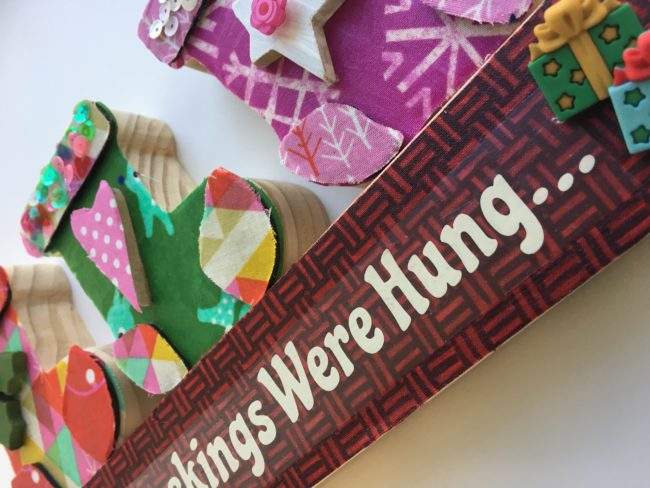 Use the stocking shapes as patterns for your fabric and cut out. (Make sure you trace on the backside of the fabric, with the wood pieces reversed.) For my stockings, I covered the stockings, the toe and heel pieces, the stocking top trim pieces and the heart with Cotton and Steel's "Garland" holiday fabric. After you cut out all your fabric pieces, cover the wood with Mod Podge and place the desired fabric on top. Make sure you push out any bubbles from under the fabric.
Use the Mod Podge to glue down the toe, heel and trim portions and let dry overnight for best results.
After your glue has dried completely you can add the sequins. For the sequins, put a layer of Mod Podge down and then sprinkle your sequins. Gently push down to make sure they are completely submerged in the glue.  Paint Mod Podge all over the fabric covering the stocking pieces and let dry.
I painted my holly red and green, and painted the star white with acrylic paint to coordinate with my fabric. After the paint is dry and the Mod Podge has become tacky, glue down the heart, holly and star wood pieces with Mod Podge. Let dry completely.
For the "brick" portion, cover with the Mod Podge and fabric as described above and add the sticker strip to the top of the fabric. As with the stockings, paint a layer of Mod Podge over the fabric and sticker and let dry completely.
After your stockings and brick piece have dried completely, use a hot glue gun to glue down the present and holly buttons. I also added a little flower button to the middle of the star with hot glue.
I opted to leave all the sides of my pieces natural, but you could easily paint the sides of the stockings white. This is a great decoration to add to a mantle or a book shelf for your Christmas mantle decor!
The following two tabs change content below.
I come from a long line of women makers. I sleep under quilts that my grandmother made, my head rests on pillowcases that my aunt embroidered, and my memories are full of time spent watching my mom and grandmother create. The majority of my sewing and embroidery skills are self-taught, and I'd like to think there is a little bit of genetic love seeping through.
Latest posts by Aimee Davis (see all)