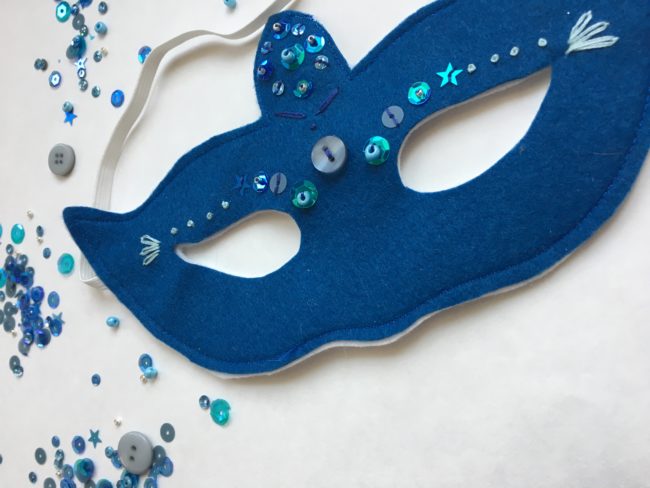 It's Aimee here today for a little creative project to dress up your New Year's Eve! (Although I'm still in denial that the holiday season is upon us in general.) This DIY New Year's Eve mask project can be made with or without a sewing machine and is a great project for a novice stitcher – or even little hands wanting to get busy with a needle and thread.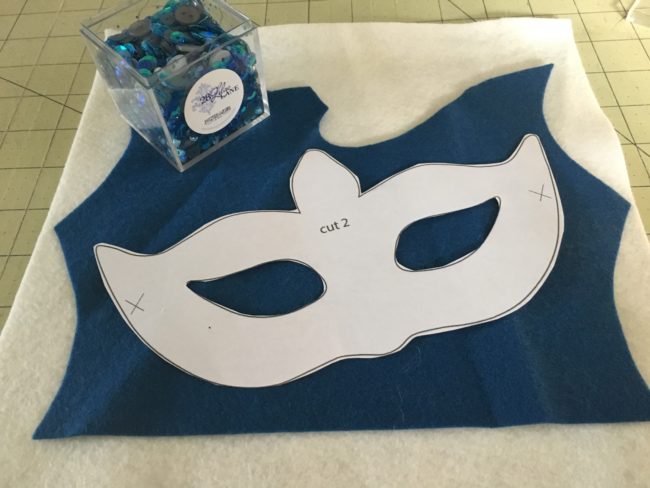 Supplies Needed to Make DIY New Year's Eve Mask:
blue and white felt (a regular size sheet of craft felt is plenty)
needle (sewing machine optional)
standard DMC divisible embroidery floss in 3811 and 158
1/4″ wide elastic – I used roughly 15 inches
First up, take your template and cut out two pieces of felt. I used blue on the front and white for the back – but be creative! Try different colors and see what you like. After you have cut out your pattern, take your top piece, your needle, threads and 28 Lilac Lane "Summer Nights" Shaker Mix and find a flat space to work. I like to pour out my box of sequins and buttons onto a little plate so I can get at them easily.
This part you can be creative with. Mix your sequins and beads, sew down some buttons, and you can add some extra pizazz with some simple embroidery stitches. I used a few lazy daisies and french knots.
Once you've decorated the top of your mask, measure your elastic out. I used about 15 inches; sandwiching about 1 inch on both sides between the layers. Pin your elastic to the sides (sticking about an inch between the layers) and at this point you can sew the layers together with a sewing machine or by hand.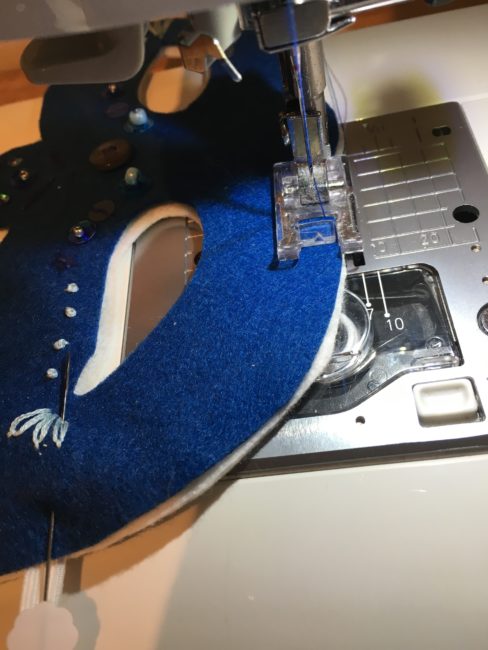 If you opt to use a sewing machine, I suggest sewing with a 1/4 inch seam allowance (or as close as you can get to the edge) and using a zipper foot to help bypass all the beads and sequins. If you don't have access to a sewing machine, you can also sew the sides together by hand with a buttonhole stitch.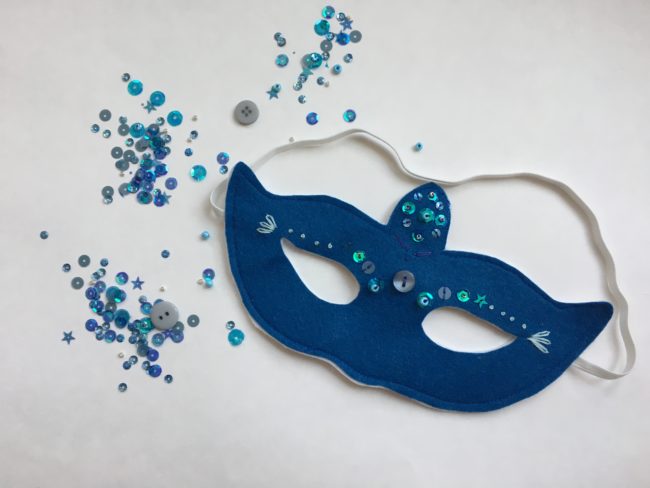 And there you have it, a fancy mask for your New Year's Eve celebrations!
The following two tabs change content below.
I come from a long line of women makers. I sleep under quilts that my grandmother made, my head rests on pillowcases that my aunt embroidered, and my memories are full of time spent watching my mom and grandmother create. The majority of my sewing and embroidery skills are self-taught, and I'd like to think there is a little bit of genetic love seeping through.
Latest posts by Aimee Davis (see all)