Working with monochromatic color schemes is a quick and easy way to design a project.  You don't have to worry about the colors not coordinating.  
This pin is going to be for Mother's Day.  My mom sent me a link to the dress she is wearing and I thought the pin would be a great surprise.  If I know my mom well and I think I do, she will also save the box and re-use it.  If she does that will make me happy.
Materials:
Sea Glass Buttons in Tin
Jacquard Lumiere Paint
Gift Box
Misc. – Chipboard Flower, small Jewelry Box, pin back, sanding sponge, gem stone, scrap of material and Exacto Craft Knife to cut circle out of center.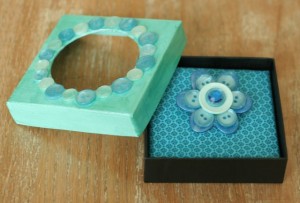 Directions:
1.  Draw circle in center of box.  Cut center out of gift box.  Smooth edges if needed. Place coordinating piece of material or coordinating paper in box and adhere.
2.  Paint chipboard flower with Lumiere paint.  Set aside to dry.  Paint top of box with Lumiere Paint and let dry.
3.  Adhere Sea Glass buttons on flower as shown and gem stone.  Let Dry.  Adhere pin back and let dry.
4.  Place buttons around cut out in box and let dry.
5.  Give to special person and watch them enjoy.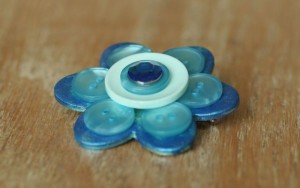 The following two tabs change content below.