It is springtime and that means gardening, planting, flowers and sunshine.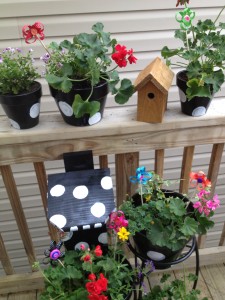 If you are working towards creating a colorful flowerpot garden, here is a fabulous QUICK and easy way to add bright colors.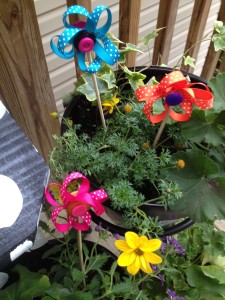 To make the Flower pot Flowers :
grosgrain ribbon, bright Laura Kelly colored buttons, hot glue (I use ad-tech high temp) and wooden skewers!
Use grosgrain ribbon loops to create petals and then hot glue gun buttons to the centers to add color and hold them together then hot glue the to the non pointed end of the skewer.  Flip them over and hot glue a button to the backside so that if they turn around in your garden they will still look cute.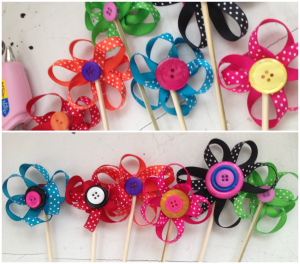 What a fabulous way to create color in fifteen minutes.  These flowers withstand the weather and last all season long.  Of course they are pretty indoors too.  You could even make a whole pot of just these and never have to water.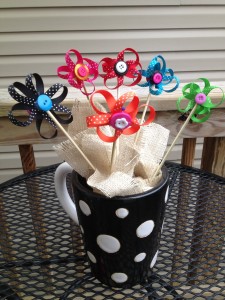 If you want to know where the polka dotted flower pots came from, hop over to my blog and find out.
Happy Fifteen Minute Friday with Flowerpot Flowers!
The following two tabs change content below.