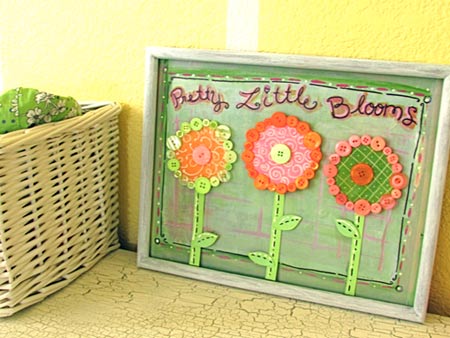 This project can be made using a variety of recycled materials combined with your favorite pretty buttons. Add a touch of color to your decor for a flower garden inspiration all year long. I created this project to accent pieces in my daughter's bedroom, but you can adapt it to fit where ever you'd like some "pretty little blooms".
Supplies you'll need:
Craft paint in Apple Green, Bright Pink, Tangerine and White
Smooch Spritz
Cardboard (I used a recycled cereal box)
Wood picture frame with removable back board and no glass
Black sharpie marker
Glue
Paintbrush
To make the pretty blooms picture: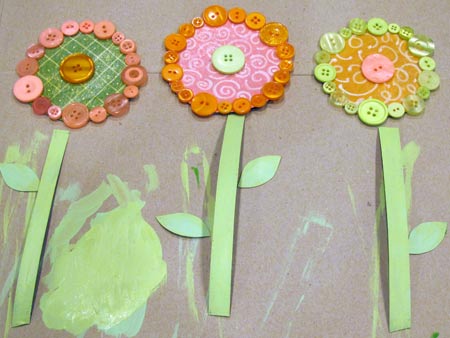 Create the flowers by first cutting the individual pieces and painting as desired. Add Smooch Spritz for a little sparkle. Let dry. Glue pieces together and after they dry, glue various sized buttons of the same color around the edge of each flower head. Set aside.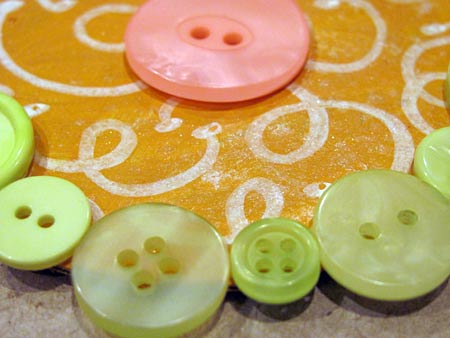 Prepare picture frame by white washing the wood. Then paint the backboard with layers of green and white. Add accents to the edge as desired. Once all the paint has dried, add details with a black sharpie.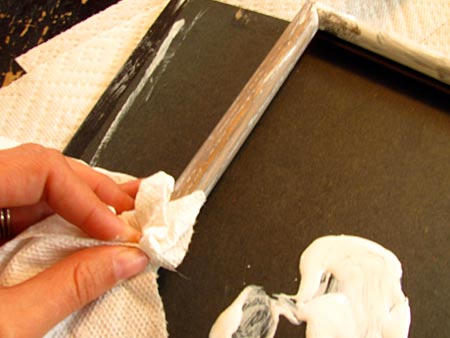 Add wording by first penciling in the words where you'd like them to display. Then add layers of color with paint, allowing each layer to dry before applying the next color. Once you have the look you'd like, set background aside to dry thoroughly. Draw letters as desired using black sharpie.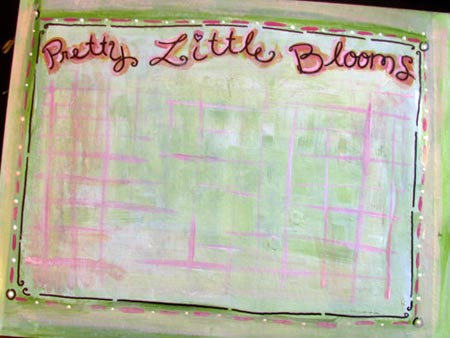 Add final details using black sharpie. Draw accents on the flowers as desired as well as the backboard.
Finally, place backboard into wood frame, attach as appropriate. Glue flowers into place, let dry. Hang as desired.
The following two tabs change content below.
Jen Goode is the owner and "doodler in charge" of
JGoode Designs
, a Denver based art and design studio. She has been a creative professional since 1996, developing art for a variety of uses in an array of mediums from handmade crafts to Graphic design and illustration. Jen, a designer member of CHA, is a tech savvy, work-at-home mom of 3 who shares her creative inspirations with other moms through her sites
Projects for Preschoolers
and
100 Directions
and as a featured contributor on various sites throughout the web. Jen's motto is "Inspiring Smiles Every Day".
Latest posts by Jen Goode (see all)