I am getting ready for a DIY Autumn Craft Night at my studio and I have these super cute little Halloween trinket tokens, lucky pumpkins!  I wanted to wrap them up in a festive way for favors and this is what I came up with…mini autumn gift bags.  I really like them because the buttons can be part of the favor as they can be reused on projects that my guests make when they get back to their studios and homes.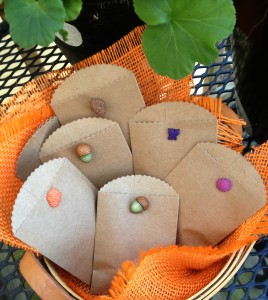 To create them, I used the Autumn Potpourri collection, a hole puncher and little bit of wire.  I punched a hole in the mini treat bag (from Canvas Corp) then pushed the button through the hole.  On the other side, I slid a short piece of wire through the button and twisted it.  This is so easy and created such a fun little collection of favor bags.

This same method could be used to attach the autumn (or any) buttons through fabric and ribbon too.  I have some really fun Christmas ones that I am going to try next with some gift wrap ribbon.  Yes, I will share when I do it.
Happy Autumn,
Laura
The following two tabs change content below.