Tuesdays, we like to feature people we find on the internet.  Margot Potter aka, the Impatient Crafter, is the crafty inspiration today.  Often, we select designers because of a really cool craft technique or because of a fantastic use of buttons.  Well,  her garden craft piece is both.  I would like to call her creation JUNQUE-TASTIC!  Margot shares a tutorial with you on how to create the beautiful finish on the wood.  I think it would make any garden that much happier.
Margot Potter's inspiration was Craft Wars, the new TV show.  If you have not watched the show you really should.  It is not a traditional craft show.  It is a crafting competition.  It is on Tuesday nights at 10pm.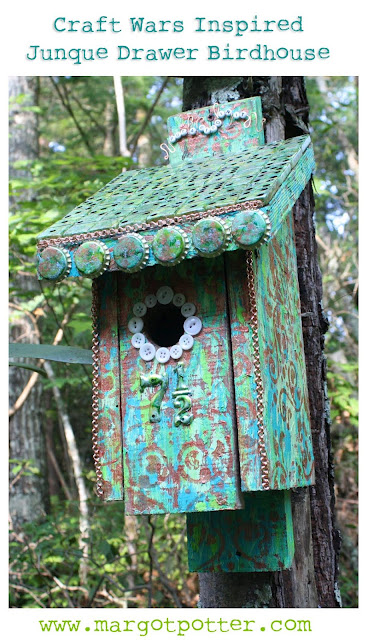 To view the full tutorial please visit Margot's blog – The Impatient Crafter  Not only will you see the full tutorial for the Craft Wars Inspired Junk Drawer Bird house but you can view many of Margot Potter's other work too.  She also has a list of the other Craft War Vets who participated and their projects.
The following two tabs change content below.