Today we're joined by designer Lorrie McCullers, who is sharing a back to school project that is both a countdown calendar and school picture frame! 
It's back to school time! And what better way to keep track of time until the big day than with a countdown frame?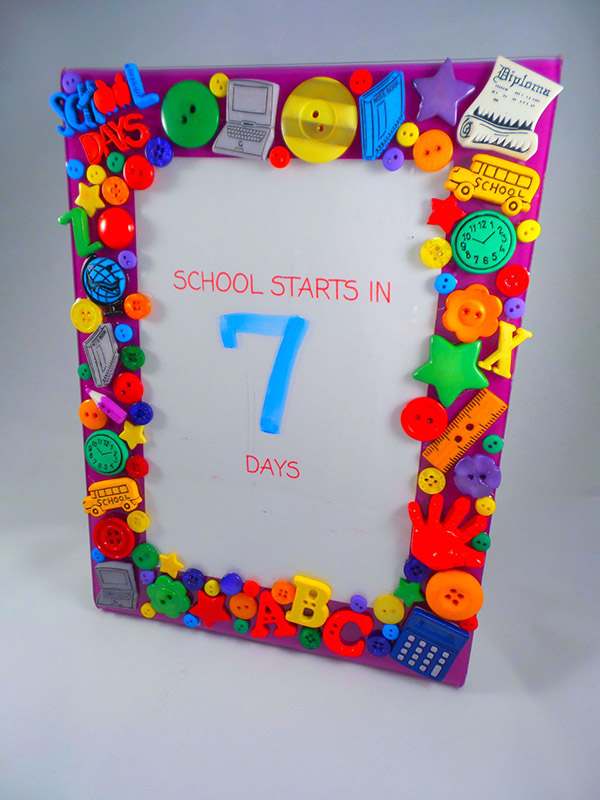 I used three sets of buttons for this project: the School Value Pack, the Primary Grab Bag, and the Primary Tiny Round Buttons. I also used a pre-colored acrylic frame so there was no need to paint!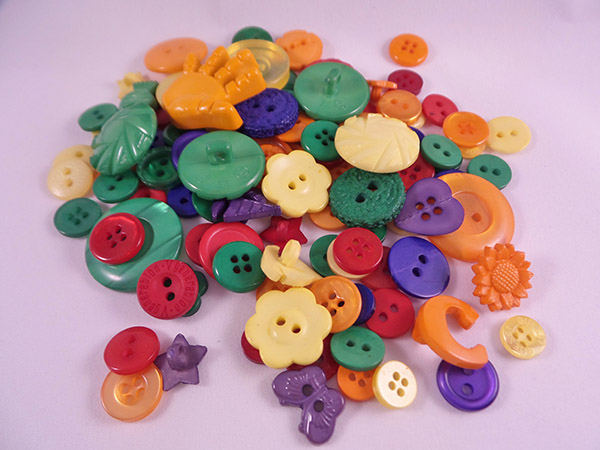 Supplies needed:
Buttons Galore School Value Pack
Buttons Galore Primary Grab Bag
Buttons Galore Primary Tiny Round Buttons
Deflecto acrylic 5"x7" frame
Aleene's Liquid Fusion glue
button shank remover
dry erase pen
computer and printer (optional)
Directions:
Choose your larger buttons first. That way, you can fill in the empty spaces with smaller buttons.

Some of the buttons in the School Value Pack and the Primary Grab Bag have shanks on the back. To have your buttons lay flat to the frame, remove the shanks with a button shank remover.

Apply Aleene's Liquid Fusion to the back of each button. Don't apply too much or the glue will ooze out the sides of your buttons! Let dry for about 24 hours.

Print (or handwrite) a countdown for the first day of school, such as "____ days until school begins" or "School starts in ____ days!"

Keep track of the days with a dry erase marker. Acrylic frames are so great because you can just write on and wipe off!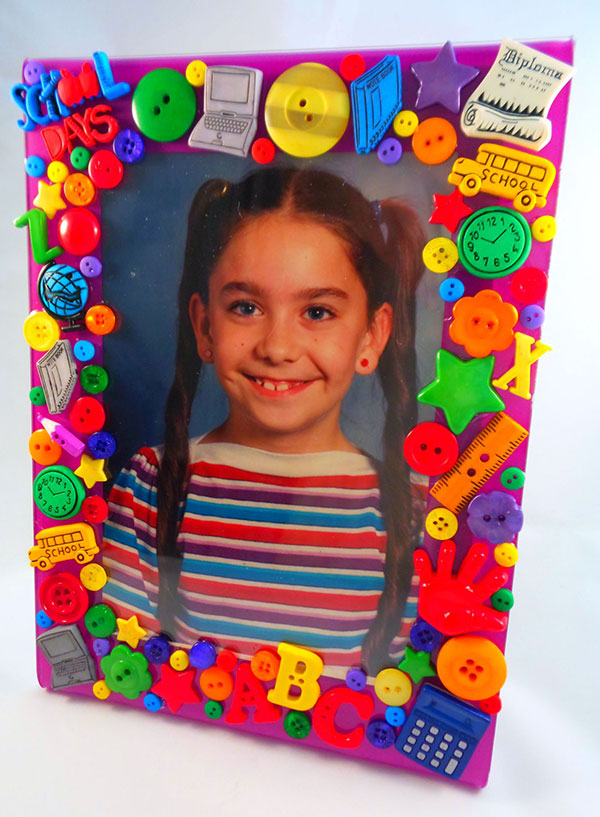 After school starts, you can then use your project as a frame for that first day of school picture of your kiddo! Since the dry erase marker comes right off, you can use this frame year after year. This is a great project for kids to help with as well as a fun gift idea for a favorite teacher!
Lorrie McCullers is a paper crafts designer who blogs at Forty11 Designs. She is a Craft & Hobby Association Designer Member and currently designs for Etch All and Deflecto Crafts. To see more of her work, visit her blog. 
The following two tabs change content below.
Buttons Galore is honored to host a variety of talented artists as guests on our blog, to share their creative project with our readers.
Latest posts by Guest Author (see all)