Lisa Fulmer visited us this week to share a project! We hope your enjoy her immensely creative interpretation of storage using the Farmhouse Button Bonanza! 
With the right type of can opener that leaves no sharp edges, you can turn any tin can into an adorable storage container!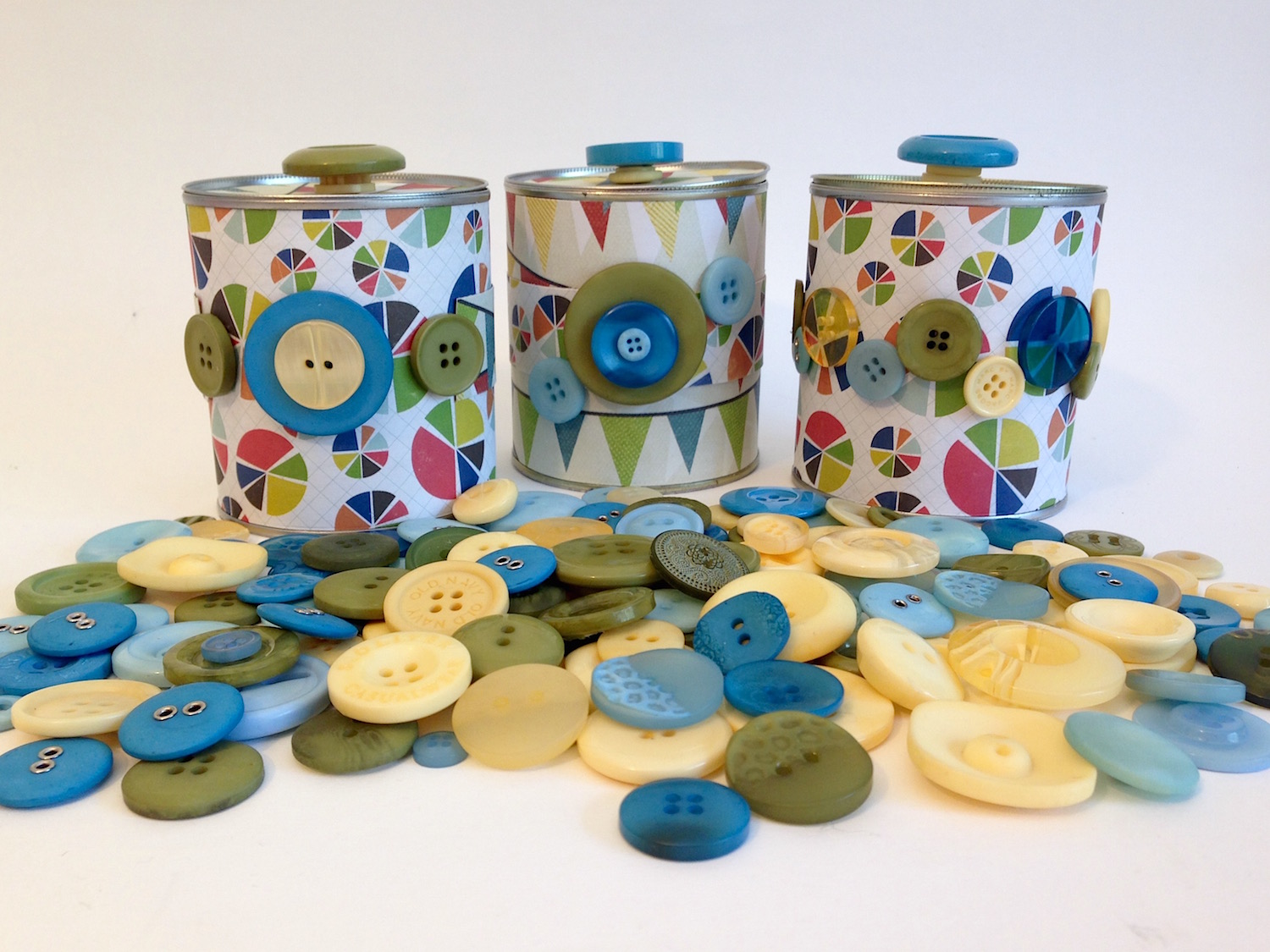 I used the Buttons Galore Farmhouse Button Bonanza in creams, blues and greens, along with some adorable scrapbook papers, to embellish these tin cans that used to hold mandarin oranges. A trio of these little tin can storage containers would be perfect for your desk or craft table.
Supplies:
Empty, washed tin cans and lids
Scrapbook papers
Aleene's Fast Grab Tacky Glue
Hammer and nail
Thin gauge wire
Duct tape
Paper trimmer & scissors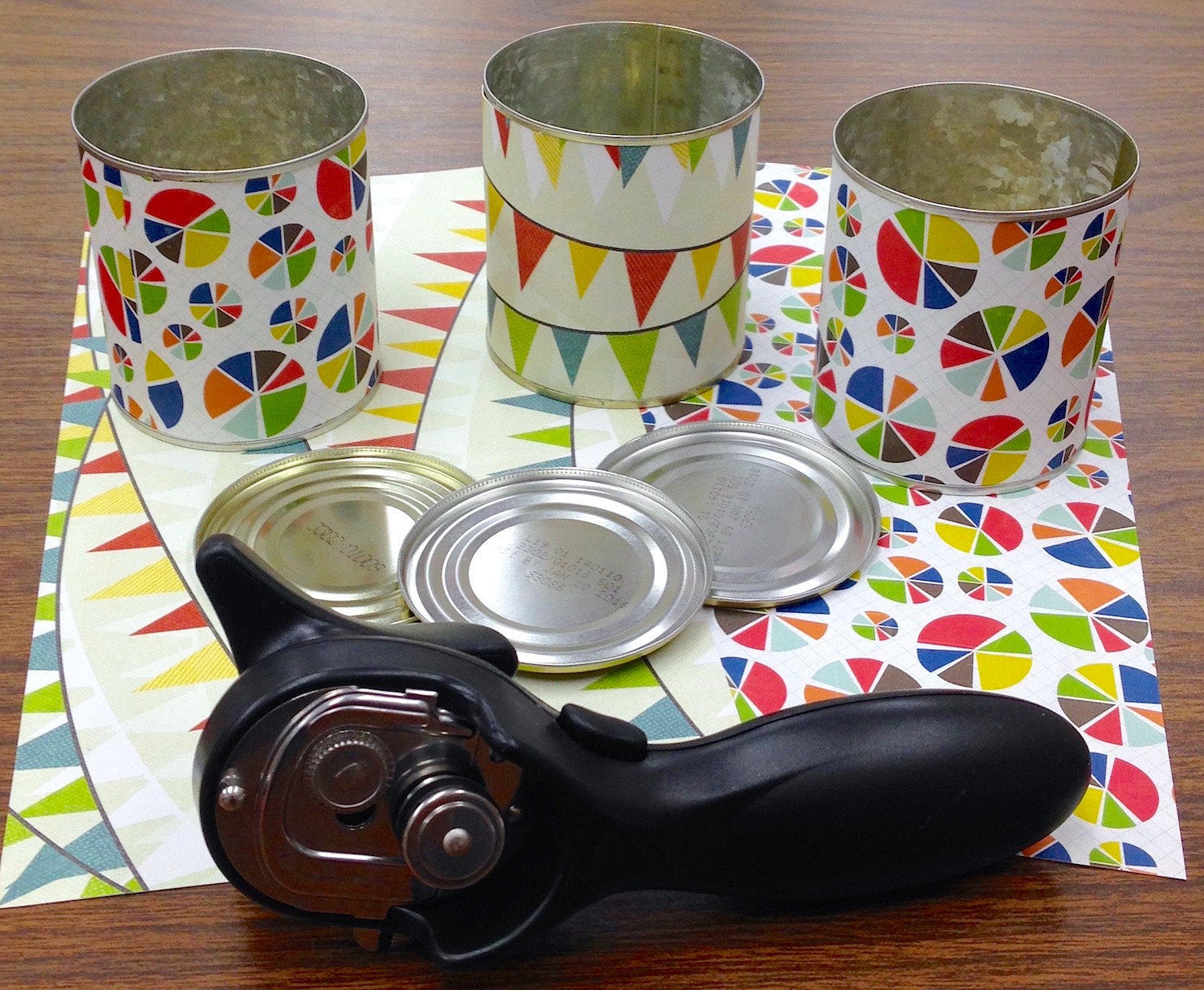 Directions:
Trim a long strip of scrapbook paper to fit the height and circumference of the can. Wrap it around the can and secure with glue.
Cut a circle from the paper to fit inside the top of the can lid and glue in place. Punch a small hole through the center of the lid with a hammer and nail (place on top of a piece of cork or wood).
Glue a narrow contrasting strip of paper around the center of the can, if desired.
Glue an assortment of buttons around the can. Try nesting smaller buttons on to larger buttons for color contrast.
To make a knob for the lid, thread a folded length of wire down through one large button and two small buttons and twist the wire to secure. Poke the wires down through the hole in the lid and spread each wire to one side, flat against the underside of the lid. Secure with a small piece of duct tape.
Lining the inside of the can or lid with more paper is optional. Keep your storage containers in a dry area to prevent rusting over time.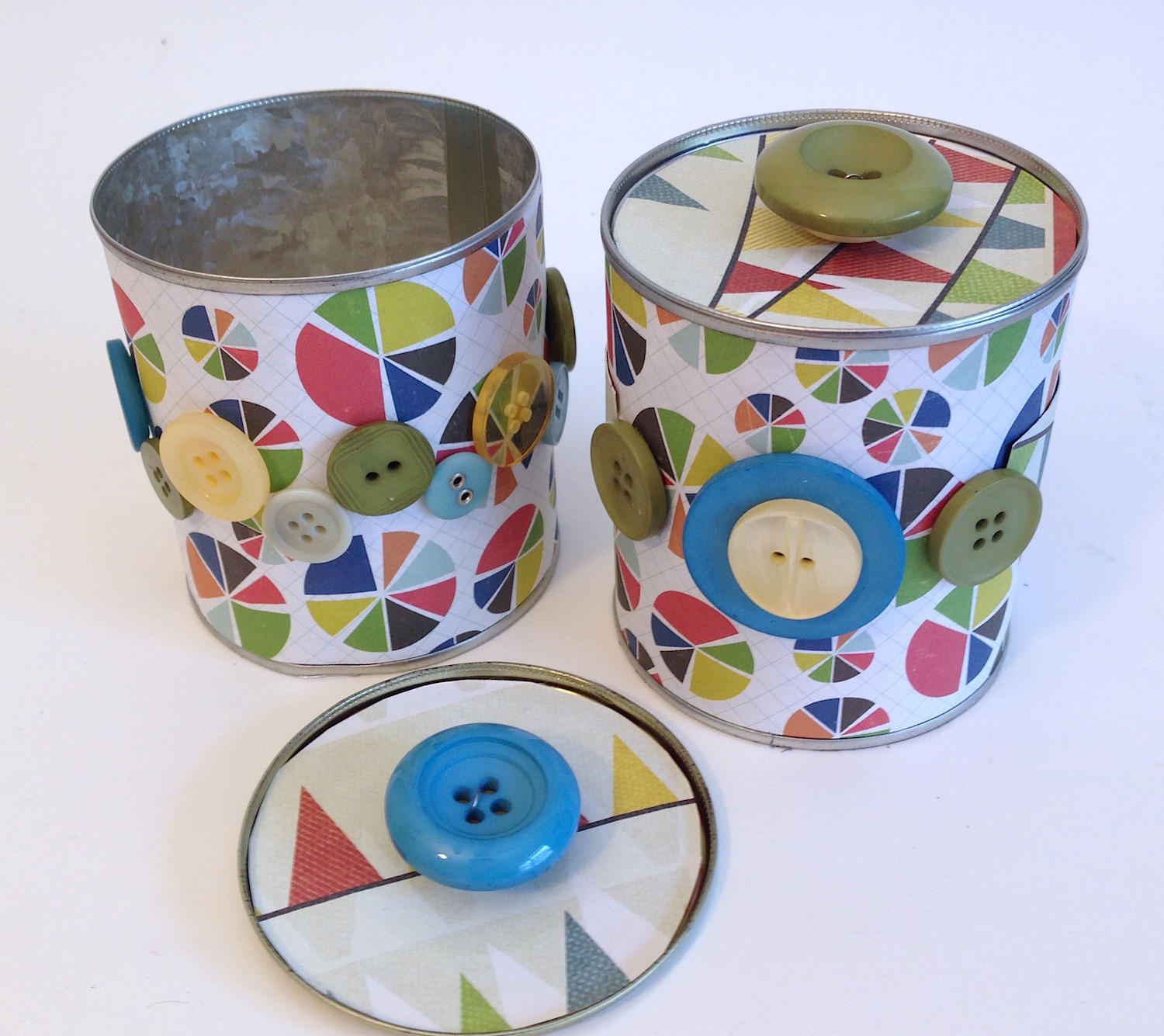 What would you like to store in these containers? They'd be perfect for storing buttons!
Lisa Fulmer is an artist, crafter, teacher, writer, on-air talent, as well as a marketing consultant. She's also the author of two books – Craft Your Stash and Stylish Craft Foam Projects – and has worked with brands such as Spellbinders Paper Arts, Ranger Ink, DecoArt, SmoothFoam and Plaid. She's currently a columnist and blogger for Bella Arts Quarterly magazine. To learn more about her work, visit her website. 
The following two tabs change content below.
Nancy Nally
Nancy Nally is the social media manager of Buttons Galore, and the owner of Nally Studios LLC., which publishes ScrapbookUpdate.com and CraftCritique.com.
Latest posts by Nancy Nally (see all)