October is half over and that means it's beginning to look a lot like Christmas in most crafter's work spaces! Today, we're going to share a few ideas of how to embellish a Christmas gift box with buttons to make your gifts look extra special.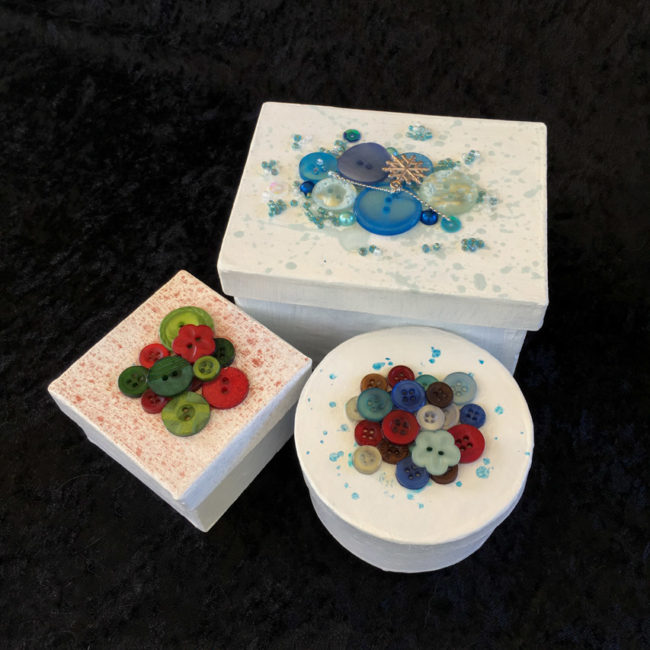 All of these boxes are created from paper maché boxes that are painted with white acrylic paint. Then the tops of the boxes were splattered with spray ink or paint to add some color, before buttons and other embellishments were added.
The large rectangle Christmas gift box is created with embellishments from the 28 Lilac Lane "Let It Snow" embellishment kit. To create this embellishment collage, I started by laying down a pool of white glue in the middle of the lid. Then I placed the large items first, creating the arrangement of the buttons. I filled in around the buttons with the small embellishments like the sequins and beads, creating a feeling of an explosion of embellishment spreading across the lid. For the final touch, I glued the snowflake charm from the "Let It Snow" kit on top of the button collage.
Supplies:
Rectangle Paper Maché Box
Plaid "Winter Harbor" Milk Paint
Martha Stewart Crafts "Wedding Cake" High Gloss Acrylic
For the round box, I used the new "Winter Wonderland" Button Bonanza. I started this one by making the first layer of buttons. Then, once that layer had dried securely in place, I glued a second layer of buttons on top of the center of the first layer.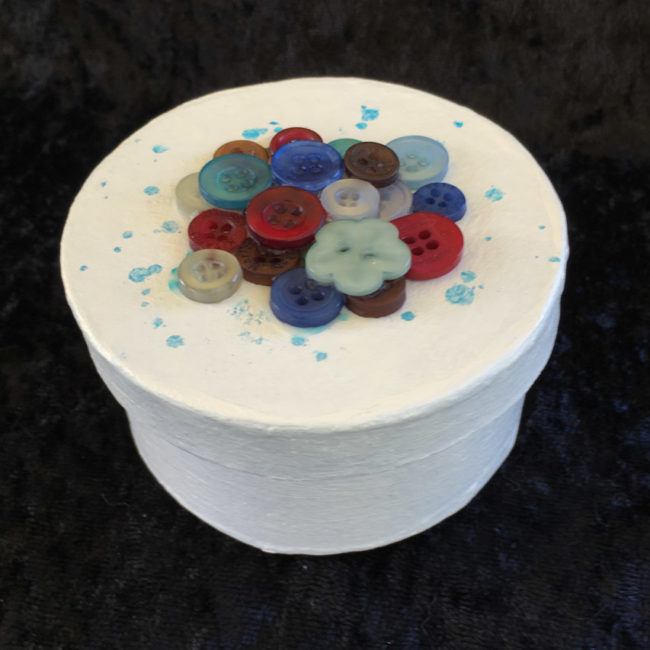 Supplies:
Round Paper Maché Box
Ranger Dylusions "Vibrant Turquoise" Spray Ink
Martha Stewart Crafts "Wedding Cake" High Gloss Acrylic
I used the same technique on the square box, creating a two layer collage of buttons one layer at a time. The key to making the prettiest collage is to vary the size and type of the buttons that you use. Also, it helps to balance the colors. On this box, the center has one of each color, and then there is an outer ring that shows the green shades alternating with red.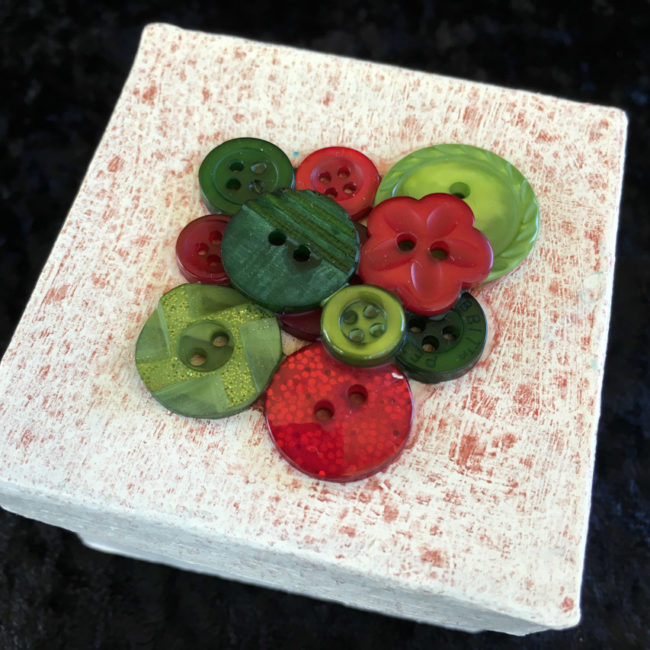 Supplies:
Square Paper Maché Box
Ranger Dina Wakley "Ruby" Mica Spray
Martha Stewart Crafts "Wedding Cake" High Gloss Acrylic
Grab some boxes…grab some glue…this project only takes a few minutes to make beautiful holiday gift packages. And it's so easy that the kids can help out. What are you waiting for? Button up a few holiday gifts!
The following two tabs change content below.
Nancy Nally
Nancy Nally is the social media manager of Buttons Galore, and the owner of Nally Studios LLC., which publishes ScrapbookUpdate.com and CraftCritique.com.
Latest posts by Nancy Nally (see all)