Ribbon Wreaths are trendy right now, with photos appearing on blogs and Pinterest.  This tied ribbon version with button accents is a great way to get autumn colors and textures in a wreath that is easy to create.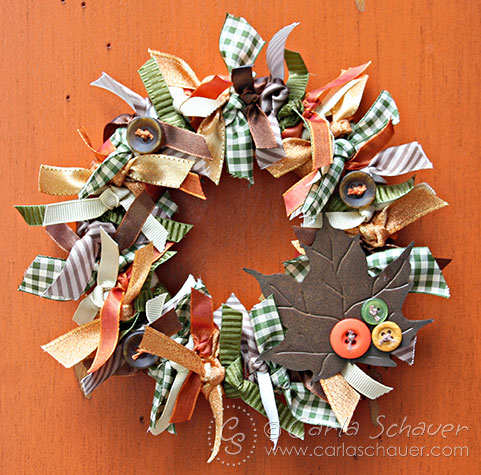 Directions to make a Ribbon Wreath:
Making a ribbon wreath is a straightforward process that begins with a simple wreath form.  For this wreath, I used a STYROFOAM Brand Foam wreath form approximately 8″ in diameter.  I painted the front of the wreath using a foam brush and orange acrylic paint to camouflage the form in case it happened to peek through the ribbons.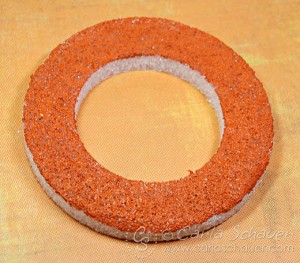 While the painted wreath form is drying, I gathered my ribbons and cut several lengths of each.  My form required around 50 pieces, each 10″ long.  Widths ranged from 1/2 to 1″.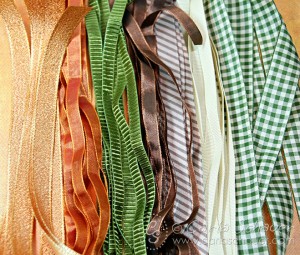 Once the form was dry and the ribbons cut, I tied the pieces around the form.  I began with the wider ribbons, and filled in the spaces with the narrower pieces, adjusting the location of the knots as necessary.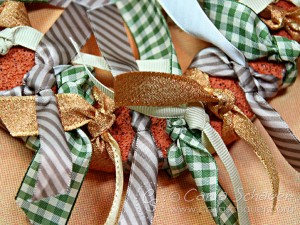 Once all the ribbons were tied around the wreath form, the whole project looked pretty scary.  It resembled a big autumn-colored ribbon Medusa.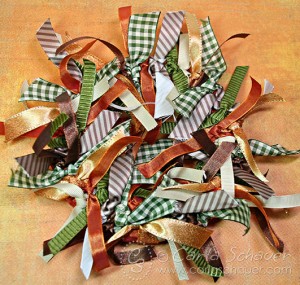 But once all the ribbon ends had been trimmed to approximately 1.5 inches long (use sharp fabric scissors for clean edges), scary Medusa transformed into a pretty tied ribbon wreath ready for embellishing.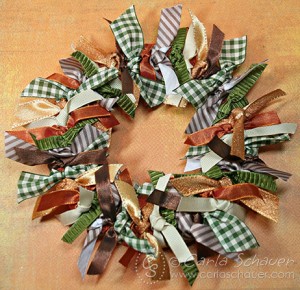 I added thick marbled dark brown buttons from the Natural Grab Bag tied with orange embroidery floss, and a large aged metal leaf as an accent.  Three additional buttons from the Autumn Grab Bag tied with cream floss top the leaf for additional coordinating color and texture.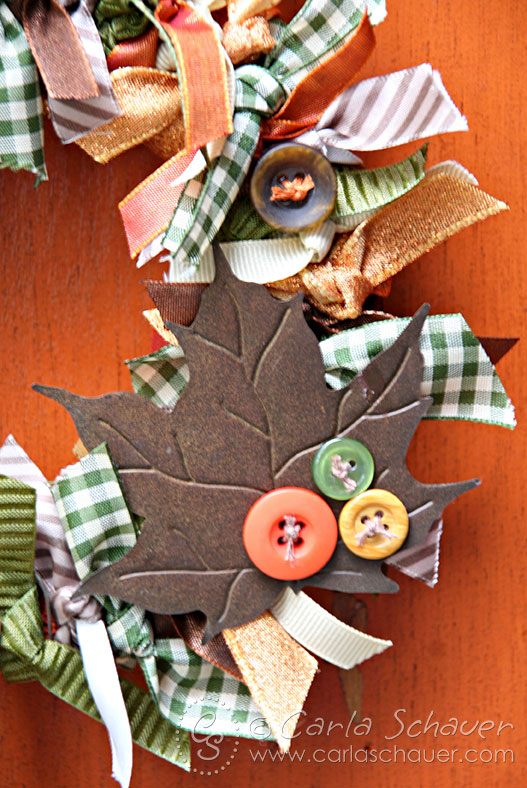 With no time or labor-intensive techniques to deal with, this tied ribbon wreath can be assembled quickly and easily.   Dive into your ribbon stash and make one today!
Thanks for stopping by!
Carla
The following two tabs change content below.
Latest posts by Carla Schauer (see all)