Summer time is kicking up into full gear and July 4th will be here before you know it! Red, white and blue and backyard BBQs are on the horizon! This little patriotic hoop is a great way to get started on those patriotic decorations.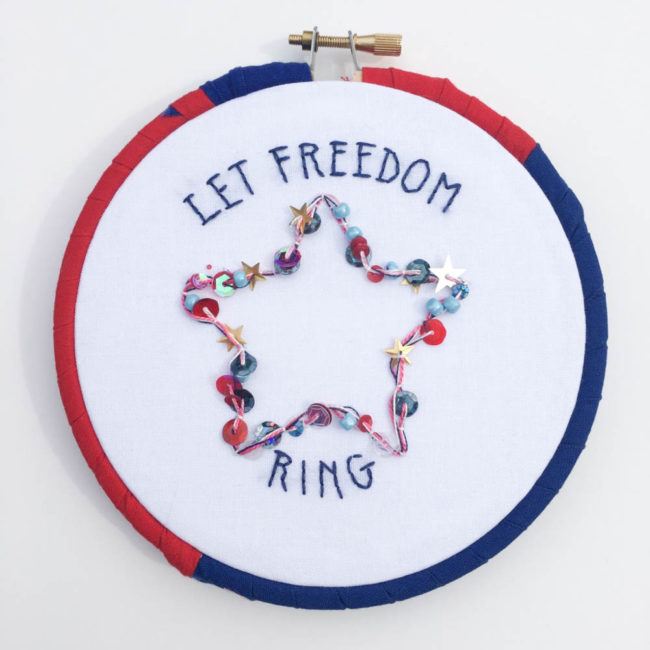 Supplies Needed:
DMC cotton perle size 8 #107
DMC cotton perle size 8 #blanc
DMC divisible floss #336
white cotton fabric
pencil
embroidery needle
5 inch wooden embroidery hoop
fabric for wrapping hoop (if desired) or craft paint
glue gun for finishing
embroidery pattern (free download)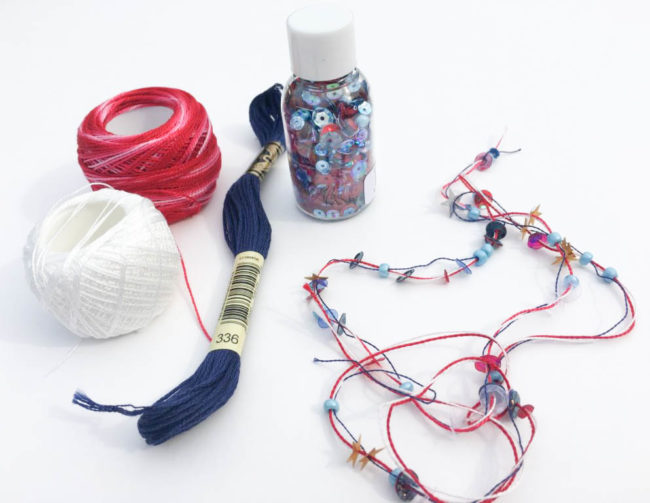 This patriotic hoop features the Stars & Stripes sequin & bead mix that is a mix of larger blue beads, small and large sequins, star sequins and smaller seed beads and glitter. I used the blue beads and sequins to create beaded thread for my hoop.
To get started: take about a yard of each thread; using only 1 strand of the blue divisible floss. Thread all three colored threads onto your needle and pick up different bits of the sequin and beads and push them along down your thread. Continue until you have distributed the beads and sequins sporadically along the thread. They don't need to be in any sort of order, just make sure that they are spaced out well.
Find a sunny spot and transfer your embroidery pattern onto your fabric. Use three strands of the blue embroidery floss (#336) and backstitch the text. Lay your beaded thread on one of the star lines and with the white cotton perle, use a couching stitch to sew down the beaded thread along the outline of the star. Couch your beaded thread around the star two times.
To finish your hoop you can wrap it in a mix of blue and red fabrics, as I did, or you could even paint the hoop. Set your finished piece inside the hoop, trim your fabric about one inch from the edge of the hoop and hot glue it to the inside.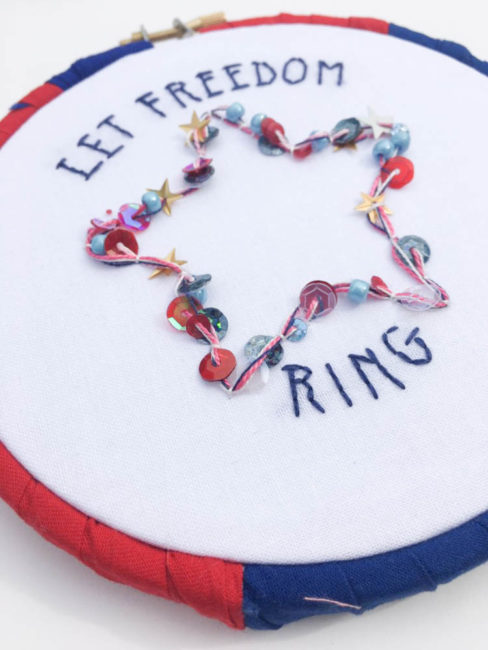 This patriotic hoop wall art is a great project for even a beginner at embroidery. It's one that looks like it took hours and advanced skills, but is made up of basic embroidery stitches and techniques and can easily be finished in an afternoon!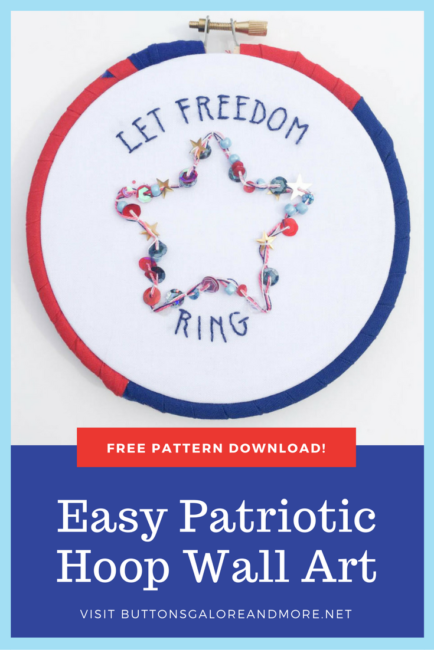 The following two tabs change content below.
I come from a long line of women makers. I sleep under quilts that my grandmother made, my head rests on pillowcases that my aunt embroidered, and my memories are full of time spent watching my mom and grandmother create. The majority of my sewing and embroidery skills are self-taught, and I'd like to think there is a little bit of genetic love seeping through.
Latest posts by Aimee Davis (see all)