How adorable is this rock? It is not any ordinary rock. It is a special holiday hand-painted and button embellished rock that we use to hold the door open.  It is a rock with a message and a purpose.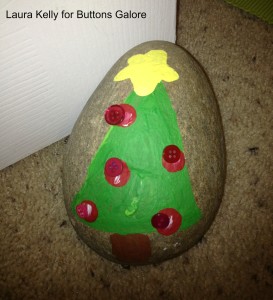 I hand painted the tree on the big heavy rock with Americana paints by Deco-Art.  I love these paints because they are thick enough that when I paint on a rough surface with a slant they don't run.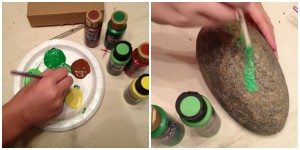 When it was dry, I used Glue Dots to add the buttons (Radical Red from my Laura Kelly collection with Buttons Galore).  Then I used a Sharpie marker and added a message to the back.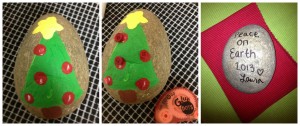 I think these rocks would be adorable in all sizes and shapes as door holders and spreaders of Christmas spirit.  I plan to paint a bunch of little ones with messages to hand out over the next few weeks at the Starbucks drive through and the bank and to people I meet while out on my daily adventures.  Here are some of the messages I plan to use:
Spread Cheer
Joy to the World
Follow the Star
Christmas is Love
Here is the rock hard at work, holding the door to my bedroom open so our puppy won't play with it and close herself out.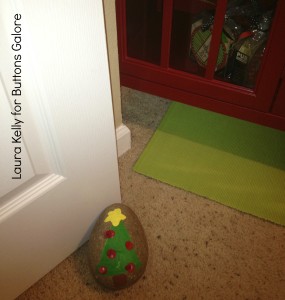 I can't wait to make more.  This little quick project was really fun.
Happy Creating Holiday Magic!
Love,
Laura
The following two tabs change content below.