You don't have to know how to sew to use sequins! Besides using them on cards, and in fun little shaker packs, you can glue sequins to just about anything for a fun shimmer and shine! I glued some gorgeous turquoise blue sequins from the new 28 Lilac Lane "Mermaid Tale" Premium Sequin Tin to a wood surface for a fun Mermaid Tale Sequin chalkboard. This craft is simple enough for a child to participate in as well!
Here's what you'll need to make your own Mermaid Tale sequin chalkboard:
Adornit Pointed Bracket Shaped Wood Surface
blue ribbon
clear drying glue
acrylic craft paint (blue)
chalkboard paint (black)
paint brush

Step one:
Paint the wood bracket shape with the acrylic craft paint.  (This is a perfect step for little hands to help with!) I painted the front and back of my shape. Let the paint dry completely.

Step two:
Paint the inside of the bracket-shaped board with black chalkboard paint following the instructions on your specific bottle. My chalkboard paint instructed to use two coats of paint and allow a relatively long cure time.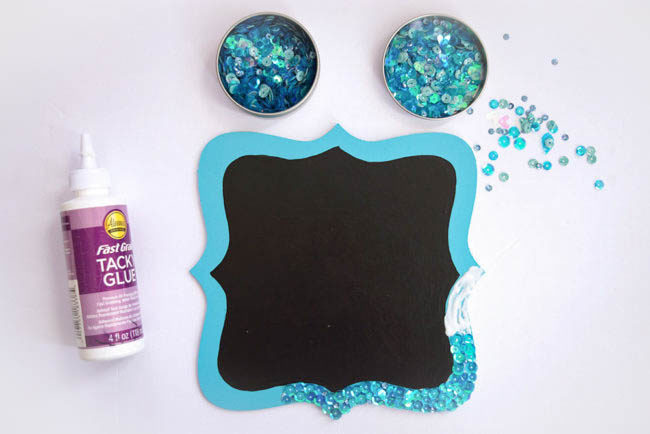 Step three:
Glue the blue sequins from the 28 Lilac Lane "Mermaid Tale" Premium Sequin Tin around the outside edge of your bracket shaped board. I used three different size sequins from the tin all the way around the edge of the board. My kids had a lot of fun helping with this step! I had one helper finding the perfect sequins from the tin, and the other helper situating them just right on the glue I was spreading. In less than 30 minutes, we had the perfect Mermaid Tale border around our chalkboard!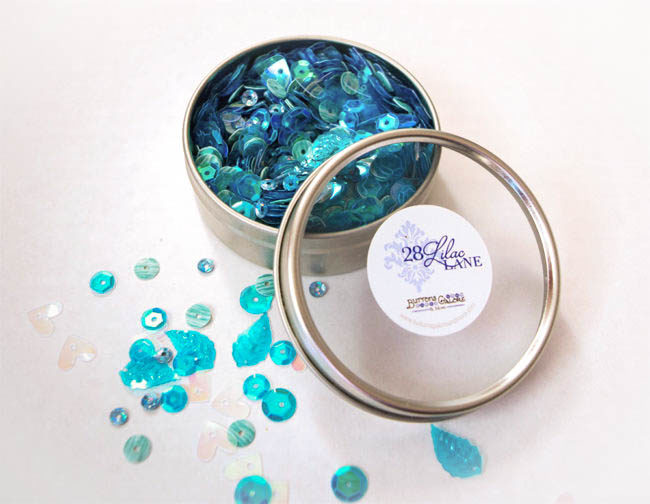 Step four: 
When your glue has dried completely, add a ribbon to hang your chalkboard.  I cut a length of ribbon about 12 inches long.  Add a dot of glue to the top of each side of the board, and add the ribbon.  I glued a blue button to each end of the ribbon and added one more sequin inside each button (at the direction of my little helpers).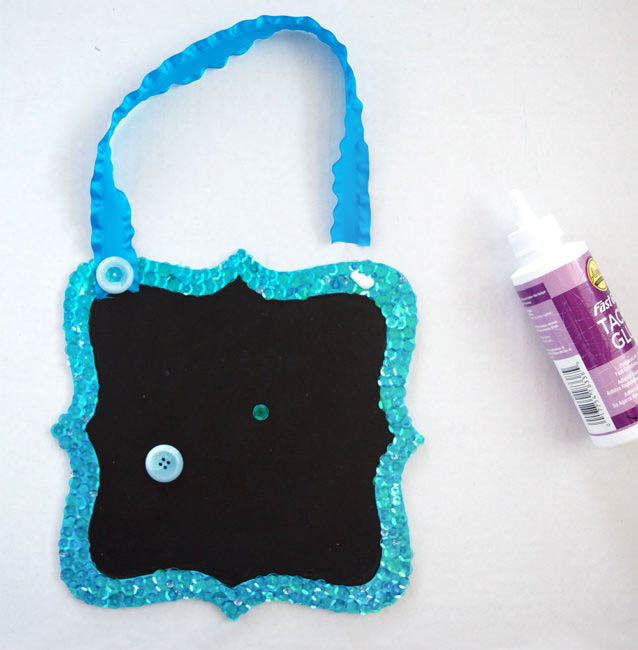 My daughter took the fun little chalkboard to hang in her room so she can write and draw her mermaid-y messages on it.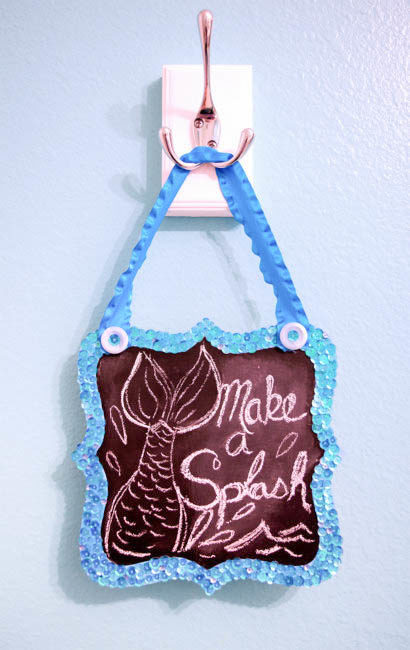 Using different sequin tins from the new 28 Lilac Lane Premium Collection could result in completely different little chalkboards. I want to make a house shaped Halloween themed one next, using the Haunted House Sequin Tin!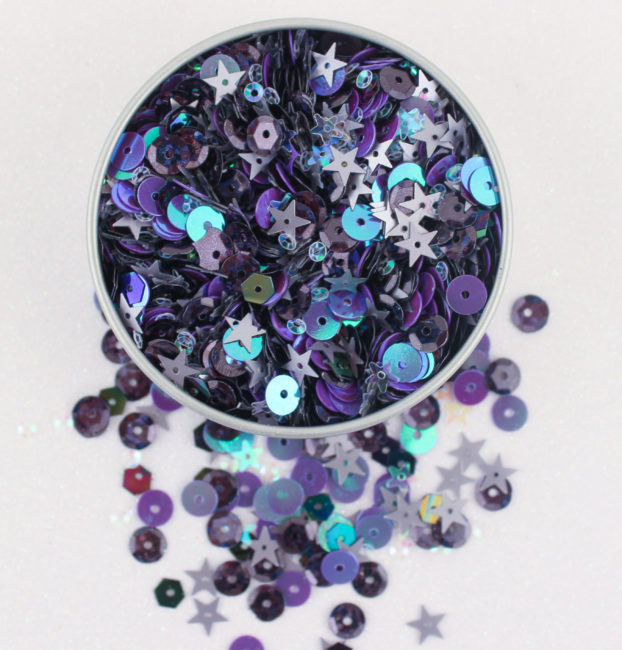 What shape and sequins would you use?
The following two tabs change content below.
After studying Culinary Arts in Portland Oregon, Kelli went back home to the sunny South West where she decided she wanted to do different kinds of Art. This busy mom of three spends all of her available free time creating in her Craft Shack "she shed" where she can be found burning wood, repurposing old stuff, crafting, sewing, and painting just about anything she can get her hands on.
Latest posts by Kelli Stradling (see all)