Money doesn't grow on trees!!!….or does it?  Check out this fun and easy way to give a money tree gift in a creative way.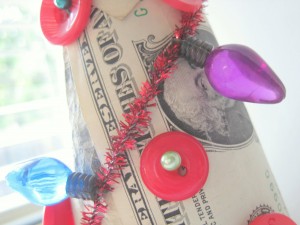 Today I am excited to use a Styrofoam plus BUTTONS from Buttons Galore!  Check out the supplies…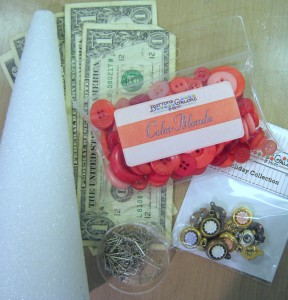 Materials to make a money tree: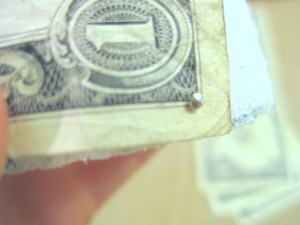 Directions to make a money tree:
Begin by wrapping your cone in bills and securing the corners with sequin pins.  Once you have all of the foam covered you can embellish to your heart's content with buttons, colorful seamstress pins, tinsel chenille and more!  Important to note that non of the items were adhered with adhesive because in the end this money tree is meant to be harvested so make it easy for the recipient to wrap and just use pins.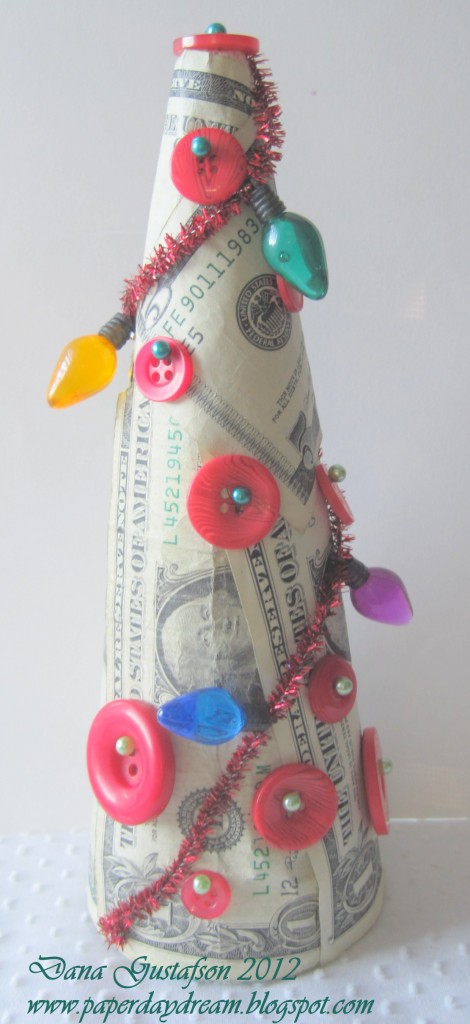 I love the glow on the "lights"!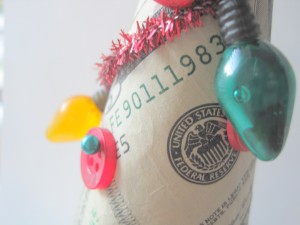 Thanks for joining me today! I hope you will make a money tree for your next gift.  No matter if it is a Christmas money tree, birthday money tree or a graduation money tree, the recipient will surely love a tree made of money.  I know I would.
The following two tabs change content below.
Dana Gustafson currently lives in Northern California and is a stay at home mom to two daughters and wife to Greg. Dana's work has been published in various magazines and she has designed for several companies in the crafting industry. Outside of crafting, she can be found reading, taking photos, and volunteering. More of her work can be found at her blog, Paper Daydream.
Latest posts by Dana Gustafson (see all)