It is always nice to have a personalized touch when celebrating special times.  These little flowerpots turned place card holders add that special touch and they are really simple to make.  You only need a few things to make them (spray paint, mini terracotta pots, clothespins, buttons (Radical Red and Black Beauty were used on these pots, hot glue).
Spray paint the pots a solid color.  I used Krylon's Cherry Red to match the picnic basket set.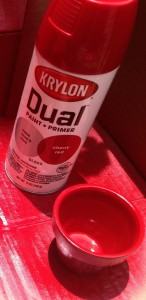 Glue on the clothespin upside down to hold the cards.  You can paint it the same color or make it different.  Add a button (or more) and you are ready to personalize.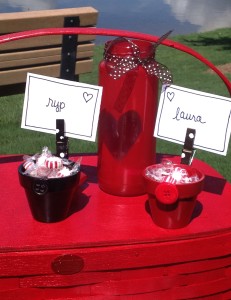 I filled the pots with my husband's favorite organic mints for our picnic outing.  There are so many creative things you could put in the pots, even flowers!  For more ways to create a picnic basket ensemble, you can find in a previous Fifteen Minute Friday the project for the napkins.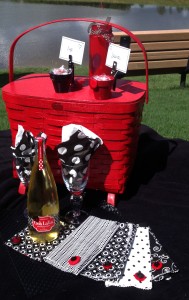 You can also visit my blog today today for directions on making the recycled glass jar heart candle.
Happy Friday,
Laura
The following two tabs change content below.