If you're like me, you just can't wait for the temperatures to drop. Now is the perfect time to get started on some fun and simple projects for fall. Today, I'm going to show you how to use the Autumn Afternoon embellishment kit by 28 Lilac Lane to create an awesome fall wood coaster wall decor piece for your home.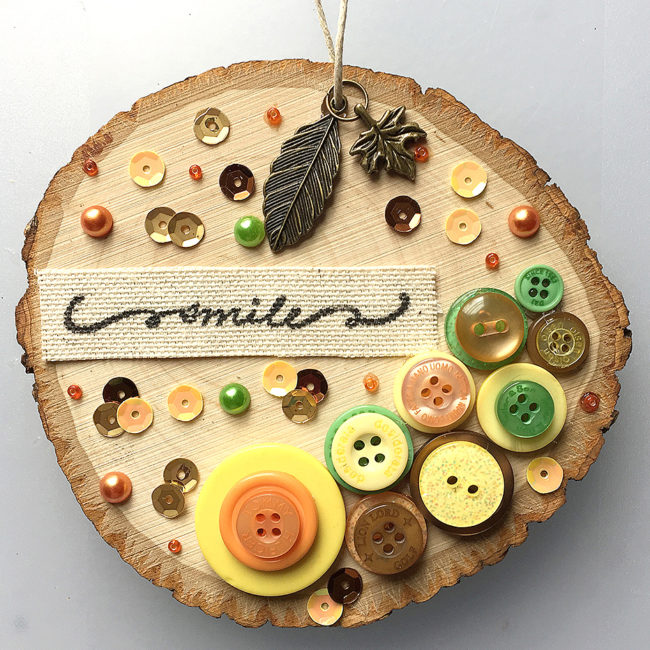 Supplies needed to create Fall Wood Coaster Wall Decor:
round wood coaster
stamp & Ink
fabric scrap
hemp cord
clear drying glue
hot glue gun
tweezers (optional)
Instructions to create Fall Wood Coaster Wall Decor:
The first thing you need for this project is a wood surface. I'm using a 4 1/2″ round wood coaster that is about 1/2″ thick. Next, you will need to find a stamp with a word or phrase that expresses the perfect sentiment. I have selected a "smile" stamp. Smiles are always in season! You can of course go with something specifically related to fall. Most importantly, ensure that anything you choose will fit nicely onto your coaster.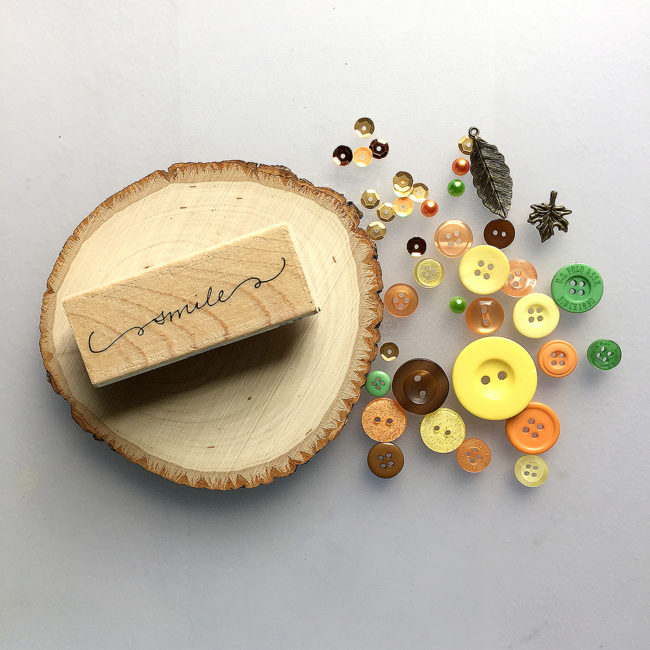 I have drilled a hole in the top in order to attach a string, but you may be able to find one that is pre-drilled for crafting. On a scrap piece of duck cloth I have stamped the word "smile" in black ink and then glued the fabric to the coaster's surface. Then I used a clear-drying glue to begin adding pearls and sequins.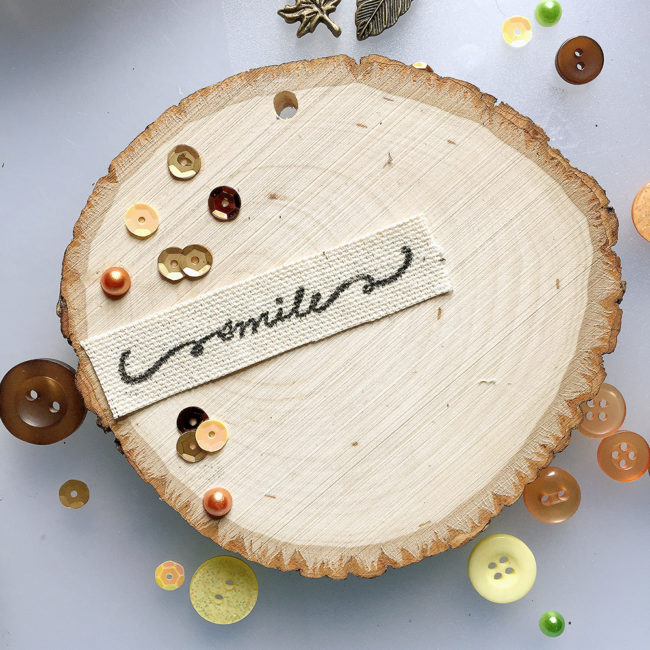 Don't forget to leave room for buttons! Using a glue gun, I arranged the buttons closely together near the bottom edge and stack a few for extra dimension.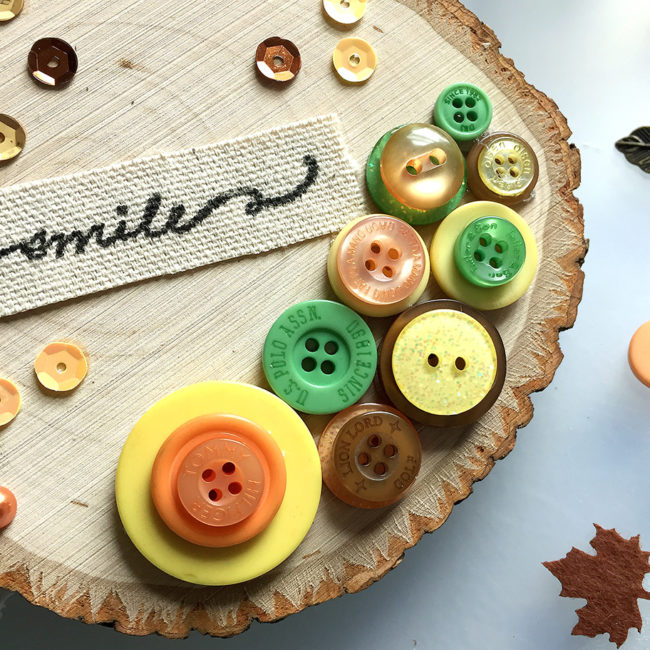 The kit includes leaf and feather pendants in bronze that look great hanging and add just the right touch for the season. I looped the cord through the wood coaster and each pendant. I used a 7″ length of hemp cord. After I attached the pendants, I just tied a knot in the cord to finish it off.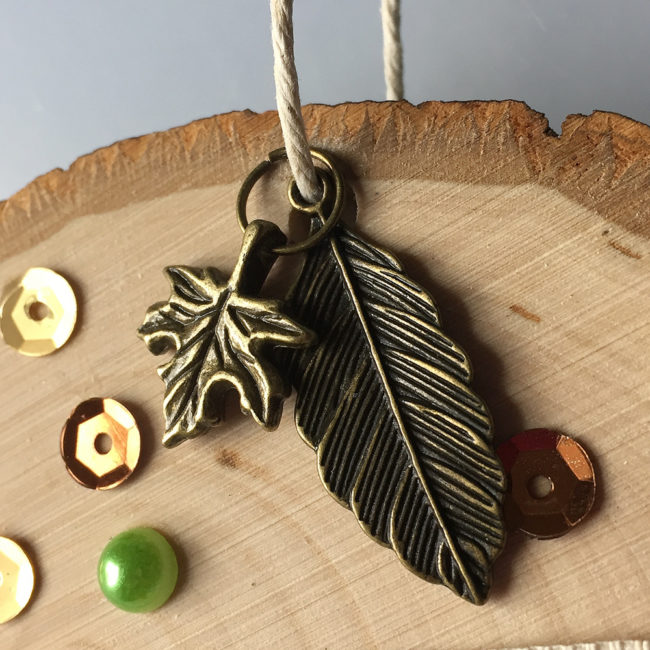 For the last step, I applied a few seed beads using the tiniest dab of glue. Using tweezers will assist in applying the beads exactly where you want them. As we all know, glue can at times get messy!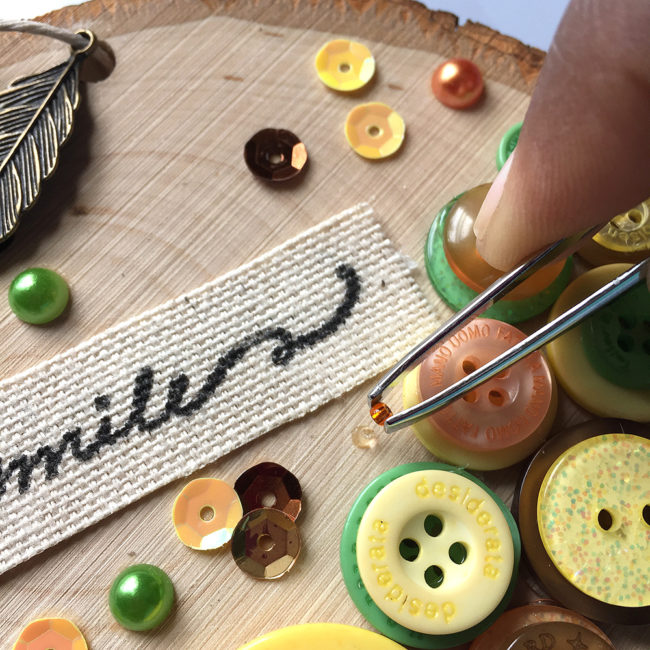 And its just that easy! Your newly embellished fall wood coaster wall decor is complete.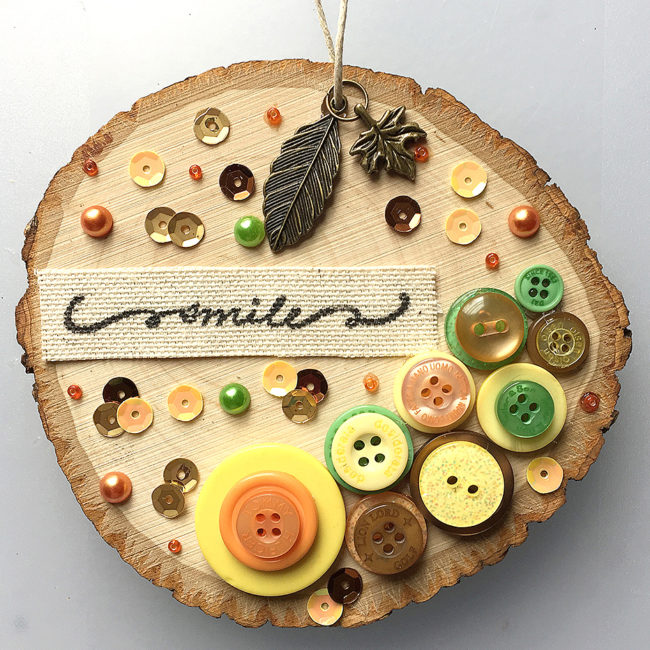 The following two tabs change content below.
Anaya enjoys designing jewelry, paper crafts, and home decor items embellished with colorful buttons. In 2007, she started YanaDesigns.com to share her love for fun projects and creative craft ideas.
Latest posts by Anaya Whye (see all)