Much of the country is buried under a blizzard, but spring is right around the corner. Why not hurry it along a bit with some watercolor spring flowers for your home decor, embellished with beautiful touches of 28 Lilac Lane?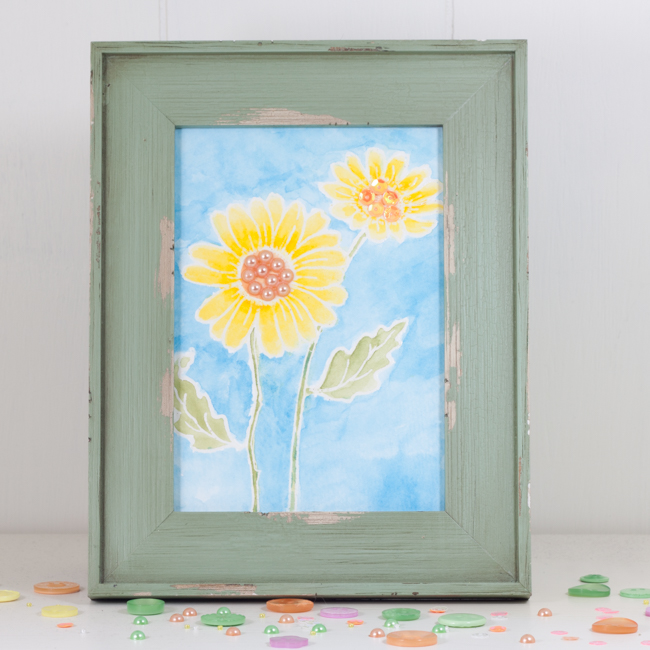 Supplies:
PPA Matte Adhesive
5×7 watercolor paper
Stampendous "Cling Daisy Mix" stamps
Tim Holtz "Flower Garden" stamps
embossing ink
clear embossing powder
waterbrushes
watercolors
This watercolor spring flowers project uses tangerine colored flat back pearls and sequins from the 28 Lilac Lane "Tropical Twist" embellishment kit. Tropical Twist is a summery blend of yellow, orange and green citrus shades, with some delightful flamingo pink accents! With all of the seed beads, pearls, sequins, buttons, trim and charms, Tropical Twist is sure to have the perfect touch to make your project hot, hot, hot!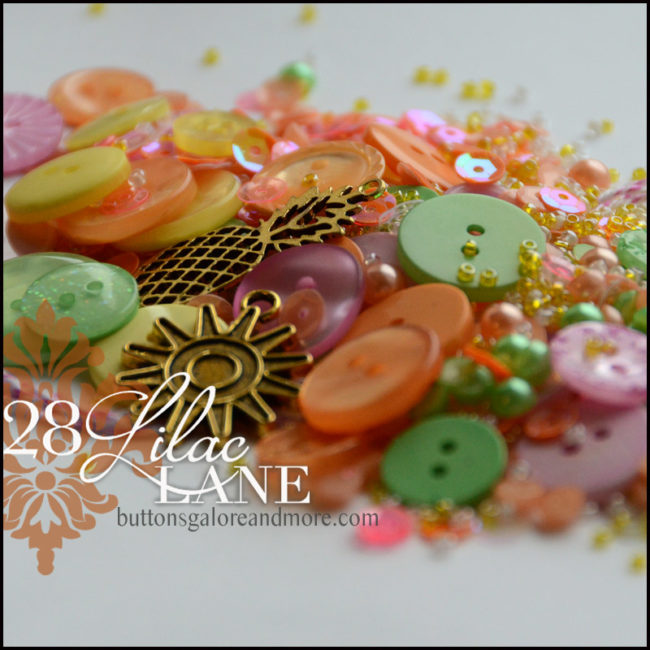 This project looks complex but is super easy to make thanks to a shortcut: stamps. To create this design, simply use flower stamp sets to stamp your desired design in clear embossing ink on watercolor paper. Then heat emboss the design with clear embossing powder.
Once the design is embossed, you have a virtually foolproof way of making your own watercolor painting! Simply use a fine detail water brush to color in the design with your watercolors, following the embossed lines as a guide. Any color that gets on the embossed lines can be simply wiped away to keep them clean!
After filling in the design of your watercolor spring flowers, switch to a large water brush to fill in the background with some watery color.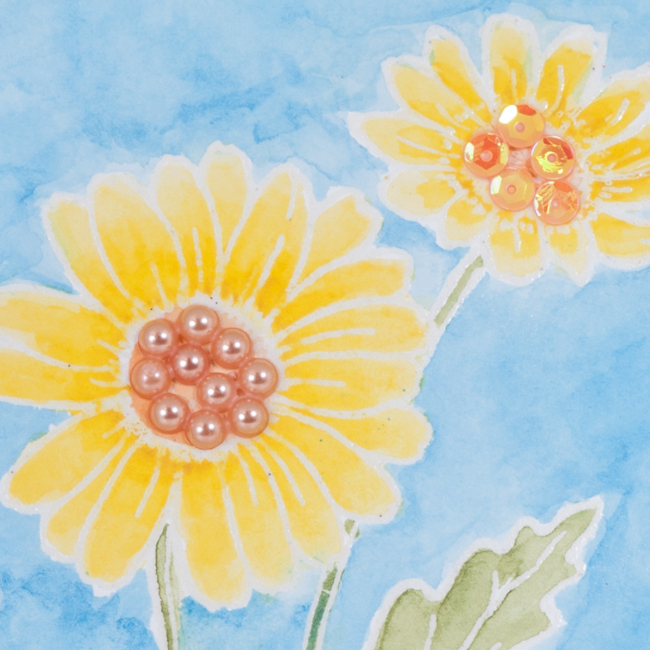 For the finishing touch on your watercolor spring flowers, add some 28 Lilac Lane embellishments to the center of them with a clear drying glue like PPA Matte adhesive. Using flat back pearls or sequins as "tiles" to fill a small area of a design is a great way to get some extra pop on a project. Our kits and embellishment bottles come with plenty of sequins and pearls, so there's no worry about running out mid-project, either!
This winter has dragged on too long. Get out those watercolors, stamps and embellishments and craft it away with some watercolor spring flowers! (And don't forget the Tropical Twist, too!)
The following two tabs change content below.
Nancy Nally
Nancy Nally is the social media manager of Buttons Galore, and the owner of Nally Studios LLC., which publishes ScrapbookUpdate.com and CraftCritique.com.
Latest posts by Nancy Nally (see all)