This gold button charm bracelet project is easy to make with only a few supplies, and makes a perfect gift for the special stylish woman in your life!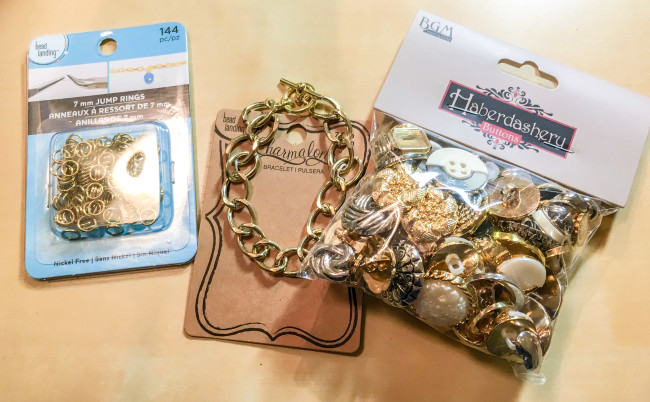 Supplies:
Chunky gold link bracelet
7mm gold jump rings
I also recommend having on hand a pair of jewelry pliers (long nose or bent nose) to open and close the jump rings to complete this project more easily.
Once the supplies are assembled, select a random assortment of stem buttons from the button bag. You'll need enough to put one button on each link of the bracelet chain.

Use the jump rings to attach the stem buttons to the bracelet chain. Attach one button per link in the chain, keeping all of the buttons on the same side of the links.
Vary the size and design of the buttons that you use as you go to get a good random appearance. If you look closely above, you can see that I put larger buttons in the center of the bracelet, and smaller ones at the ends, to create a taper effect and make the bracelet more comfortable to wear.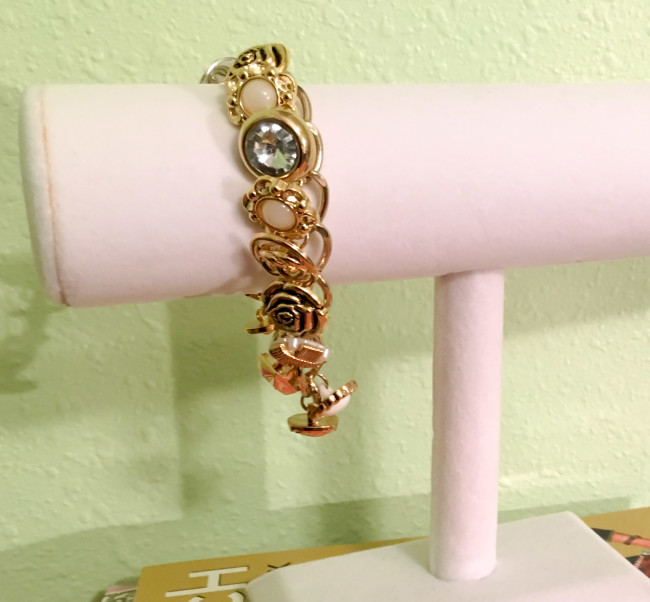 That's all there is to it! This fun gold button charm bracelet gift is so easy to make, but the results are stylish!
For a different look, try making this button charm bracelet project with our Fancy Silver Haberdashery buttons, and a silver bracelet and silver jump rings.
The following two tabs change content below.
Nancy Nally
Nancy Nally is the social media manager of Buttons Galore, and the owner of Nally Studios LLC., which publishes ScrapbookUpdate.com and CraftCritique.com.
Latest posts by Nancy Nally (see all)